ITV comedy drama Great Night Out axed
ITV comedy drama Great Night Out axed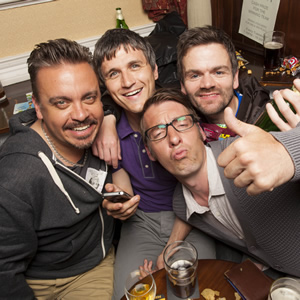 ITV has reportedly opted not to order a second series of Great Night Out.
The comedy drama, which was created by Worst Week Of My Life writers Mark Bussell and Justin Sbresni, followed the stories of four thirty-something men who gathered each week for a night out in Stockport.
The show starred William Ash, Stephen Walters, Craig Parkinson and Lee Boardman with the cast list also featuring Naomi Bentley, Rebekah Staton, Christine Bottomley, Susie Blake, Ricky Tomlinson and Isy Suttie.
The six episode series was broadcast in January and February of this year. Despite being scheduled on a Friday night against the BBC and Channel 4's popular comedy output, the show still managed to average 3.3 million viewers across its run in ITV1's 9pm slot.
The news that the show will not return has been revealed by Lee Boardman, who played Hodge in the series. He posted the following message on Twitter: "Dear all, Great Night Out won't be returning to your screens. It has not recommission. Thank you all for watching. X".
Creators Mark Bussell and Justin Sbresni were also behind ITV's last big multi-series sitcom success, Barbara. Debuting in 1995 under the Comedy Firsts strand of pilots, three series were eventually broadcast between 1999 and 2003.
The six episodes of Great Night Out were released on DVD in February.
Below is a trailer used to promote the show in the run up to the first episode:
Share this page