Steve Coogan and Rob Brydon comedy The Trip to return
Steve Coogan and Rob Brydon comedy The Trip to return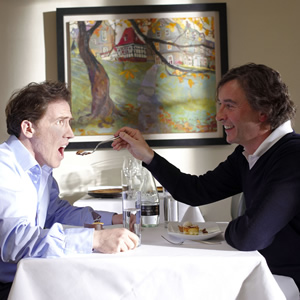 The Trip, the semi-improvised comedy programme in which Steve Coogan and Rob Brydon play fictionalised versions of themselves, is set to return for a second series.
The show, which first aired on BBC Two in 2010 to much critical acclaim, observed Coogan and Brydon undertaking a tour of restaurants in the north of England.
Although the comedians appeared as themselves, the plot of The Trip was fictional. The story given was that Coogan was commissioned by a Sunday newspaper to review half a dozen restaurants but, when his American girlfriend couldn't join him, he invited Brydon along for company instead.
Now The Trip looks set to return - but this time with the duo touring Italy.
Asked on Twitter this Friday afternoon "Is it true that filming on a second series of The Trip starts soon?", Brydon's response was "Yes. Very soon. Italy..."
A follow up statement from another user of the micro blogging website said "If that's true and a second series of The Trip is being made, in Italy, let the bells ring out!", to which Brydon responded "Ding Dong Ding".
Asked where in Italy the new series would be filmed, Brydon responded "Many and varied locations." He also confirmed that director Michael Winterbottom would return to head the second series.
An interview with Steve Coogan also appeared online later. Talking to Empire, Coogan said: "We are going to Italy. I went there three weeks ago to meet Rob and Michael to go for dinner and talk about what we were going to do. We're supposed to be retracing the footsteps of the Romantics, of Shelley and Byron and Keats, and I don't know enough about it. I'm damned if Rob's going to come across as an authority on it. It'll be a great motivation for me to read up on it so that when we improvise, I can drop some information on him."
The BBC has yet to officially confirm it has recommissioned the show.
Steve Coogan has recently worked with Winterbottom to make The Look Of Love, a comedy drama film based on the life of controversial publisher Paul Raymond. Rob Brydon meanwhile is currently filming a new series of hit panel show Would I Lie To You?, which starts a new run on Friday 3rd May.
Below is a clip from the 2010 series of The Trip:
Share this page