Following on from Murder On The Blackpool Express, Death On The Tyne and Dial M For Middlesbrough, Sian Gibson is reunited with Johnny Vegas for a full series of murder mysteries.
How would you describe Gemma to someone who has never seen her before?
Like a poor man's Stephanie Powers from Hart To Hart.
Why do you think this show has proved so popular?
It's just good fun and doesn't take itself too seriously. I think we all need a bit of light relief, and I love the fact that it's something that all the family can watch together. Also, we have always managed to get a fabulously talented cast who bring in their own audiences.
Was it a joy returning to these characters?
It's always a joy. I adore working with my lovely friend Johnny and getting paid to boss him about all day (in character, obviously!) We also have the most amazing crew and director who make every day on set such a good laugh. Each year, we also get ridiculously excited about the new cast joining us and we have never been disappointed.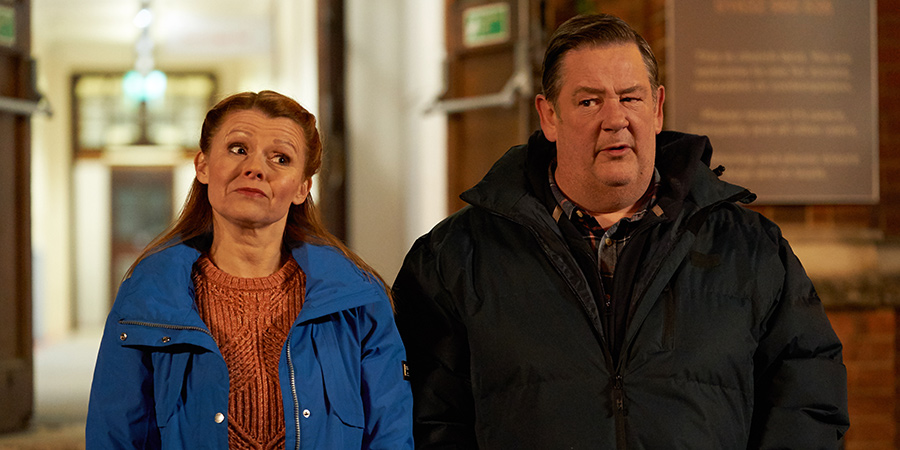 At the beginning of Murder, They Hope, where are Gemma and Terry at?
The last episode ended with the Draper's Tour bus exploding, so now they have to deal with the aftermath. Gemma and Terry have lost their beloved business, and their home, so they are now starting afresh - well, they are moving in with Gemma's sister (the amazing Sarah Hadland) and having a career change. Gemma fancies their chances at being private investigators, while Terry is just waiting for the insurance money to come through. Terry reluctantly agrees to go along with Gemma, and this is where our new series starts.
Why is Gemma attracted to the idea of setting up a private detective agency?
She has always been the ambitious one in the relationship and really believes that now the tour company has gone bust, they have their big chance to move up in the world. Terry is just going along with it for an easy life and secretly thinks that as soon as they get their pay-out, they'll be back on the buses in no time.
Did you miss wearing the Draper's Tours uniform?
Spoiler alert - the uniforms do make a little comeback in Episode 3. Even though everything was a little snug after lockdown - that was depressing.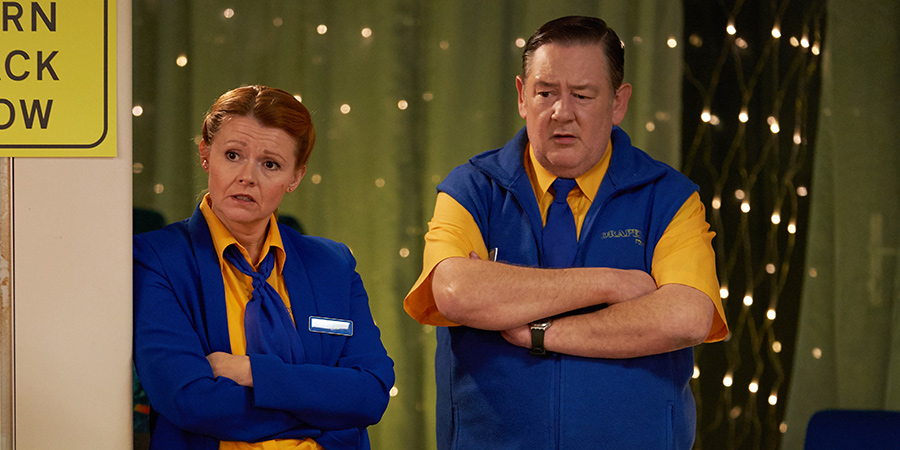 Was it fun to be back on the buses?
Yes. When did get to jump back on the bus, we felt very at home sat back in our familiar seats. This is the episode where Terry comes into his own again. I think it was the smell of the diesel - or the open packet of Werther's Johnny found in the glove compartment.
Can you talk us through some of the cases Gemma and Terry deal with?
In each episode, we get to try and solve a different case. We have a very strange episode where Gemma and Terry find a rabbit figurine at a car boot and unravel a bigger crime. There's a poisonous am-dram and also a coach tour serial killer - you know, just your normal, everyday stuff.
That's what I love about the series. Each episode is more ridiculous than the last, and they are all so different in tone. The cast are just phenomenal, though. We have some amazingly mad characters popping up in this series.
What challenges did you face filming during the pandemic?
Masks on, masks off, two-metre rules, Covid tests... it definitely felt very strange with all the strict protocols on set, and I was just dying to hug everyone. Despite that, I felt very lucky to be working during this time as so many of my friends have lost their jobs or have been furloughed during the pandemic. So I felt extremely grateful to be in work and having a really good laugh with my friends.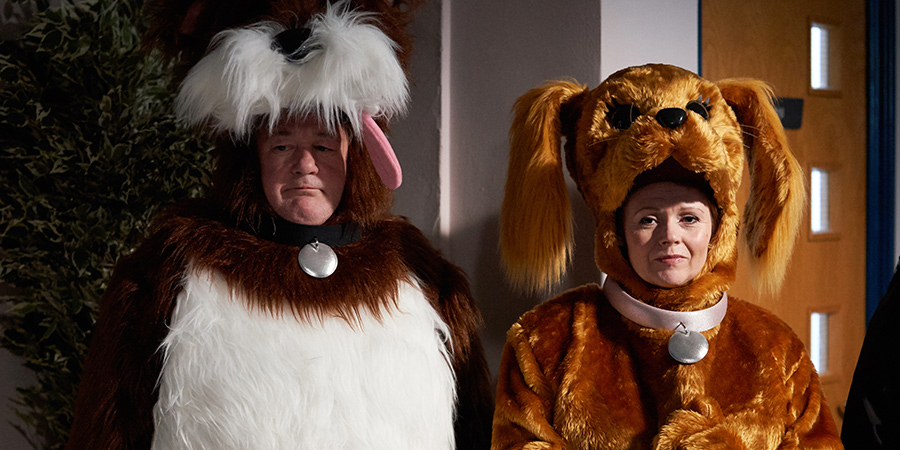 What do you love about collaborating with Johnny?
I just love Johnny. Apart from being a lovely friend, he is a brilliant actor. He makes every line seem so natural and can find the funny in anything. We have a great chemistry and know exactly what the other one is thinking with just a look - which can be very dangerous. He makes coming to work a joy. I genuinely still get excited about working with him.
Why have viewers warmed so much to the relationship between Gemma and Terry?
I hope it's because they like them and believe their relationship. Gemma and Terry seem to be the Everyman figures in this world of weird and wonderful characters, and when everything around them is absurd, they seem to anchor the show back to normality.
What do you think that Gemma sees in Terry?
I mean ... isn't it obvious? No one rocks a sky-blue sleeveless fleece like Terry. He makes her laugh, loves her unconditionally, and Gemma loves it when Terry takes the lead when they're solving a case and gets all "Columbo". I'd say that's your perfect man right there.
Is their relationship flagging at all?
Gemma has always had a bit of inverted snobbery and thinks she can secretly do better than Terry, and this comes to light when Gemma's ambition overtakes Terry's. In the past, all they've ever had in common was Draper's, so their new life away from the coach business has definitely put an added strain on their relationship.
Why do you think the show has always drawn such tremendous guest stars?
It's the catering. We are known throughout the industry for soups of the day!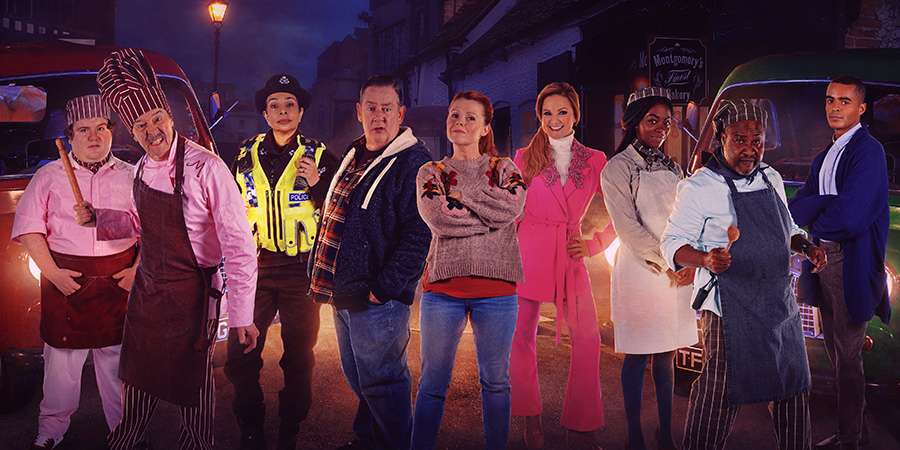 Did you enjoy working with such comedy greats as Paul Whitehouse, Jason Manford and Lee Mack in this series?
Of course! I was a little starstruck - I mean, they are all comedy legends, aren't they? In fact, the whole guest cast this series were just perfect, and I felt very lucky to be working with all of them and make some lovely new friends. Every actor brought something new and brilliant to the scripts.
Did you find it difficult not to corpse?
Oh yes, every day. It's actually quite annoying because some days were just impossible because we were laughing so much. We have some hysterically funny actors in the series, so I would say it was actually physically impossible not to laugh. Also, Johnny can be quite naughty on set and loves to make people laugh when they're not supposed to. Our lovely director Ed Bye has the patience of a saint.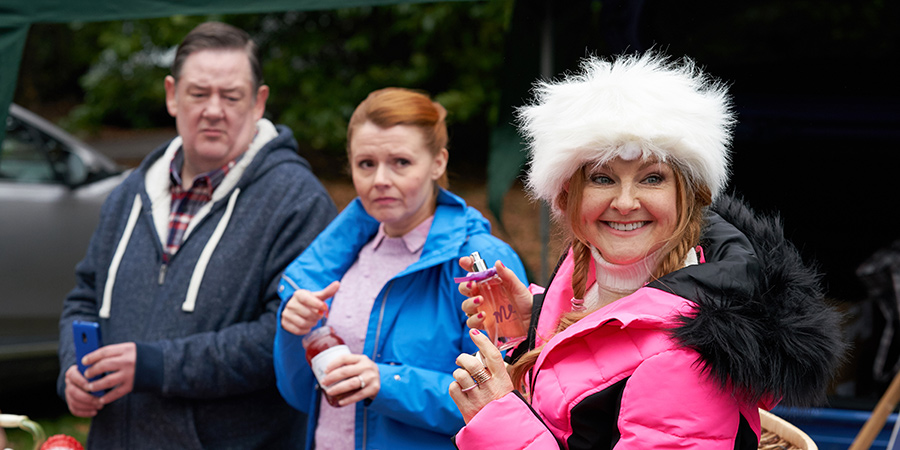 Did you have fun working with Sarah Hadland, who plays Gemma's sister Monica?
I have always wanted to work with Sarah, as I think she's so brilliantly funny and talented. I've bumped into her at auditions in the past, and in fact we have often been compared to each other. So to now be playing sisters seems like it was inevitable. Sarah was amazing fun to be with and the kindest, loveliest person. I loved being on set with her. She's my new adopted sister.
How would you characterise the relationship between Gemma and Monica?
We are sisters who don't really see eye to eye -which is mad because we are practically the same height in flats.
Is there the potential for further series of Murder, They Hope?
Jason [writer Jason Cook] has cleverly left it open for more, so watch this space.
Could it run for as long as Midsomer Murders?
Not if I carry on stuffing my face in catering.
What are you most looking forward to doing once the lockdown has lifted?
Hugging everyone. Watch out.
---