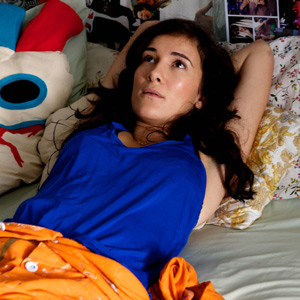 Sarah Solemani, writer and star of Aphrodite Fry, talks about going naked on screen, writing for stage and television, and her co-starring roles in comedies Bad Education and Him & Her...
To start off, how would you describe Aphrodite Fry to our readers?
It's about a woman, a mural artist in Brighton who has an unfortunate experience with an ejaculation! She decides to get her own back on an unsuspecting estate agent, Bobby, and it's a story about love, comedy and sex.
You've written a number of plays but this is your first piece for television, is that correct? How did you find the process, was it an easy transition from stage to screen?
Yeah, my first for television. I think theatre is much more exposing for writing because when you're in front of an audience you're very aware instantly if the material is connecting or not. In screencraft you can fine-tune all the way through, right up until the last minute in the editing you can keep on taking out lines and making changes. So I think theatre's a good place to start because you've sort of got nowhere to hide if the writing's bad; it's just so, so obvious - so the pressure's on to make it really good before you show it to anyone.
Would you say there's a feminist message at the heart of the show; addressing that, in her flatmate Toe's words, men can "cum and go" much more readily than women?
I think that because I am feminist my work is going to subliminally have that kind of content to it, but it's not an overt feminist piece. It's taking stereotypes about sex: we're told that men are these hunters, and these sexual predators, and we as women have to protect ourselves and not give it up too easily and all that, but what Aphrodite hopefully does is break down those archetypes. So you have the character (Bobby) who can't act like that, and Aphrodite who can't act like the typical female, so hopefully - well, I think feminism is about men and women, not giving them roles to play, but allowing them to be individuals and connect with their human-ness. So yes, I think that's a good point, I think there is a feminist message of sorts, but I hope it's a lot more subliminal than in your face!
The idea of stripping back judgement and just being yourself is really at the heart of it.
You also hint toward some existential questions through Bobby's anxieties, and his paper note proclaiming "we are nothing but dirt and dust". Is this a theme that appeals to you in your writing?
Yeah, that's a really good question. I was actually inspired by the Talmud, which is a compendium of ancient Jewish law. There's a story of a Rabbi who has these pieces of paper in his pocket, just like Bobby... it's a message about faith, and contains what struck me as a sort of paradox about being alive. We are the centre of own universes, because we are seeing everything through our own shell, from our skeleton, so we of course are at the centre of our respective universes; but at the same time we decay and we turn to dust and it doesn't really matter what we do. So there's an inherent paradox in being alive, and I liked how that metaphor kind of indicates that.
The show ends with a scene of non-sexual nude bonding between Aphrodite and Bobby. Quite a brave thing to do, probably many actresses would be reluctant, but of course you wrote it in the first place!
Oh I know! I definitely had 'writer hat' on! I wrote that, and the stage direction is "they take their clothes off, not sexual, they stand naked like John [Lennon] and Yoko [Ono] with the wind blowing in their hair, a metaphorical olive branch, and then they run naked together into the sea". And then when we came to do it and it was freezing and the director had bottle of brandy for me when I came out - which I definitely needed because it was at night in winter! But yeah, I think it just works for the piece; because I'm controlling it as the writer and it's my context of nudity, I thought 'I don't mind doing it'.
We wondered not just about the cold, but about scampering across the stony Brighton beach barefoot!
Aw, ha ha, well it wasn't the most pleasurable!
You're best known for BBC Three sitcoms Him & Her and Jack Whitehall's Bad Education - both of which also have a strong love element to your characters. Is that pure coincidence or is love and romance a topic that particularly interest you as an actress?
Oh gosh! Oh, I hadn't thought about it really... Um, you just take scripts that appeal to you, so I think it must just be coincidence. I really liked the writing of Him & Her, I thought it was really truthful and unlike anything I'd quite seen before. Me and Jack Whitehall have known each other for years and been wanting to work together, and his writing's brilliant - it just so happens that they're both love interest roles. Then Sky came to me with an offer of writing something for their Love Season. So I suppose it's choosing me rather than me choosing it!
As you've mentioned the realism of Him & Her, is Laura - truly vile - not becoming almost a pantomime villain in some ways?
Ooh, yeah... Well, sadly there are people like that. She's awful, but there are people out there who share the views she expresses and act as she does.
You're filming a second series of Bad Education soon? We loved Series 1, it must have been great fun to shoot.
Yes, it was lots of fun! We're rehearsing all this week and filming from next week, a seven week shoot - the scripts are even funnier than last year, which I didn't think was possible, and we've got great new additions to the cast. Yeah, it's a really fun show to do; all the kids are great, Jack's really great to work with, really collaborative and grateful for my input. We have a great time and it's really just such a pleasure to do.
We'll be looking forward to it! And can we expect a fourth series of Him & Her?
Ah, you'll have to watch this space! I'd love to do it, but we're just waiting to hear from the BBC for confirmation...
You've also got Psychobitches and The Wrong Mans coming up, plus Paul Raymond biopic The Look Of Love in cinemas later this month. A very busy and exciting time! What can you tell us about them?
It's a really exciting time! The Wrong Mans is a comedy thriller written by James Corden and Mathew Baynton; it's a really funny script that sort of looks at a case of mistaken identity in the vein of the classic action-thriller genre - but a comedy version of it, so what actually happens if you jump off a train and what really happens if the Russian mafia are after you! It's just really funny, directed by Jim Field Smith, and was another great shoot. We shot that a couple of months ago and it'll hopefully be on screens later in the year.
Psychobitches is a new show for Sky. It's a sketch show lead by Rebecca Front as a therapist; I play several characters including Anne Frank and Anne Brontë. It's a great all female cast with great writing - and directed by Jeremy Dyson. I was really thrilled to work with Rebecca in particular, I've been a fan of hers for years!
As for The Look Of Love, that's directed by Michael Winterbottom. He's a big fan of Him & Her and asked me to do a little cameo. A few other comic actors are doing cameos in it too. That was great to work with Steve Coogan, we improvised a scene and it was a wonderful experience.
Aphrodite Fry is a one-off comedy under Sky Living's Love Matters banner. It will be broadcast on Thursday 4th April 2013 at 9:30pm.