Series 6, Episode 6 - Lenny Henry, Mike Wilmot, Tommy Tiernan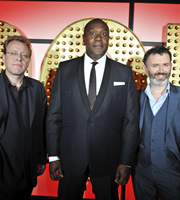 Broadcast details
Date

Saturday 1st January 2011

Time

9:30pm

Channel

Length

30 minutes
Repeats
View more broadcast data
This content is exclusive to
BCG Pro subscribers
and
BCG Supporters
. Join them and get extra features including this episode's audience figures and further repeats data.
Already a donor or subscriber?
Sign in
Cast & crew
Writing team
Jon Canter
Writer (Additional Material)
Videos
Tommy Tiernan describes the time there was fire drill at his school, but his friend Richie thought it was the morning bell and went off to have a shower.
Featuring: Tommy Tiernan.
Mike Wilmot describes the relationship with his partner, and jokes that it's not love but spite that keeps them together!
Featuring: Mike Wilmot.
Lenny Henry tells us that he loves buying music online for all the alternative suggestions it gives you.
Featuring: Lenny Henry.
View related press