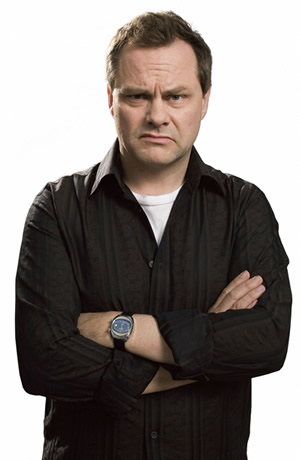 British Comedy Guide interviews Jack Dee, who co-writes Lead Balloon with Pete Sinclair and also stars in the series as Rick Spleen (pictured)...
Hi Jack. Thanks very much for taking time out of your busy schedule to talk to us; and congratulations on the on-going success of Lead Balloon.
My pleasure, and thanks very much. I know you've already talked to Pete Sinclair. I think he wanted to give you the impression that he was involved in the making of the show - he's more a fan. Actually, I think he's a stalker.
Ha ha. Well, in that case Pete has done a good job of 'stalking you'... you've been working with him for quite a while?
A while, yeah. He gets to these interviews before me, sets it up and says, 'oh I wrote it with Jack, I'm a friend of his'. I've actually got an order out on him now.
He he. When you were in your 20s you were working in a pizza restaurant... back then, did you ever think you might one day be starring in a hit sitcom on the BBC?
Not in my wildest dreams would I have been able to imagine I was even going to change paths in my life, let alone go into something like this. It's funny, because comedy is about the only thing I did with no other agenda than having fun. Back then I thought I'd go into the restaurant business and become a restaurant mogul!
Anything I did, I approached with an all-or-nothing approach; but with comedy I literally just went to the Comedy Store now and again, and my ambition for about two years was to get my name on the blackboard on the door outside, that's all I'd wanted... just so that I could say that I'd done that.
Maybe it was because my approach to it was quite, um... sort-of humble... maybe that allowed me the space to do what I was meant to be doing.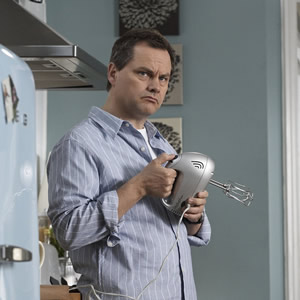 Well thank goodness you did stick at comedy. The restaurant industry's loss is most definitely the comedy industry's gain! Obviously, since the 90s you've been a regular fixture on the TV with your stand-up shows and, more recently, panel show appearances. For example, you showed off your hidden musical skills on Never Mind The Buzzcocks the other week...
Yeah, well I thought it was about time to let the nation know there's more to me than just a grumpy face. There's an outstanding musician in me as well!
Your musical intros made us laugh a lot! Although you've been on TV for a number of years now, we think we're right in saying that Lead Balloon is your first sitcom? How come you haven't starred in one before now Jack?
I had the chance to. I was actually in the pilot of The Grimleys, an ITV comedy which enjoyed some success in the late 90s. I didn't take up the option of doing the series because I had a lot of other stuff on and I was still building my stand up career.
I think with sitcom you have to be quite careful because you don't get that many goes at it. This is especially true if you're a stand-up, because you're inevitably going to be very closely associated with the programme. As the start people will always be thinking, 'this is him trying to turn his stage act into a sitcom'... although that's not really accurate. If you don't get sitcom right, I think it can be very difficult to get another try at it. As a result, I was quite guarded whenever I was sent scripts. I was very, very cautious. In the end I decided to do my own.
A very wise approach. Pete has also talked about how hard it can be to get sitcom right - at what stage with Lead Balloon did you realise you were onto a good idea that was worth pursuing?
Well, it was received well as a script and the actors all enjoyed it and we enjoyed making it, but of course that can be quite misleading. You can never really be sure until you get the reaction when it goes out.
When series one did go out, it was extremely well received... and that was really gratifying because inevitably you think it's funny, but because you're somewhat working in the dark, it can go wrong. During production you can perhaps be self-indulgent, overlook the fact that you have not fully explained the premise or a character, or something like that. We were really as thorough as we could be, but there is always that doubt in your mind when it goes out saying, 'will people like it, or are we just being self-indulgent here?'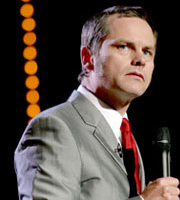 That brings up an interesting question... Lead Balloon is one of the few things you've done without a live audience. Did you find it weird performing without the instant feedback of audience laughter?
Yeah, it's strange and you have to learn to be patient for the laugh as it were. Certainly you get a laugh when making it, but that's only the first take - and you then have to keep the laugh within you, because you're not getting that feedback from the audience.
As you know, with stand-up you have an idea and, ten minutes later, you're on stage trying it - the audience either like it or don't like it. You then know whether it was a good idea or not. With an idea for a sitcom and, later down the line, an idea for an episode or a storyline that you think is funny, you're not going to know if the audience like it until you've made it.
Interesting stuff. We just had a good follow up question to ask you then... but now it's gone...
Well, whatever it was, I had a good answer to it.
Ha ha. Now you've had some success with Lead Balloon, does it make you want to do more scripted comedy?
Scripted comedy certainly has the advantage that you get as many takes as you need to get it right, but the trouble is the more opportunity you have to get it right, the more opportunity you also have to get it wrong.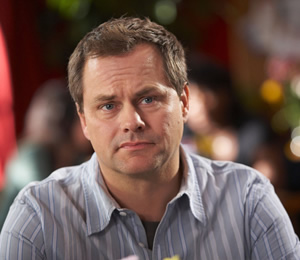 A great mate of mine who writes as well, Jim Pullin, he once said that comedy isn't the hardest thing in the world to get right, but it probably is the easiest thing to get wrong. If you make a mistake anywhere along the line, it just won't work. Very often you see something that is slated for not being funny, you can watch the show and say 'actually they've got the basics there, it's just been badly done - that's all'.
With Lead Balloon we sit in on the edit as well to ensure that nothing is lost along the process. So it's a very painstaking, slow process - we don't leave anything to chance.
We've watched the extras on the first series DVD, there's a fair bit of corpsing going on there. Now you're three series in, is that still happening?
Anna Crilly, who plays Magda, is very unprofessional. She will laugh at almost anything. Ha ha.
If you're making a comedy and you're corpsing, on the whole it's probably a fairly healthy sign. If, on the 38th long day of shooting, you're still laughing that's got to be a good sign!
However, if you corpse when making an episode of Silent Witness, then it becomes embarrassing.
You recently revealed that, when you told your son Charlie you were starring in an episode of Kingdom with Stephen Fry, he asked: 'Dad, are you playing another grumpy man?'. You've obviously become fairly well known for your grumpy persona, but as Charlie points out, that's not actually you in real life. So, our question is, do you regret creating that persona?
I think the more I've done acting, the more I've realised all actors have a range. Some actors have quite a wide range, but that's actually pretty rare. Most actors have a range in which they're comfortable, and in which they put in their best performances, and when they stray beyond this they have difficulties. It doesn't mean you shouldn't push yourself, but something I've come to understand is that it's ok, it's ok that grumpy is kind of my forte, if you like. It's the area in which I work best and so it's unlikely I'll ever be cast as Ronald McDonald!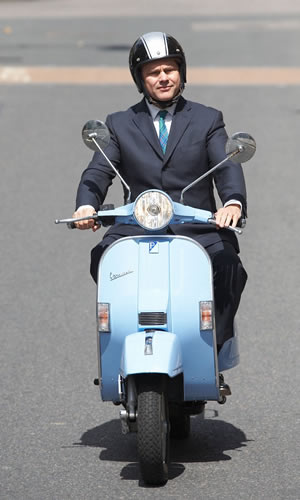 That would certainly be a different McDonald's advert! Pete also told us about how you have used embarrassing experiences from your own lives to form ideas for episodes in Lead Balloon... oh, sorry, we've started to ask you the question we were going to try and avoid, because you must be so bored of being asking how similar you are to Rick...
Well, most things that have happened to Rick can be traced back to something that's happened to us or to friends. We do make up some stories though. I've been doing a load of radio interviews today and it reminded me of one of the new episodes in series three... Rick goes to do a phone-in and actually no one rings up to talk to him. I like inventing those situations, and so does Pete. We get a lot of fun out of them.
Excellent. Do you think Lead Balloon can run for more series?
There's loads more to come. It's really just a question of whether the BBC wants to go with it - and we won't know the answer to that until the latest series has run and we know that the audience is still there. That's not a given with any TV programme. I'm hopeful though because Pete and I love writing it, the cast love making it, and we've got lots more we would like to do with Lead Balloon.
Great stuff. Well, good luck on that commission Jack! One final question if we may: excluding your own shows, what are your favourite comedies?
I've just been asked to do an episode of Shooting Stars, and so I've been re-watching a video of that - that's really made me laugh a lot. Vic and Bob are always wonderful.
The stuff on telly that makes me laugh is the stuff I can sit down and watch with my kids. I enjoy Harry Hill and Little Britain and the other stuff like that which they are really into. I like to sit down and watch with them because I think in many ways it's actually quite sophisticated comedy. Catherine Tate too, and Harry and Paul's latest series. They loved the spoof they did of Dragon's Den - they watch that again and again on YouTube. They're only 10 years old, but they're really onto it. Kids these days are really very savvy and sorted out!
Thanks again Jack. Great to talk to you!