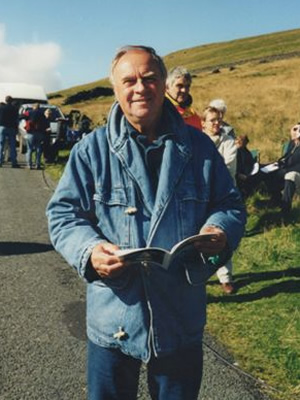 TV producer and director Alan J W Bell has been behind some of Britain's best known comedies. Perhaps most notably Last Of The Summer Wine. Here we ask him a few questions about the show and his LOTSW book...
Hi Alan. Perhaps we could start by asking you to explain how you got into the TV industry...
I had made some amateur films where I lived in Scotland, and I saw an advertisement in The Kinematograph Weekly. The BBC were inviting applicants who had a proven interest in Film to be assistants in their growing film department. The BBC had recently bought the old Ealing Studios and they were taking on more and more staff to cope with the demands of making programmes. That was in 1958, and for the following ten years I 'graduated' to becoming a Film Editor.
Independently, I made what were called 'Highlights', which were short films cut to music that were shown whenever there was a breakdown, or a programme was under-running. It was these short five minute films that took me through Film Department to the post of Film Editor, where I worked on Drama, Documentaries, and Light Entertainment.
In the early 1980s you worked on the TV series of The Hitchhiker's Guide To The Galaxy. Did you feel any pressure setting that up, given how well the radio show had been received?
The radio series was very good and imaginative. Being imaginative is easy on radio where a simple sound effect can transport the listener a million miles in a mere moment, but in television, no matter how much money was spent, the sets could never be as good as those in a listener's mind. For that reason, I initially turned the series down when Teddy Warwick, the Head of Radio, suggested that I should make the series for television.
There was no pressure exerted upon me in the making of Hitchhiker, but there was enormous support from John Howard Davies, who was Head of Comedy. The production ran incredibly smoothly, bearing in mind that it had live action, film sequences and animation.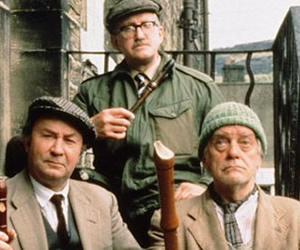 It was about the same time you joined Last Of The Summer Wine. What were your initial thoughts?
My first thoughts were that this was a gift, and what had I done to be lucky enough to be given a series that was so well written. I couldn't wait to get started.
You decided to do away with the studio audience?
No, I didn't decide to do away with the audience. I stopped making the series with three quarters of it filmed on location, and the other quarter performed before a studio audience (with the film sequences played in). I would, instead, film everything with a single camera and then show the finished films to a preview audience in either a cinema or a television studio.
The big risk would be the difficulty of filming the interior scenes - the café, for instance - where the scene would formerly be recorded with four studio cameras, and getting the same results having to set-up and light every shot. It proved to be quite a challenge, but a routine evolved that let me shoot the scenes quickly without losing any quality.
In total, you spent 29 years producing and directing the show. Quite remarkable. What are your favourite memories from this time?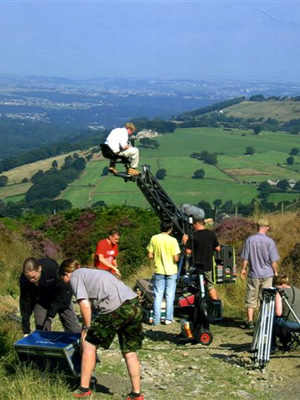 My favourite memories of the years I spent on the series were the joy of working with some really great comedy actors; reading Roy Clarke's scripts for the first time; and the enormous pleasure of hearing the laughter of a live studio (or preview) audience.
It must have been lovely filming in such a picturesque part of the country?
Once, when my agent was negotiating my contract, a senior BBC Booker remarked "Well, directing the series can't be that demanding; it is, after all, just three old men wandering around the countryside." He was right, of course, but finding the locations, which were chosen to fit the demands of the script, and actually being able to have good enough weather to let the unit do any filming at all, was a major task. But I realised that it was the countryside that made the series so different from the usual studio-bound sitcoms, and it was worth all the trouble.
Were there any low-points though? We've seen a newspaper cutting suggesting you had a fall out with the local residents of Holmfirth at one point.
We always had a good relationship with the people of Holmfirth - and they were incredibly tolerant when our filming activities held up the traffic or caused them to be inconvenienced.
The problems came when other units filmed in the area (particularly in Marsden over the hills from Holmfirth). Being drama productions, which for some inexplicable reason were better funded, they threw money at the locations, which we couldn't do. Consequently, there were several occasions where, at the last minute, a greedy nearby resident had to have some very noisy work done, that only £500 would stop. I said that I wouldn't be blackmailed, and we would pack up and go elsewhere. I even filmed a scene with Nora Batty leaving her house, which had been sold. It was the people of the town - angry that we were going elsewhere - who sorted the problem out.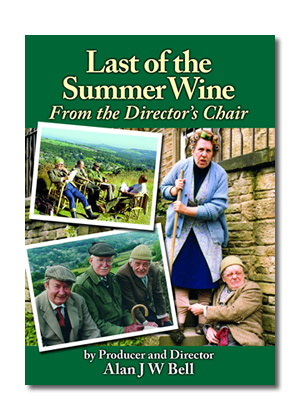 You've written a book about your time on the show, could you tell us a little more about that...
Last of the Summer Wine from the Directors Chair is a personal account of producing and directing the series over a period of twenty-nine years. During that time, there were many ups and downs and major challenges (the death of Bill Owen in mid series was one) and it was suggested that my book would be a unique insight into television comedy production. Who else had made 250 comedy programmes with so many demands?
It was suggested to me, that it would be an enlightening story about a series which was - and still is - popular throughout the world. It would also reveal the collapse of the old, much respected BBC, and the introduction of 'Executive World', where the licence fee is regarded as a means of raking in big money for their obscene salaries.
Talking of management, you also explain in the book how you found out the show was to be axed...
It was on the day that I had wrapped up the final episode of the 2009 series. I had persuaded Russ Abbot (pictured below with writer Roy Clarke) to join the series, and I was very pleased with myself in having re-structured the show to rejuvenate it. I returned home and found an email which said that there would be no filming of the series the following year. At first I thought it was a joke, for I had discussed my strategy with the Head of Comedy, but it was true. Before Russ's series had been seen, the series was virtually axed!
Jay Hunt put her name to the deed, but it was clear that there was someone else behind the decision - it wasn't entirely of her doing.
The official BBC press release issued at the time doesn't really give a reason behind the decision... have you had any further insight since as to why it was?
Jay Hunt was about to leave to go to Channel 4; the Comedy Commissioning Editor had gone over to Sky, so I asked the new Commissioning Editor why the series had been cancelled. "To make way for younger talent" she said. Of course.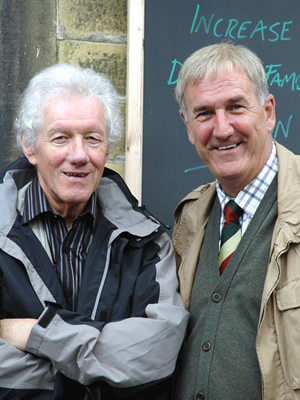 Toward the end, the show was receiving more negative reviews though, and a Radio Times poll in 2003 suggested it wasn't something some licence fee payers wanted money to be spent on?
A lasting series like Last Of The Summer Wine is bound to receive some bad reviews - especially from writers who have little talent themselves and know that Last Of The Summer Wine will always get them a headline. But to balance those critics (and I can't say that I was aware of there being more than one or two), you should read the articles by Lord Hattersley. Which give a fair and balanced appraisal of the series.
The Radio Times poll in 2003 was a dishonest disgrace. The publication opened up a new website and asked a pretty loaded question. Not surprisingly, the much younger and less sentimental loggers-in put our series top of the list of programmes they would like to see ended. This new site, with very little following, then issued a press release. How many typical Summer Wine fans are likely to be scanning the internet? Why didn't they give the number of people who voted? It was a very dishonest attack on the programme and unfair. The Radio Times regularly disgraced itself by publishing letters about the 'canned' laughter in the series, but they won't print my response that it is not, and never has been, fake laughter.
Good answer Alan. Do you think there's enough comedy on TV for older generations?
As I am older now myself, I find that I never watch comedy on TV. It seems to be mandatory that four letter words and general embarrassment are necessary ingredients. When I hear them, it is an indication of the lack of skill in writing comedy, and switch off. And don't forget that Last Of The Summer Wine - that programme that overstayed its welcome - can be seen about twenty times a week on the UKTV satellite channels, where they get the biggest audiences.
You're pretty critical of the changing BBC management style in your book...
Prime Minister Thatcher put Marmaduke Hussey, who had faced up to the print unions, in as Chairman of the BBC. His brief was to break up the BBC. He was helped by John Birt from ITV, who was appointed Director General of the BBC. ITV Executives were appointed as Heads of almost every department. All the departments - Design, Costume, Scenic construction, Film Department etc etc were all run-down and abandoned.
Now a programme is 'commissioned' and the production put into the hands of a commercial company - where a profit margin is paid. The old BBC was by no means perfect, but there was a great feeling of being part of an organisation where integrity was paramount. All that the executives do today is leap from ITV to BBC to Channel 4, to Channel 5 and Sky and command huge salaries. It would be impossible to go back to the days when John Howard Davies (then Head of Comedy) would hand me a script and say "I wan't you to make this." No longer is there a clear leader and, although the current problems in News and Current Affairs are far apart from Comedy and Light Entertainment, that is the way new BBC is positioned for the future.
Depressing stuff. Back on a more positive note Alan, do you still keep in touch with Roy Clarke?
I had lunch with Roy Clarke last week, and we talk on the telephone regularly. In fact, when I was making the series, I probably only met Roy on about forty occasions. He was busy writing, and I was busy bringing his wonderful words to life.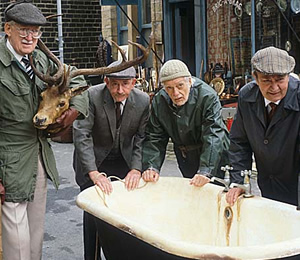 Final question to end on, how many times have you seen that bath tub clip now? It always seems to be the clip selected to showcase the programme.
Roy Clarke's script called for the bath to roll back into a ditch, but as there weren't any ditches in the area, I changed it to what we have now. It was only after the scene was shown as part of a tribute programme ten years later, that the bath scene was criticised. I watched the scene the other night on satellite and thought that it was a well performed stunt sequence, which was not in any way contrived (a stunt for stunt's sake).
And it made a large audience laugh - which is what it's all about when we make comedy programmes. With little consideration, I would rather be responsible for a scene where an old man rolls down a hill in a bath, than for a scene where a teenager pisses all over his bed. Give me good, clean humour any day. But it's not so easy to write.
Nicely put Alan. Thanks for all your time and thoughts.
Last of the Summer Wine from the Directors Chair is available now via online retailers, and direct from the publisher
As Alan mentioned, Last Of The Summer Wine is regularly repeated. Particularly, at the time of writing, on GOLD and Yesterday. To find out when the next repeats are see our guide