Fergus Craig, who plays Max in Hoff The Record, talks about what it was like to film Hoff The Record...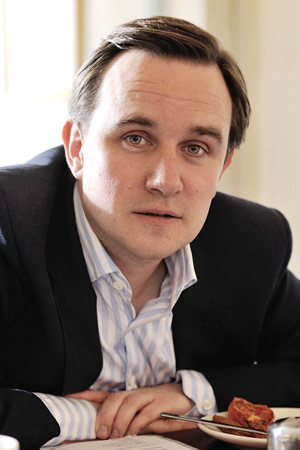 I have only been on a couple of red carpets in my life. One was at the Baftas with a Channel 4 show called Star Stories. I was smart enough to recognise that no one knew who I was and ran down the carpet with my head down. We didn't win. That's ok, we didn't expect to. I got to stand near Nick Hewer from The Apprentice at the after party so it wasn't a wasted night. The next red carpet was at a badly decorated B&B above a pub in Porthcawl.
A week or so ago I was on another red carpet, my third. This was at the premiere for a new sitcom I'm in called Hoff The Record. Sitcoms don't usually get red carpet premieres. They get 'screenings' with bowls of crisps beforehand and, if you're lucky, warm Becks. But sitcoms don't usually have David Hasselhoff in them. Add David Hasselhoff to anything and he will bring glamour and, if we're honest, a little bit of madness.
I was ushered onto the red carpet by the show's PR and told to stand in front of a pack of photographers. Back in the days of film this wouldn't have been worth it, but with digital cameras there was no harm in going through the charade of pretending these photos might sell. I'm sure I heard someone mumble 'who the fuck is that?'. If they'd have only taken the time to look at my IMDb page they'd have seen that in 2007 I played the role of 'Chip Shop Assistant' on EastEnders!
But then came a man everyone knew, and not just because he has the word 'Hoff' tattooed on his arm. He plays up for the cameras with aplomb. Here is a man so comfortable on a red carpet he may well have been born onto one. I will not apologise for putting that image into your head.
Hoff The Record is a semi-improvised sitcom for TV channel Dave in which David Hasselhoff plays a semi-fictionalised version of himself. The idea is he's bankrupt and trying to get his career back on track in the UK. I play his manager, Max Coleman - a slippery so-and-so trying to milk Hoff for every penny that he can whilst going through a breakdown of sorts.
And yes, I know I just called him Hoff. I felt uncomfortable with it at first, but once you've been working with him a while you realise it's easiest that way.
I have an admission to make. When I first heard about this show I didn't immediately think 'this is my route back to the Baftas'. I didn't associate David Hasselhoff with quality TV comedy. Sue me. There is, of course, that famous Hooked On A Feeling video but part of the joy of that was the question 'does he know this is funny?'. I can answer that for you: He does. I think.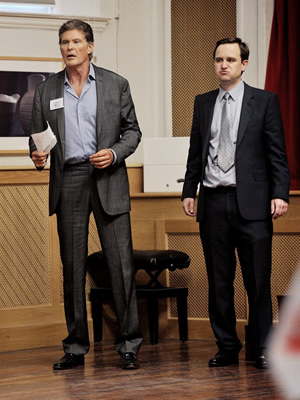 One of the hardest things about improvised comedy is not to edit yourself, to just go with the moment. It turns out David is genuinely brilliant at that. The man is a constant stream of consciousness. I'm saving the incredible story he told me about his first day filming on Knight Rider for my tell all autobiography. He's also, you start to realise, invariably the smartest person in the room. I'm already signed up for the second series in case you think I'm sucking up.
It was suggested that in writing this piece, I made some kind of general comment about TV comedies at the moment. Here's the thing - I don't watch them all that much. To be frank, I don't find it relaxing. Often I'm watching something I unsuccessfully auditioned for. Imagine applying for a job at WH Smiths, not getting it, but then going in to watch the person who did get the job do a few shifts. I think I'm relatively level headed but sometimes that's just a step too far. Alternatively, being an average writer as well as an average actor, I find myself analysing the structure rather than just enjoying shows for what they are. While you're chuckling away, I'm the twat in the corner stroking his chin and muttering 'hmmm, clever'.
So I'm not making a dig at contemporary TV comedy - just explaining my ignorance. Two shows which managed to break my wall of defence are Catastrophe and John Oliver's HBO show Last Week Tonight. Sharon Horgan and Rob Delaney's Channel 4 sitcom Catastrophe had two immensely likable leads being funny and immensely likable. John Oliver meanwhile, a man with whom I shared a car journey to Leicester in 2005, has gone on to become the world's best satirist. I'd like to think I played a part in that. I didn't, but I'd like to think I did.
This leaves me unqualified to assess where Hoff The Record fits into British TV's current comedy roster. My guess would be that it offers something different. Without wishing to give too much away I'd recommend watching this series for Simon Greenall (of Alan Partridge fame) and his performance as a Balkan warlord alone.
For me personally 2014, 2015 and with any luck 2016 (third series please) are likely to be known as 'the Hoff The Record years'. A period of my life in which I got to muck around with the star of Knight Rider, Baywatch and Sharknado 3 (just announced) and, in the process, make a pretty good sitcom.
Hoff The Record is on Dave on Thursdays at 9pm.
Published: Monday 15th June 2015