Win a copy of the new H2G2 Blu-ray restoration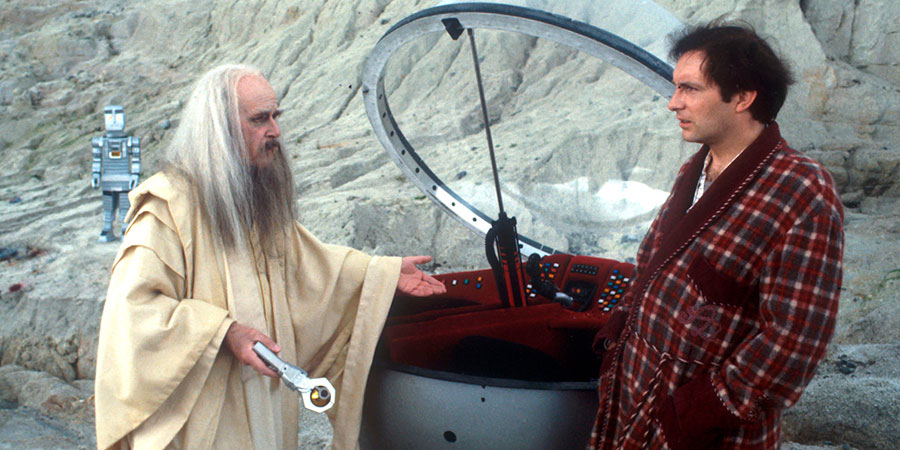 A radio phenomenon. A publishing smash-hit. A cult sitcom. The television incarnation of The Hitchhiker's Guide To The Galaxy is re-released this October and we have 5 beautiful copies to give away.
Written by Douglas Adams, based on his hit radio series and novel of the same name, the comedy sci-fi adventure was broadcast in 6 episodes in early 1981, instantly winning over a whole new legion of fans.
Peter Jones stars as the voice of The Book - the eponymous Hitchhiker's Guide To The Galaxy - itself; with Simon Jones starring as Arthur Dent, whose day starts on a high when he finds his beautiful country cottage is due to be demolished. A high, because that's nothing compared to the demolition of the entire planet Earth, which occurs mere minutes later.
The new release is available to order on both DVD and Blu-ray Special Edition, coinciding with this year's 40th anniversary of the original radio show's first broadcast.
Alongside new remastered restorations of all six episodes are an extraordinary number of extras: more than 5 and a half hours in total, including behind-the-scenes footage, trailers, a plethora of interviews and discussions with Douglas Adams, features about the writing of Hitchhiker's and making of the series, and much more. Plus all the original extras from the original 2005 DVD release.
And yet that is still not all. The soundtrack is included in original 1981 mono and stereo mixes; as well as a new 2018 restored stereo mix, and a stonking 5.1 channel surround sound mix.
Buy the Blu-ray, and the series (and various extras) has also been fully remastered and upscaled to HD resolution, resulting in the very best quality picture any Hitchhiker could hope for.
If that weren't enough, there's also a deluxe Collector's Edition, which comes in retro VHS sized-and-styled packaging, with an extensive 24-page behind-the-scenes booklet and beautiful art card.
Both Blu-ray versions, and the standard DVD release, are available to order now.
To celebrate, BBC Worldwide have given us no fewer than five Blu-ray copies to give away to the hoopiest froods in the universe - three of which are the gorgeous Collector's Edition, to be selected at random from the winning entries.
Don't forget your towel.