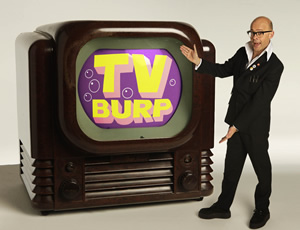 Harry Hill's TV Burp was ITV1's most successful comedy during the 2000s. In it, surreal comedian Harry Hill took a look at the past week's television - offering up clever quips, picking out the funniest moments, mocking bad writing and acting, and drawing attention to things in the background viewers might have missed (like extras who try to attract attention to themselves), not to mention using props and camera editing to change scenes, and just generally ribbing TV shows in an affectionate way.
The first TV Burp was a pilot, shown on the 22nd December 2001. A series was eventually commissioned, and the show made its debut on ITV1 on the 14th November 2002. At first audience figures were low, and the show was bumped around the schedules during its early series (much to the annoyance of those that had already discovered it). ITV did have enough faith in the show that they continued to re-commission new series despite relatively low viewing figures and, over time, this paid off. Growing word-of-mouth recommendations, positive press and a move to a weekend tea-time slot resulted in the show attracting an ever-growing following.
However, it was not until 2008 that TV Burp really hit the big time - on Saturday 26th January the show broke through the 7 million viewers mark, instantly making it one of the most-watched comedies of the decade to date. The show then went on to scoop two BAFTAs, two Royal Television Society Awards, a Comedy.co.uk Award, and a number of other nominations and awards later in the same year.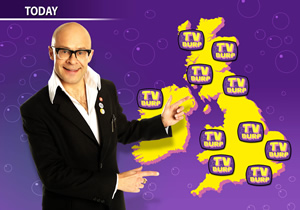 Reaching twelve series, TV Burp was a well-established staple of telly diets across the country, particularly valuable to ITV1 as it attracts a significant number of viewer demographics that would not normally watch the channel.
The programme features many popular and recurring elements, such as the 'TV Highlight of the Week', which is a re-play of that week's most mundane TV moment. Other versions of this in the past have included, 'TV Expert of the Week', 'Voiceover Highlight of the Week' and 'I Beg Your Pardon of the Week', and more extreme oddities like, 'Most Casual Turning on of a Car Indicator of the Week' and 'Lopsided Glasses Wear Who Looks a bit like David Baddiel of the Week'. There are also similar little asides, such as the 'TV Burp Poetry Corner' which features people on TV accidentally rhyming; 'TV Burp Stars of Tomorrow Today', featuring people new to TV that week who are unlikely to be big names; and 'This Week's Apprentice in a Nutshell', in which one contestant from The Apprentice explains how they will win, only for them to be fired at the end of the episode.
Another regular feature of the show is the pre-advertisement fight. In each episode just before the break, Hill spots two (or more) different opposing sides within a programme and then proclaims, Which is better? There's only one way to find out! FIGHT!!! - at which point two (or more) actors dressed up in appropriate costumes come out onto the set to battle it out. Past fights have included Jesus versus Hitler; Phil Mitchell versus Mr Blobby; Toilet Seat Up versus Toilet Seat Down; Pasta versus Nothing; and A Wasp versus An Early Bath! One fight was supposed to be between a mermaid and boobies, but there was a mix-up and a pair of Bobbies turned up instead.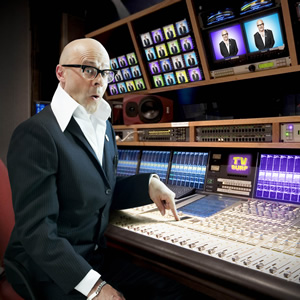 A third recurring element in TV Burp is ending on a song. Hill often bows out with a musical number, but they are never normal performances - in the past he has sung 'I So Lonely' with kebab meat, got Bruce Jones (Les Battersby from Coronation Street) singing 'Rhinestone Cowboy' after giving him a pet horse, and accompanied one-hit wonders Splogenessabounds in a rendition of 'Two Pints of Lager and a Packet of Crisps Please' whilst dressed as KISS frontman Gene Simmons.
Many series have also had their own additional recurring elements. For example, there was once the exclamation of The nail bar - nail bar - nail bar! in EastEnders, which was then repeated in the later episodes of that series. Any mention of BBC Three show Freaky Eaters also brought out another recurring gag - Hill making a moronic gurn in relation to the foods mentioned (such as Chippy chips! and Hoopy hoops!). Series seven meanwhile saw the broadcast of a scene from Emmerdale in which the character Val said: Cataracts?. This lead to a very long routine involving many TV personalities, including Richard and Judy, Al Murray and Ricky Gervais (see our video section for this clip).
In the later series, recurring jokes included a puppet shark attacking Harry, watching jelly for entertainment (inspired by Heston's Victorian Feast), and "The Knitted Character" from EastEnders popping up in various shows. This later joke went on to become a competition - "Where Has The Knitted Character Been This Week?" - in which viewers had to try to find The Knitted Character subtly hidden in one of the TV shows broadcasting that week. He appeared on programmes including Countdown, The One Show and This Morning. Another competition was The K Factor, in which the public send in their own knitted creations to the show.
There were other recurring characters in the series. As of the eighth series, Harry was joined by comedian Steve Benham in drag playing the role of Heather Trott from EastEnders (really played by Cheryl Fergison). There was also "Wagbo", the supposed offspring of X Factor contestants Mary Byrne and Wagner, who would go on a mad rampage through several locations every week, from TV studios to the Bluewater Shopping Centre.
The series eventually ended in 2012, as Hill wanted to move to new projects and the stress of having to watch so many TV shows was getting to him. The series ended with Hill himself singing out the show with both his Heather, the real Heather (Fergison), Wagbo, The Knitted Character, and the little known Amanda Lamb, host of Channel 4's You Deserve This House, who was a recurring joke throughout the last series and subject to song and dance routines about how everyone supposedly knew her.