Following on from the 2014 pilot, new episodes of Flat TV - the comedy series in which Tom Rosenthal and Naz Osmanoglu play a pair of mismatched flatmates - are now ready to view on BBC Three.
As viewers of the 2014 pilot will know, Flat TV isn't your standard flatshare sitcom. Comical news reports in which the characters provide updates on what's going on in their lives breaks up the action - a device that allows for funny quick 'cutaway' gags. Additionally, rather than stay in the realms of reality, we enter the characters' imaginations as the plots veer off into TV spoofs.
The four new episodes feature a number of parodies in each episode. For example, a TV discussion show that looks a bit like Loose Women (in which all of the hosts are played by Rosenthal in drag) discusses whether the character of Tom should break into another flat. Elsewhere, Naz's character inhabits a Sherlock-style world as he tries to work out who has shamed him on an online computer game. Location, Location, Location, Masterchef, Big Brother, I'm A Celebrity and a Bear Grylls survival show are amongst the other formats to get the Flat TV treatment.
Naz explains how he and Tom came up with the format: "We used to live together for three years. We were sitting on our balcony once and just talking about how funny it would be to do our own news about our lives. I think we were a bit worse for wear at the time! But that started this idea of 'Flat News'..."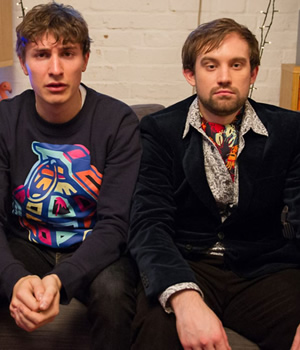 The duo were commissioned by the BBC to make four videos for the BBC website, which can still be seen online. Tom admits the process of making these short sketches was quite a learning curve for them; a rather stressful process as they had to film and edit one a week, and often were editing still the night before they were supposed to deliver the video to the BBC. "We had to make one a week and in the first one we're really happy, and by the fourth I just didn't care how I looked."
The duo say that the online series was worth it though. "I guess we found that that dynamic worked." A pilot followed for BBC Comedy Feeds in 2014, of which Naz says: "I was really surprised about quite how good a natural dynamic we had. When we started making this, we didn't think about Tom and Naz as these sort of polar opposite characters. We just thought 'doing news reports from the flat, that's quite funny'. But then the more we wrote, and the more we analysed our conversations and direction, we did sort of realised that we do have a classic double-act sort of structure. We don't have to reach too far to have arguments and natural bickering!"
Unlike the online series, the boys now have an experienced team helping them bring their vision to the screen, including producer James Farrell and experienced director Declan Lowney. As BCG observed when visiting the studio last year as the episodes were being filmed, creating a single-camera sitcom is really hard work; a long and slow process.
Filming in a darkened studio on the hottest week of the year, it was clearly hard work for the Flat TV team, especially as this style of comedy requires careful attention to detail. At one point filming stopped twice, just to adjust the positioning of Tom's newsreader tie by a few millimetres. There were also many takes of every scene, just to try and get the tone perfect - we lost count on how many intonations the stars had to give whilst saying the same line over and over again. 15 minutes of tape, all for a single second on screen.
A concentrating crew results in a silent set, rather than laughing. It's a standard vibe on a single camera sitcom shoot, but is it hard for the actors to keep delivering lines in this kind of environment? Tom responds: "I found it really hard during the first series of Friday Night Dinner, I just didn't understand what was going on. I thought we were making a really terrible programme, ha ha! But, no, we've both filmed enough now to realise [not to worry if it appears] the gaffer doesn't give a shit!". Naz adds: "We've known the crew for a while now, and there's a lot of good spirit on set. It's quite hard when you do the same joke 10 times and everyone is just like [emotionless voice] 'going again'... but it's not too bad, they're lovely."
The crew certainly relished the challenge of helping to bring the parody elements to life. "Everyone has a really important part to play. Everyone is being funny at different times - sometimes the costumes are really funny, sometimes the sets themselves are jokes" says Tom. His co-star adds: "Everyone is offering up stuff, so it's such a creative atmosphere to work in. The arts department are having a whale of time. Popcorn Trousers! The Swiss Army Hat! We wrote it, and they had to go away and make it. They're amazing, the things they come up with."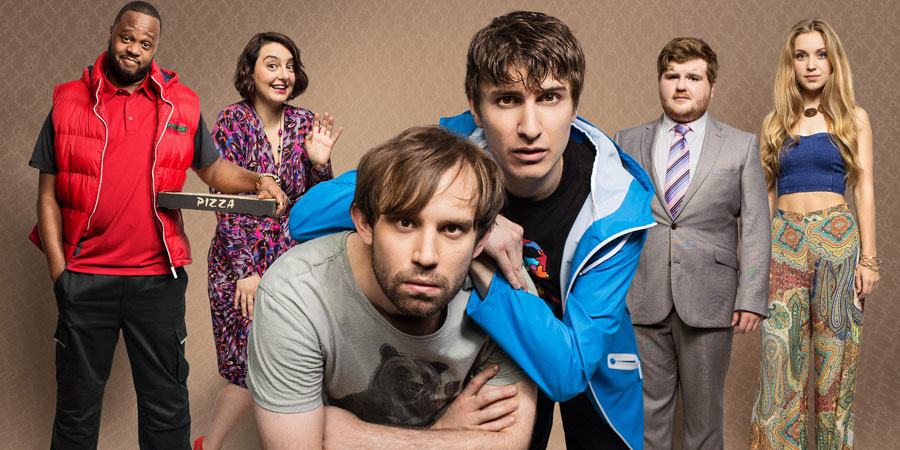 Viewers who saw the pilot will notice some changes in the new episodes. Javone Prince is back, but now as Carl, a pizza delivery man. But also the boys are now joined on screen by subservient flatmate Mikey (Bad Education's Ethan Lawrence) and annoying neighbour Aoife (Rebecca Gethings). Tom also now has a potential love interest in the form of a character called Sophie (Alicia Scott-Fawcett). The flat also looks different. Tom explains: "We wanted the flat to be slightly 'realer', I guess. In the pilot we sort of lived in this hipster palace in Haggerston, which was really nice, but also it felt like we were extremely wealthy and mad and we had loads of crazy toys already, and actually the Tom and Naz's story is that when they go into their imagination that is where they're really crazy."
Naz takes over explaining: "It's still a really nice flat, but it's not quite as big or mad. Also, we're filming in a studio now whereas we filmed it on location before... which gives it so much more scope in the parodies. The fact we can take a wall out and film Flat News from far away will make it feel way more like Sky News or BBC News than we can ever do in an actual flat.
"We've got Declan Lowney directing it, who directed Alpha Papa, who's brilliant. He brings this level of people around him, so the quality of crew we're working with means we're getting much more dynamic shots in both the real world and the parodies... so, if the series is worse than the pilot, it'll just be down to the writing!"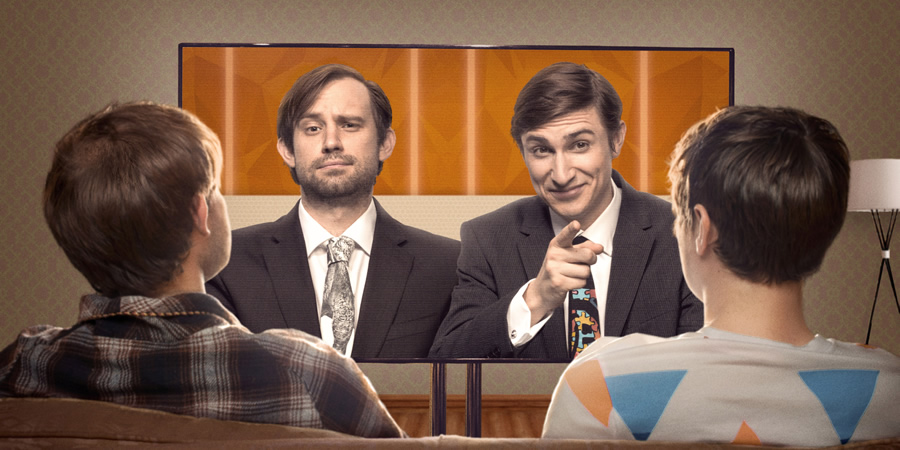 Luckily the scripts are still peppered with gags, but how do they write the show? "We sit together, we shout at each other, one of us walks out, cries, comes back in, more shouting..." jokes Naz. "There's a lot of Pret A Manger!" interjects Tom, before Naz actually explains: "We spent about a month or two just throwing around ideas in the BBC. Just talking and talking, thinking about the characters and trying to figure out exactly what kind of programmes we wanted to do. But mainly what kind of stories we wanted to write..." Tom interjects again: "And then a week before, we changed it all!". "Yeah, we changed it all, ha ha! We tend to write separately, and then swap, and then write together. Nothing happens unless we're writing together really."
Aside from making Flat TV, both the stars are also busy with a number of other comedy projects. Naz has become a regular on Horrible Histories, whilst Tom will soon be seen in Roman garments again when Plebs returns for a third series. Does being this busy on screen mean they don't get to perform stand-up so much any more? Tom admits it does impact on their live work. "Yeah, it [making a TV show] takes up your whole life. I don't have any aspiration to do stand-up when I'm writing this, as it's so all consuming. But I'm sure when the TV show is up I'll want to return..."
Naz agrees. "When you're working on a project, writing, it's then very difficult to go gig. We were writing all day and then the evenings you just think about it somewhere else, rather than go to a gig. Some people are very good at writing and then going gigging and changing gear, but it's very hard!"
Well, if Flat TV goes well the duo may have to stay away from the live clubs again, to work on a second series. But, for the BBC to give the greenlight for them to make more, people need to bring in good ratings for the show by getting on BBC Three to watch these new episodes...
The Flat TV boxset is available to view now online at BBC Three
Here's a clip from the first episode. It's a look at some of the stupid ideas Naz has had: