Created and written by Angela Clarke - with assistance in Series 2 from Michael Wynne - and script edited by The Vicar Of Dibley co-creator Paul Mayhew-Archer, Eyes Down focuses on the lives of the staff at Liverpool's Rio bingo hall.
Actor, stand-up and TV host Paul O'Grady took on the starring role of hall manager and head caller Ray, hanging up his high heels after a long-running and popular stint as the host of comic game show Blankety Blank in the guise of his female alter-ego, Lily Savage.
Joining Ray at the Rio are canteen manager Christine (Rosie Cavaliero), handy-man Bobby (Neil Fitzmaurice), and cleaner Mary (Edna Doré). The team is rounded off with number checkers and general dogsbodies Martin (Tony Maudsley, now best known for his long-running role in Benidorm), and Sandy (played by Two Pints star, now award-winning stage actor, Sheridan Smith).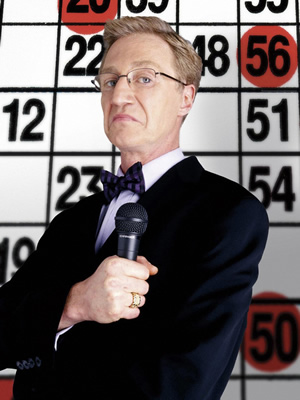 The Rio is an ordinary bingo hall in Liverpool with an array of both regular players, occasionals and first timers - evidently as popular with punters as online bingo is today. But behind the scenes, the staff regularly get themselves worked up over one thing or another!
Snooty, bitchy Ray is ever the grump, with a no-nonsense attitude and few kind words for either staff or customers; sex-mad Bobby is keener on servicing the customers (specifically the busty female ones) rather than the machines; whilst Martin is utterly infatuated with Christine but apparently unable to declare his feelings for her. Dim-witted Sandy, meanwhile, has a string of personal problems, from boyfriends to her own pregnancy.
Writer Angela Clarke explains the genesis of the show: "I had my son and I was living back at home. While the baby was napping I used to scribble little ideas down. All I really had was the one character - that character was Mary. The problem was that I didn't know where I would place her. Then I thought a bingo hall would be lovely. You see, nothing changes in a bingo hall - the same people go there, they sit in the same seats, and they don't like anything to change - it's almost like a religious routine.
"Although, that's the one thing they go for - to change their life forever. And I liked that paradox of the bingo world."
Sheridan Smith revealed that the habits of the customers in Eyes Down are very much drawn from real life: "I went to bingo with some of the cast. It's unbelievable how seriously everyone takes it. I'd never been before, and so you think it's a bit far-fetched when you hear all the stories of superstition and luck, but they're all true. On the night I went there was a lady who made some man move because he was sat in her lucky seat. We were having such a laugh."
Meanwhile, Paul O'Grady had his own thoughts on real players in bingo halls across Britain: "People who play are looked down on by the ones who don't. They associate it with pensioners and slappers in shell suits. But all sorts of people go to bingo halls now and, for a lot of them, it's company, it's a social thing. It's also seen as a very working-class thing whereas in the States, where it originated, it's massive."
In fact, bingo's roots go much further back than a game from the US. The earliest versions of the game were played in Roman Empire more than 2,000 years ago, and it was recorded as a children's game under the name of Lotto in 1778. The British version of bingo - which differs from that in North America - is believed to have its key roots in 16th Century Italy, becoming popularised across the UK in the 1920s. The game continued to grow in popularity until a few years after Eyes Down, when the rise of online bingo gaming lead to physical clubs beginning to close rather than open.