Huw Wheldon was a highly respected TV executive who commissioned a number of classic sitcoms during his time at the BBC. However, as he revealed in a lecture he gave in February 1975, he nearly missed one classic. Here's what he said about Dad's Army...
"In 1968 I was one of a small group of programme executives who became distinguished for recognising that a script by David Croft and Jimmy Perry called Dad's Army would not work. It was pressed very hard and eventually with reluctance and anxiety all round it was agreed that they should try six.
"Later on I heard that they had cast John Le Mesurier and Arthur Lowe, among others. This pleased me, but it did not change my mind. I knew it would fail.
"One morning, a month or two later, I was passing a church hall, in the Goldhawk Road, and remembered that the new series was rehearsing there. I dropped in. They were doing a five minute sequence and I could not make head or tail of it. I could not follow the action. Suddenly I realised I had done the casting wrong in my own mind. I had taken it for granted that John Le Mesurier - elegant, intelligent, sardonic and rather weary - was the officer; and that Arthur Low - brisk, belligerent and bustling - was the Sergeant. But we all know it was the other way round. I was delighted. It was the first note of unpredictability in a series that has been fresh and unpredictable and creative ever since."
Huw Wheldon was knighted the year after he gave this speech, having - as the Managing Director of BBC TV - overseen what is now often referred to as 'the Golden Age of British Television'. We might suggest the knighthood wasn't the highest honour Wheldon was given though - in 1971 Monty Python gave him a trophy, dyno-taped with the words "Best Huw Wheldon of the Year: Huw Wheldon" (Picture). He was reportedly delighted with it, particularly - he joked - considering that there was strong competition for that title.
Huw's son Wynn Wheldon has prepared a book about his father's career. This is packed with more great stories, based on what David Attenborough once said about Huw Wheldon: "He was, without doubt, the most accomplished raconteur I have heard. He never told jokes but translated his own experiences into long tales of such hilarity that his listeners laughed until they ached."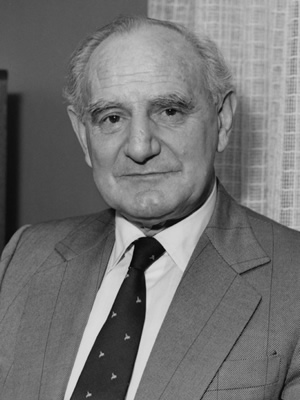 Although he nearly missed Dad's Army, with other commissions including Steptoe And Son it would seem Huw Wheldon (pictured) really knew about comedy.
Wynn, speaking to BCG, confirms his father loved comedy: "We watched a lot of comedy. He loved the sketch shows - Morecambe And Wise, The Two Ronnies, and so on - but one of the few times I saw him actually in tears, (another time was when I hit him in the nose with a golf club at a pitch and putt in Criccieth - by accident I hasten to add), was watching [French director] Jacques Tati's masterpiece Les Vacances de M. Hulot. There is a scene in which Monsieur Hulot is under the impression that a stoat or ferret has got hold of the bottom of his trousers (it is a lady's stole) and he is trying to shake it off - I find myself laughing now at the memory, both of the film and of Dad hardly able to breathe for laughter. He also loved [1963 Hollywood film] It's A Mad, Mad, Mad, Mad World, so much so that he claimed to have insisted it be shown every Christmas."
Wynn adds: "He was a funny man. He made us - my sisters and me - giggle, and he had a big laugh - acknowledged by everyone who knew him. David Attenborough again: 'His presence... was certainly both audible and visible. His laugh - famously loud and unmistakable - echoed round that huge and labyrinthine building [Television Centre]. And he was seen everywhere in it - in the corridors and in the conference rooms, in the canteen, where he chose to eat rather than in the more select senior staff dining room, and, for a few minutes most evenings, in each of its eight studios.'"
---
'Kicking the Bar, Wynn Wheldon's book about his father, is published via Unbound
Published: Wednesday 25th March 2015