Paddy McGuinness talks about joining Celebrity Juice...
You're the new team captain, you must be excited!
It's interesting because I did the first ever episode when no-one knew what it was! I've actually been a guest on every single series. For me it doesn't feel like a new job because I've done it for so many years I already feel a part of it. I know all the crew and of course I'm mates with Keith and have known Holly for years. It was a bit of a no-brainer really. I don't really look at it as, 'this is a new gig I'm doing', because it feels like I've been doing it for years anyway.
How did it all come about?
There wasn't really a discussion about it to be honest. I've got such a good relationship with Keith and Holly and also with the production company who make the show, it just made sense. I don't think they would have asked me to do it if they didn't think I would fit in. Now I'm a bigger part of it rather than just a tiny part.
How competitive are you seeing as you're going to be team captain?
It doesn't make a difference on this show, does it? I've been captain on it before when they've drafted me in because either Holly or Fearne were off and I used to be really competitive, but then realised it doesn't make any odds because I swear Keith just makes it up as he goes along. You could win every round on that game and still lose!
What's your family's reaction been to you doing this?
Funnily enough, I don't really discuss work with them. I have this job that I do, but outside of the job I'm sort of normal. We never really talk about it to be honest. I get the odd message from my Aunty when she's seen me on something, but no one really cares to be honest! It's a bit odd! I think I got just one text message when I got the Top Gear job and that was it!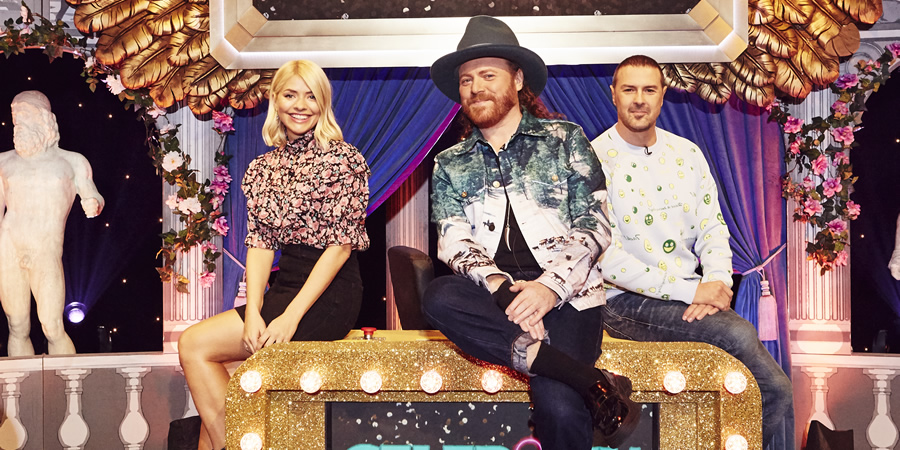 It must be so nice to be part of something that everyone loves?
I'll tell you what, it beats working for a living! I go down there, have fun and then go home! I don't feel any pressure taking on the role because it's just a great show.
Do you think you'll bring a different dynamic to the show?
Sometimes I'll have a go at Keith, then maybe they'll gang up on me or I'll go after Holly! That's the beauty of it because it could go any way on the night, anything could happen. I do so much with Keith I tell him I deserve a medal!
You've been on the show so many times, what do you enjoy about it?
I always loved shows like Tiswas, things that had a little bit of anarchy to them. They didn't feel scripted back in the day and that's what I've always loved about Celebrity Juice. I really enjoy the sense of freedom that I have on the show, and that's what I'm looking forward to. You can be a little bit more risky. Especially for myself and Holly, because we do a lot of a different types of shows, family shows, stuff that's a bit more mainstream. It gives us the chance to show a different side to us, our naughty side!
Why do you think that Keith and the gang can get away with the shenanigans that they do?
It's a show that everyone knows now, and you know what you have got yourself into when you sign up to be on it.
I think nobody goes on that show being precious; anything goes. I mean, the amount of things they've done to me on that show over the years, it's a wonder I ever came back! The last time I was on, Keith was spitting crisps into my mouth, but that's what you sign up for and that's what people like to watch. It's like a party you want to be invited to and it feels like a party when you're doing it. The more chaos the better!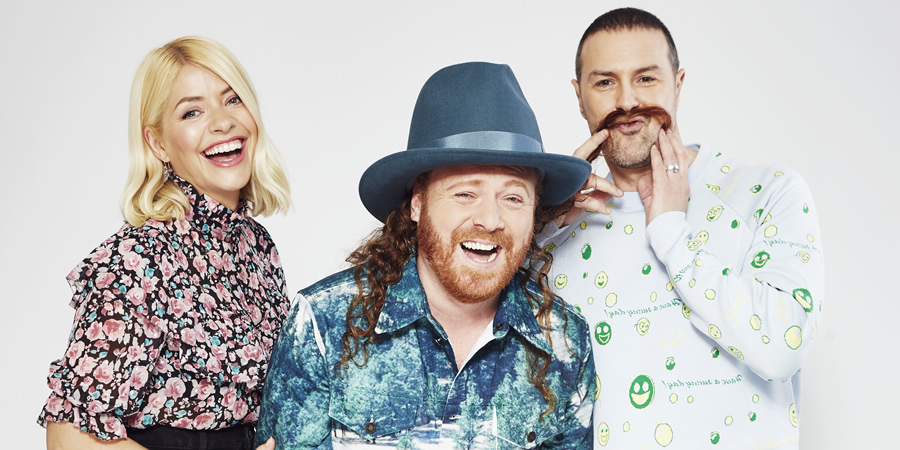 Is there anything that you've done over the years that even you've been embarrassed by?
Once I was blindfolded and they made me put my fingers in another person's mouth. I remember when I was doing it thinking, 'This doesn't feel good!'. I've done pretty much everything on the show, nothing ever shocks me now. I think if you're going on that show then you have to be up for the madness. You can't go into a show saying you're not prepared to do this or that, you have to dive in with both feet.
Stacey Solomon is going to be a regular panelist, how do you think she'll fit in?
It depends whose side Stacey's on! If she's on Holly's team she'll behave in a certain way, if she's on my team she'll behave in a different kind of way! It's going to be great because Stacey is such a laugh and she doesn't take herself seriously, she just gets stuck in.
What do you think makes a good guest on this show?
If you're on Celebrity Juice you just have to be up for a laugh and not be too precious. That's the beauty of the show. All kinds of guests have been on before and everyone gets stuck in. They've had people over from America, like Pamela Anderson, who probably don't really know much about the show, but they get stuck in regardless and long may that continue.
It always looks like a party on camera. Is it like that backstage as well?
Yeah! There's a green room and everyone brings their friends and family, it's just a nice vibe. It's a nice show to be a part of. Even though the show is mad and out there, behind the scenes it's like one big party.
You are so busy at the moment with shows across all the channels, is that a conscious decision of yours?
Yes, absolutely. I've never set my stall out to do just one channel or one type of show. I've always been able to turn my hand to different sorts of things within the industry. I'm already trying to get one up on Holly, I'm trying to break her record for one person doing the most shows on telly. We're already competing so when she got the I'm A Celebrity...Get Me Out Of Here! gig I was devastated! I've got quite a few to go to catch up with her.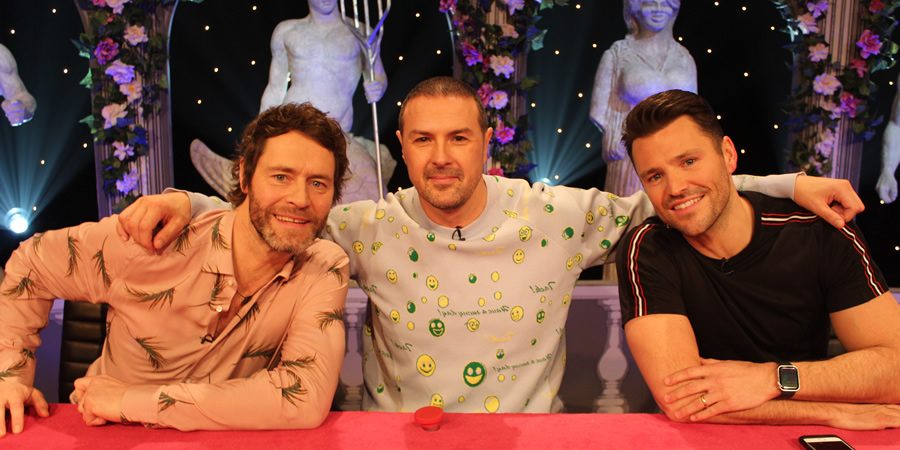 Do you think you might bring a new audience to Celebrity Juice?
Yes, hopefully. When they came and asked me about it one of the first things I said was 'We've got to try and make it feel slightly different, it's no good just me sitting there doing the same thing every week'. It's not about reinventing the wheel, it's about the regular viewers still enjoying it, but then a different audience watching as well.
Is there anything left on your bucket list that you want to do that you haven't yet?
I've always fancied doing some more acting because for me I never feel much pressure when you're acting. You have a script you work off and if it goes wrong you can have another go and try something different. Whereas everything I do is pretty much in front of a live audience.
I'd like to do a drama to test myself, but I'm just happy plodding along! I've been doing this 20 years and to me it still feels fresh. I don't immerse myself in the showbiz world, I love what I do but then I come home and I'm normal. I never take anything for granted and that's probably why I do different things because even if I'm involved with a show that's doing well, I'm still looking out for the next thing or trying to create work. I never sit back and think I've got it all sorted.