Benidorm is a prime-time ITV sitcom set in Spain, featuring a strong ensemble cast comprising of a number of well known faces. The show was conceived by Derren Litten, the co-writer of The Catherine Tate Show, in 2007, and has so far run for ten series.
Set in the Solana all-inclusive hotel resort, Benidorm follows regular and first-time holiday makers on their journeys abroad. Despite their disparate backgrounds they all have one thing in common - a quest for getting value for money!
Series 1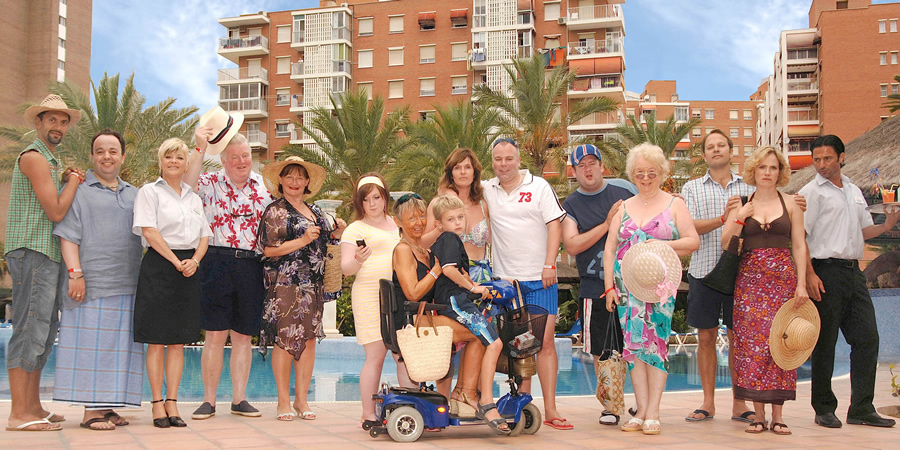 Regulars at the Solana hotel in Series 1, which was broadcast in 2007, included Jacqueline (Janine Duvitski) and Donald (Kenny Ireland), who had already been coming to Benidorm for twenty years, though they have never seen the resort itself. Why do they need to, when everything they want is in the hotel? It provides all inclusive food and drink... oh and sex! (Both are enthusiastic and middle-aged swingers).
Kate (Abigail Cruttenden) and Martin Weedon (Nicholas Burns) were going through a rough patch during their third year of marriage. Five seconds is all it takes for them to realise that the Solana Resort is the very worst place for them to make a fresh start.
Known as 'The Oracle' because of his computer-like knowledge of trivial facts and figures, Geoff Maltby (Johnny Vegas) was on holiday with his mother. He is Lancashire's pub quiz champion and prone to competitive behaviour.
Meanwhile Gavin (Hugh Sachs) and Troy (Paul Bazely) were on their first break away together after setting up a successful hair salon. Both like to think that they are far too classy for Benidorm but are happy enough to get drunk and snigger at other holiday makers.
Then there are The Garveys. They are a Lancashire family who are on their first holiday abroad. Janice (Siobhan Finneran) and Mick (Steve Pemberton) are on the break with their teenage daughter Chantelle (Hannah Hobley), eight year old son Michael (Oliver Stokes), and Janice's mother: the sun-worshipping, chain-smoking Madge (Sheila Reid), a woman who has a bad word for everyone.
The first series of Benidorm proved to be a fairly modest hit for ITV - with critics saying things like: "beautifully written and performed" and "a gem of wry observation in withering bad taste".
Series 2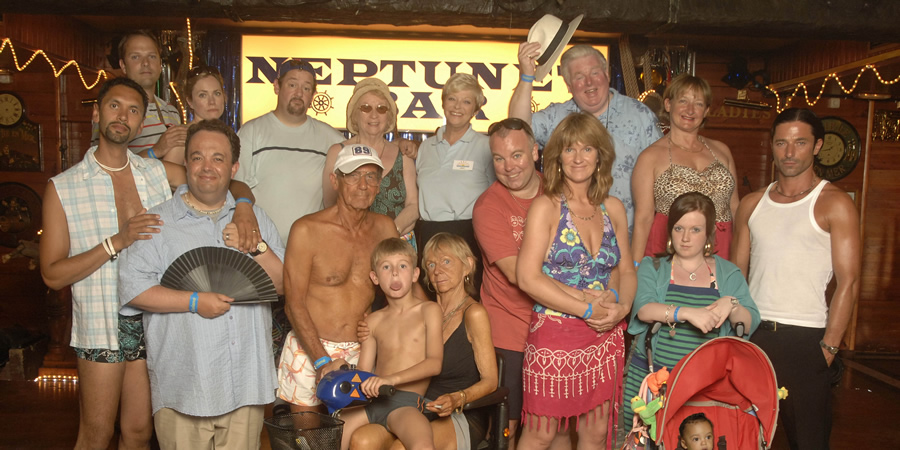 Series 2, which was broadcast in April and May 2008, saw all the main characters return to the Solana for eight new episodes.
The Garveys were back with two new arrivals to the family: Mel (Geoffrey Hutchings) - the owner of five sun bed shops and "Didsbury's answer to Julio Iglesias"; plus 17-year-old Chantelle's new baby.
Then there was The Oracle who, at 37, was still determined to make the big break from his mum, or 'his PA' as he was still calling her in public. Kate and Martin who were never, ever coming back to Benidorm... were back too!
Gay couple Gavin and Troy, who got engaged at the Solana in Series 1, returned to "the scene of the crime" and good-hearted swingers Donald and Jacqueline were back as well, bringing with them happy memories of their MSA (Middlesborough Swingers Association) meet ups. There were also star guest appearances from Wendy Richard as Sylvia - a wheelchair riding love rival for Madge; and Margi Clarke as Dorothy, Gavin's estranged mother.
Benidorm returned again in 2009 for a Summer special, which picked up where the second series left off (several characters in prison, hospital and disappearing out to sea).
Series 3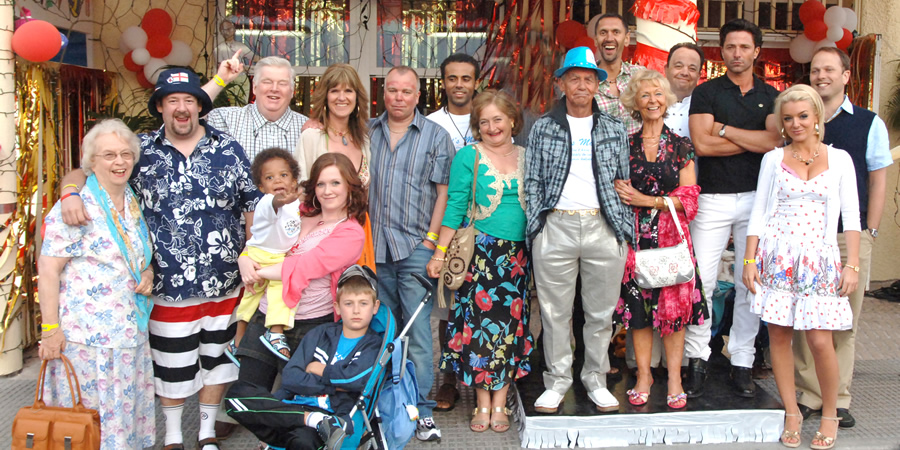 With ratings rising, Series 3 followed in October 2009. Set one year after the Summer special, it saw the regulars taking up the offer of a free holiday in apology for the dramatic events of the year before. The Garveys soon found themselves right in the middle of the action, courtesy of Madge and Mel.
The third series continued the trend of having popular guest stars playing outlandish characters. Robin Askwith, Keith Barron and Una Stubbs made appearances during the episodes.
By the end of Series 3 the show was regularly attracting 6 million viewers, had won two National TV Awards, and been nominated for both a BAFTA and a British Comedy Award.
Series 4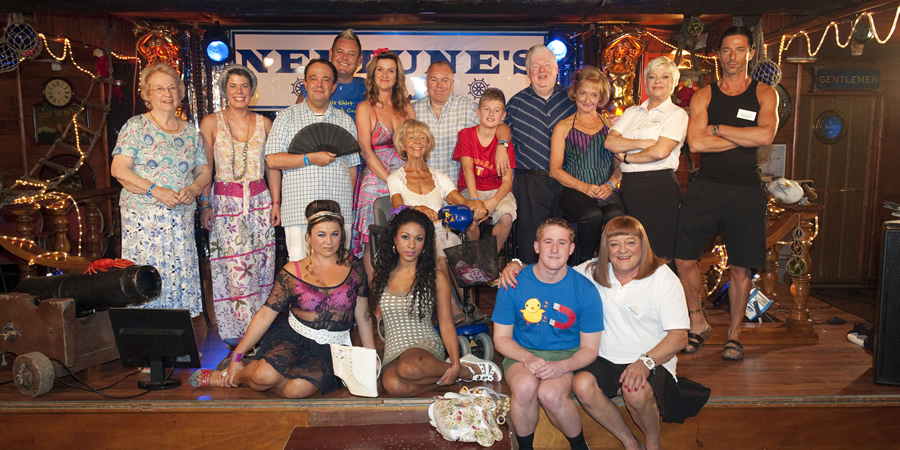 Series 4 was quickly commissioned, but at this point Benidorm underwent some cast changes. Johnny Vegas (aka The Oracle), Paul Bazely (Troy), Hannah Hobley (Chantelle), Abigail Cruttenden (Abigail), and Nicholas Burns (Martin) all left the show.
Sadly, as filming was just about to begin on the new Christmas special that would precede the series, production was thrown into chaos. Geoffrey Hutchings, who played Mel, died suddenly from a suspected viral infection. As a result the scripts had to be heavily rewritten, and the storyline became that Mel passed away off-screen on a business trip abroad.
A number of new characters were created for Series 4 to fill out the cast list again. Following his guest appearances in Series 3, Tim Healy became a full time cast member as barman Les, with his teenage son Liam (Adam Gillen) tagging along to Benidorm for a cheap break. A whiff of a holiday romance was soon in the air for Liam as he took an immediate shine to new girl Natalie (Kathryn Drysdale), but her friend Sam (Shelley Longworth) had other ideas on their potential romance.
Gavin was given a new holiday companion called Kenneth (Tony Maudsley), whilst Troy was at home caring for his sick dad. Plus, Noreen brought her stressed-out daughter Pauline on holiday in place of Geoff. Having spent the past few years in South Africa with her husband but now going through a messy divorce, Pauline's irritable and doesn't make friends easily.
Returning characters for the fourth series included the Garvey family, who start the series embroiled in a typical Garvey holiday disaster. Meanwhile the legendary Middlesbrough Swingers Association lost its two most popular members for the summer, as Benidorm once again welcomed back Donald and Jacqueline.
Hotel staff Mateo and Chrissy continued to watch on through it all as the holiday chaos unfolded around them.
Series 5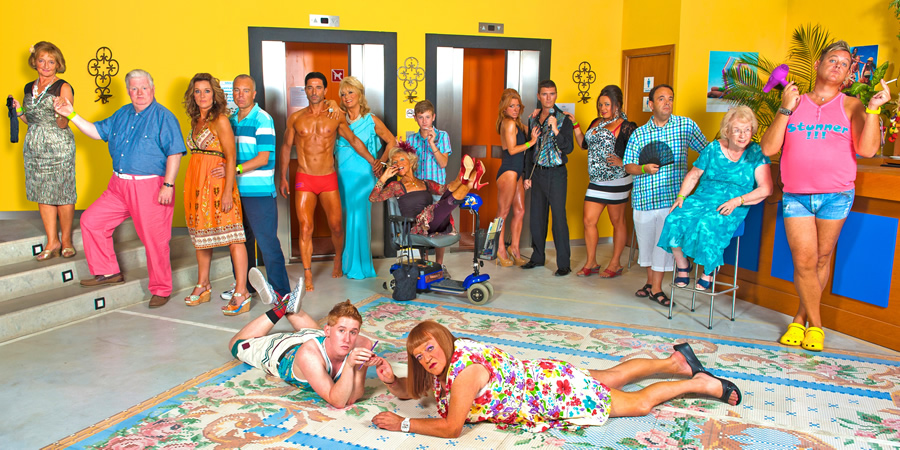 After the fourth series it seemed as if Benidorm might end, as creator Derren Litten said he didn't want to write any more episodes (full story). However, he was convinced to bring the show back for another series with, for the first time, other writers helping out (including cast member Steve Pemberton).
The regular holidaymakers got a shock in Series 5 as the Solana resort was now staffed by a new manager... and she meant business! Joyce Temple Savage (Sherrie Hewson) was on a mission to upgrade the Solana resort into a 4 star hotel - at any cost!
Mick, Janice and Michael Garvey all returned to their favourite all-inclusive holiday resort, and Madge shocked her family and friends with a surprise announcement. Jacqueline and Donald also returned following Donald's faked death at the end of the last series.
Kenneth was now a Benidorm businessman with his popular new hair salon based at the Solana resort. Gavin flew out to join him on holiday, but where was Troy? It seemed as though their relationship might have broken up.
Noreen was back for some sunshine and flying solo without her son for the first time, while Liam was the newly employed handyman.
Transvestite Les/Lesley continued to don the latest cutting edge fashions at the Solana tropical bar alongside hunky Mateo, who was still on a mission to woo any female that passes by. Meanwhile good time girl Sam returned with a new friend in tow called Trudy (Michelle Butterly) and both made it their mission to have a wild holiday.
Series 6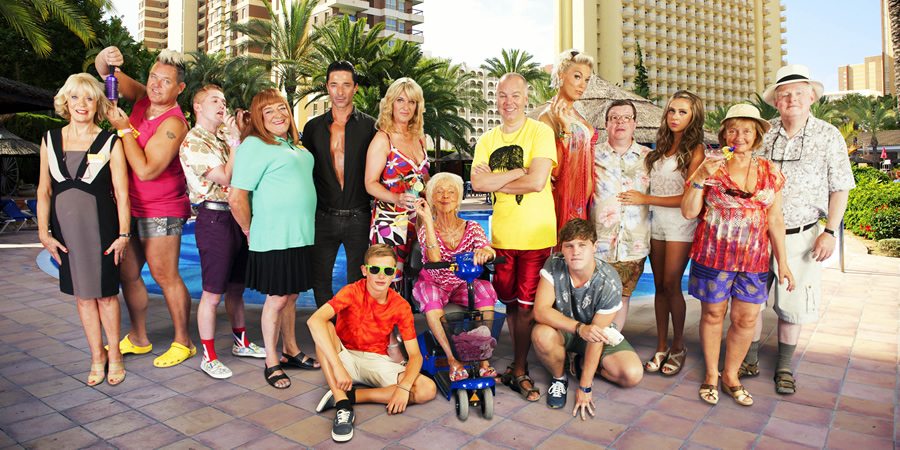 Series 6 of Benidorm started in January 2014 as the UK was experiencing a period of heavy rain. The launch episode gained 7.9 million viewers, the show's highest viewing figure since 2011.
A new family was added to the show at this point. A lively group from Watford, Clive (Perry Benson) was firmly under the thumb of his no-nonsense wife Tonya (Hannah Waddingham). They brought their two children, Bianca (Bel Powley) and Tiger (Danny Walters): both young, single and looking for fun.
Returning to enjoy the four star hotel treatment were Mick and Janice Garvey and Madge. Plus they brought Michael with them again, who had now grown into an adventurous teenager.
With Michael and Tiger off on trouble-making adventures around the resort, it wasn't long before the Dyke family and Garveys were arguing.
Other favourites returning included popular swingers Donald and Jacqueline who intended to claim the free holiday that Joyce promised them at the end of the last series.
Mateo and Lesley were still working at the hotel, however Liam was now working with Kenneth at his 'Blow & Go' shop - the very discreet and selective hair and beauty emporium within the Solana building.
Series 6 also saw the return of Martin Weedon, who arrived on a loud and lairy stag do. This time though he's very single and finds himself having a drunken encounter with one of the other holidaymakers.
Guest stars for this series included Matthew Kelly returning as Cyril Babcock; Ken Morley playing the head of a local hairdressing mafia; and Phillip Olivier as Jason - a sexy new barman.
The Krankies and Rustie Lee also appeared as friends of swingers Donald and Jacqueline, and legendary Hollywood star Joan Collins arrived as Crystal Hennessy-Vass, the CEO of the Solana Hotel Group.
Series 7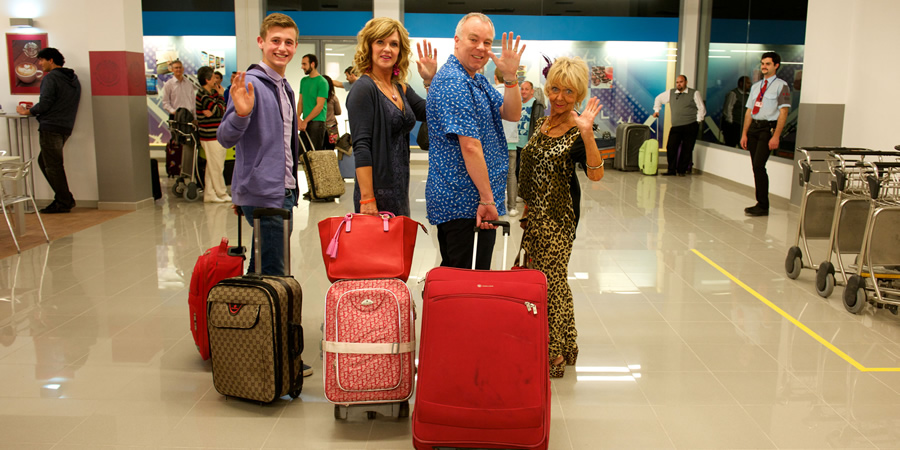 Between Series 6 and Series 7, the sad news broke that Kenny Ireland, who played Donald, had died. As a result, scripts were rewritten to introduce the new character Glynn. He arrives at the Solana on a 'holiday wife swap'.
Series 7 began with the programme preparing to bid a fond farewell to the Garvey family. However, before they said 'adios', there's was one more holiday adventure awaiting Mick, Janice, Michael and Madge.
As the Garveys flew out, The Oracle, his mother Noreen and former manager Janey York arrived in Benidorm once more.
The customary array of the Spanish resort's other favourite holidaymakers also appeared alongside the ever-resourceful Solana staff - including Joyce Temple Savage, Les/Lesley and Mateo - who all work to ensure that every guest's holiday goes to plan.
Joan Collins returned again as Solana CEO Crystal Hennessy-Vass. Crystal was about to cause huge problems for Joyce, and just what would she make of The Oracle?! Other guest stars in Series 7 included Leslie Jordan, John Challis, Denise Black, Nadia Sawalha, Phillip Olivier, Amanda Barrie and Ruth Madoc.
Series 8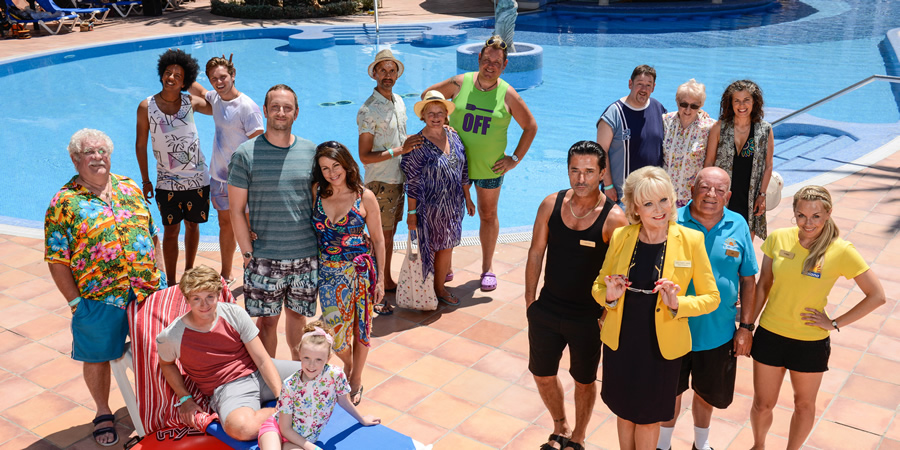 Series 8 saw the Maltbys arrive en masse, with The Oracle, Noreen and Pauline all hoping for an enjoyable family holiday. Pauline was last seen in Series 4 when she had a slight drink and attitude problem.
With Mateo and Liam both leaving Benidorm for Madrid, it seemed the Solana has a few job vacancies to fill, but could one of them return to Benidorm sooner than expected? Manageress Joyce Temple Savage interviewed for new staff members to help an overworked and underpaid Les/Lesley; newcomer Amber (Jessica Ellerby) had all the necessary qualifications and appeared perfect on paper but Joyce was far keener on the mysterious Marcus Hornby (guest star Robin Askwith). Viewers recognised Marcus as 'Gary' from Series 3 when he and Brandy scammed the holidaymakers. But why was he back and what was he up to?
Series 8 also saw the arrival of a brand new family, the Dawsons: Sheron (Julie Graham) and Eddie (Steve Edge) are hoping for a relaxing holiday with their children Rob (Josh Bolt) and Jodie (Honor Kneafsey). In true Benidorm style, a relaxing holiday is not what they get, especially as Grandad 'Eddie' Dawson (Bobby Knutt) tags along.
Jacqueline Stewart returns to Spain to scatter the ashes of her beloved late husband Donald. Helping Jacqueline during this emotional time are pals Kenneth and Troy, the latter of whom was last seen at the Solana in Series 4. Tiger Dyke also returned, this time for a lads' holiday with dim-witted pal Joey Ellis (Nathan Bryon).
Solana CEO Crystal Hennessy-Vass made another appearance. Chaos generally ensues when she's around so what could possibly go wrong this time? Meanwhile Madge rode back into Benidorm on her mobility scooter and straight into a heated business deal with Mr Woo.
Guest stars in this series included Shane Ritchie, Roy Hudd, John Challis, Michael Fenton Stevens, Frances Barber and Angus Deayton.
Series 9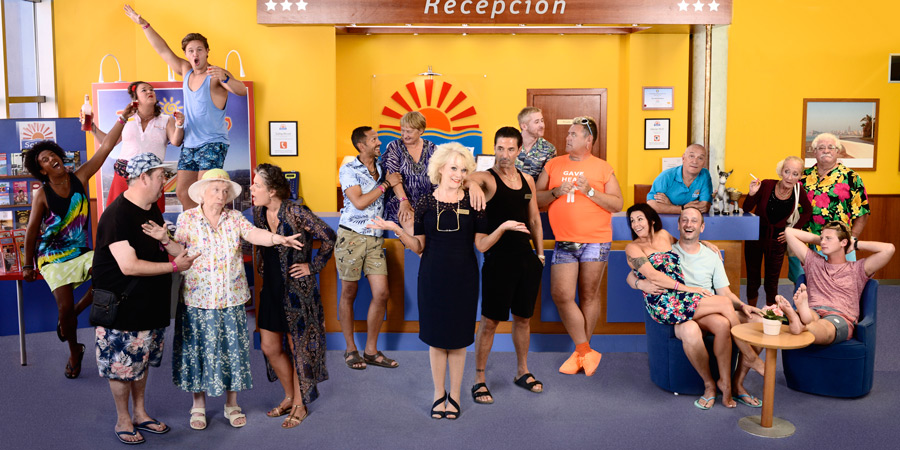 This holiday season kicked off at the Solana with the return of two popular characters - Liam and Sam (Shelley Longworth). Series 9 also saw the Dawsons arrive for a new holiday that didn't get off to a great start and, when Sheron's mum Loretta (Kate Fitzgerald) joined them, Benidorm would never be the same again.
Meanwhile the question of viewers minds was whether Joyce Temple Savage would finally find romance this series, with Monty (John Challis).
Les/Lesley was not seen much this series as Tim Healy was taken ill during filming, but guest stars included Nigel Havers, Jason Manford, Uri Geller, Amanda Barrie, George Shelley and Madness.
Series 10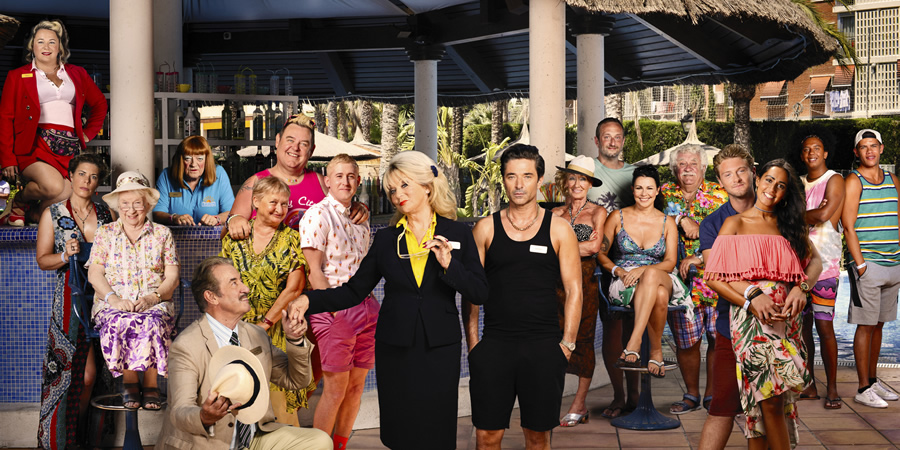 Between Series 10 being filmed and broadcast, the Benidorm team got more bad news. News broke in September 2017 that Bobby Knutt had died. As a result, this is the final series viewers will see Eddie Dawson.
Series 10 saw legendary comedy duo Hale & Pace join the series as undercover detectives investigating Tim Healy's character Les/Lesley, who returned to the series full time following a full recovery.
Shane Richie returned for four episodes reprising his role as lively entertainer Sammy Valentino and John Challis officially became a series regular with his character Monty Staines. Newcomers to the series include Laila Zaidi who plays Cyd, the new girlfriend of Rob Dawson; and Julian Moore-Cook who plays Joey's mate Callum.
Troy, The Oracle and Tiger were not present for this series, but most of the other regulars were back, including Billy and Sheron, celebrating their silver wedding anniversary.
Noreen and Pauline are enjoying another holiday in Benidorm with Pauline back on the wagon and hoping to revive her fledging career as a novelist. However, things soon flare up with the arrival of Noreen's twin sister Doreen (played by Elsie Kelly in a dual role) and her very familiar new boyfriend!
Guest stars in Series 10 include The Chuckle Brothers, Nigel Havers, Mark Heap, Bobby Ball, Claire Sweeney, Layton Williams, Carol Decker, Tony Hadley and Holly Johnson.
Background to the show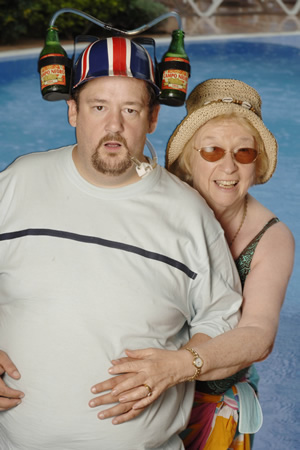 Benidorm was created by Derren Litten. Speaking at the time the series was first made, he explained: "After staring blankly at a computer screen for a couple of months I decided to write a sketch about a couple of middle aged swingers. The sketch was set around the swimming pool of an all inclusive Spanish holiday resort and after writing it I decided to imagine who else would be sitting around the pool, where they were from, and how they ended up there. The result was episode one of Benidorm.
"To have actors involved such as Siobhan Finneran, Steve Pemberton, Janine Duvitski and Johnny Vegas, to name but a few, has absolutely blown me away. I never dreamt we would get a cast like this - I still don't believe it!
"The tone of the show is exactly that of Benidorm the holiday resort, enormous fun if you go with the flow. It's easy to turn your nose up at somewhere as cheap and potentially tacky as Benidorm but vulgarity is something which can be great fun if you don't fight against it. On nights out in the town many of us would look at a bar from the outside and be horrified but after a few drinks we were fighting to get on the karaoke!"
The show was Paul Jackson's first commission since returning to ITV as Director of Entertainment and Comedy, and it was a series that reunited him with Geoffrey Perkins (former Head of BBC Comedy). At the time Jackson said: "Benidorm is the holiday experience we have all had where you spend 14 days avoiding the lairy couple who sat behind you on the coach. Derren has created a fantastic range of characters and the sure quality of his writing has attracted a really exciting cast who will bring to life the joys and the horrors of the all inclusive package holiday."
The late Geoffrey Perkins, talking before the first series started, revealed more about how the series came to life: "When I first talked to Catherine Tate about developing a series for her we both agreed that we should aim to only use a very small writing team and Catherine suggested her friend Derren Litten (whom she had known since they went to Central School of Speech and Drama). He wasn't a writer as such but she thought, as he was funny in real life, he could do it on the page. Derren went on to write much of her subsequent series and proved to be an absolutely superb writer - creating many of Catherine's most memorable characters and writing dialogue with a comic observation and precision worthy of, for instance, John Sullivan" (indeed, impressed by Litten's writing, Sullivan later asked him to write for The Green, Green Grass).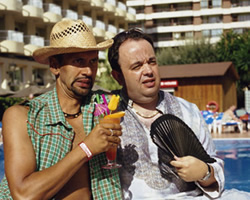 Perkins continued: "At the end of 2005 I offered Derren a commission to write a longer narrative piece. It turned out to be one of the most exciting scripts I have read. Derren had managed to introduce over a dozen vivid characters in a great setting. It features a universal experience - the holiday where you are suddenly thrown together with people with whom you apparently have nothing in common but often end up bonding with and inviting to come and see you back home, only to have them turn up and stay up all night drinking everything plus a bottle of toilet duck, and insisting on playing a CD of a Canadian thrash metal band at volume 11 while you cower upstairs trying to quietly phone the police. Or maybe that's just me!
"We felt that Benidorm would sit very well on ITV - and fortunately it coincided with the arrival of Paul Jackson as ITV's Director Entertainment and Comedy - someone with a real knowledge of comedy, a desire to do new things and the clout to get them on."
Fast forward ten years, and Benidorm was still going as strong as ever, having clocked up 10 series!