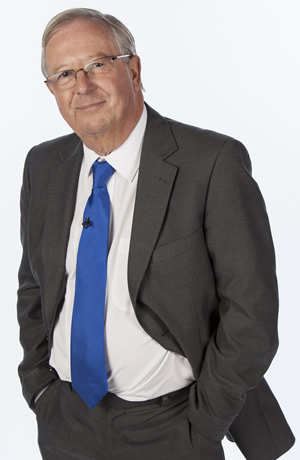 Below we talk to the star of Animal Antics, comedy veteran Tim Brooke-Taylor...
Hi Tim. You're currently presenting Animal Antics on BBC One. What attracted you to take on the role?
Clip shows are all a bit the same, based on American versions - 'Oh oh, what's this crazy moose going to do now?' Animal Antics took a very different line by putting these clips in a very serious News setting. I say serious, but it's funny and silly because we take everything so seriously.
Do you think there's enough comedy on TV that families can watch together? Some of your contemporaries have recently been saying that most modern comedy is too rude and cruel - do you have a take on that?
I don't mind the rude so much, but I don't like the cruel and pathetic. I didn't much like Chaplin because he was so pathetic when he was maltreated. It was the same for me with Norman Wisdom. Buster Keaton and Bugs Bunny, on the other hand, are my heroes. I always get shouted down when I say The Office was too cruel and negative. However the minor characters were great, and I loved Extras.
What other comedy shows do you watch on TV?
Miranda, Not Going Out, The IT Crowd, Mrs. Brown's Boys and, more recently, Girls. Oh, and Harry & Paul are excellent.
Back to Animal Antics, did you ever find it a bit surreal presenting with a 'dog'?
I've worked with Bill Oddie and Graeme Garden - why would a dog be surreal?
What is a bit surreal is that he's named Sparky after my childhood dog.
It's also un-surreal because I very much enjoy working with his alter-ego, the excellent Matthew Crosby.
Do you have a favourite animal clip?
No. I'd be stampeded by various animals if I didn't pick them!
Ha ha. I'm Sorry I Haven't A Clue was, this week, named as the Best Radio Panel Show of 2012 by voters in our annual awards. What do you think it is about the show/format that listeners love so much?
I was very pleased to see this. We will never be complacent about this. Before every series our excellent producer, Jon Naismith, gets us together to come up with new rounds. He's a bit like a headmaster who won't let us go home from school until we've finished our tasks.
After Humph passed away, did you have to think long and hard about whether you wanted to return with guest hosts (and then later with Jack Dee as the new permanent host)?
We did agree to let it rest and see how things settled down. Humph was irreplaceable, as was Willie Rushton, so let's see. Eventually listeners and even critics thought it would be right to give it a try. So we did and Jack's doing a marvellous job.
Do you think ISIHAC will continue forever, or will it come to an end one day?
How dare you. Of course it will last forever! For heaven's sake, Samantha is only 23.
Ha ha. Good point! You're meeting up with your two fellow Goodies at an event in Bristol this weekend. Are you looking forward to that?
It's always good to meet up and it will be interesting to see what missing Goodies have been dug up.
Despite being very popular when it went out, The Goodies never seems to get repeated on TV nowadays, but other 1970s shows of equal popularity do - and there've only been limited DVD releases too. Is there any reason behind that?
Don't get me going.
What are your plans for later in the year? We note you're asking viewers to send in clips of their pets to the show, so there might be a second series of Animal Antics?
More Clue and Audiences With... and hopefully more Animal Antics. That's up to the animals.
Animal Antics is on at 5:30pm, Saturday, BBC One.