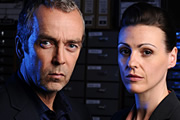 Their first case leads Cloth and Oldman from leafy forests to sinister lock-ups, from the luxury home of an arrogant TV chef to the cold dissection rooms of vampish forensic pathologist Natasha Sachet, packing in as many jokes as humanly possible along the way. Their boss, A.C.C. Tom Boss, repeatedly demands results, fast. No, faster than that. Faster! Slow down. Not that much. Hold it there. Yeah, precisely that fast.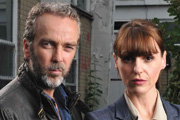 Cloth has quit the force. Gone. Never to return. Until a bank robbery gone wrong brings him back into the game...
Things get personal, like dead-friends-and-family personal, in the third and final helping of the gloriously daft comedy.