In this great article, Andy Secombe talks about joining the cast of Radio 4's The Missing Hancocks to take on the key role his father Harry Secombe played in Hancock's Half Hour.
I first played my father in 2001 in a show called Goon Again, directed by Dirk Maggs. Dirk said it would be a sort of 'cardboard replica' Goon Show and I'd immediately turned him down with an extremely high-handed, 'I've no wish to become a Harry Secombe tribute act.' Ouch. Sorry Dirk (we're still friends and have happily traded insults ever since).
Dad was very poorly at the time - in hospital with prostate cancer. But when I told him about the phone call from this mad Dutch producer, his face burst into a smile. 'Oh, Andy, The Goon Show was such fun. Every recording was a joy. The three of us used to look forward to it all week.' I mumbled something about nepotism and not wanting to be compared to him. He fixed me with his piercing blue eyes. 'Other men have companies they can pass on to their children, I've got nothing to bequeath you but memories and a few laughs. You must promise me you'll do it. Think of it as taking over the family business. Besides, you'll have a ball.' With a sigh I gave him my word and got back to Dirk.
We recorded the show, which was a selection of "best bits" lovingly knitted together by Dirk, at the Playhouse Theatre, on 23 March, 2001. My co-conspirators were Jeffrey Holland and Jon Glover, playing, respectively, Spike and Peter; Lance Ellington (son of Ray!) provided the songs; Chris Timothy was the announcer (another link with the past - his father, Andrew, was the original show announcer); Harry Pitch played the harmonica; and the John Wilson Orchestra played the original themes and stings, as written by Wally Stott. And we had a ball.
Sadly, Dad never got to hear how successful or otherwise his son had been in his impersonation as he died shortly after, on 11th April. I like to think he would have been proud.
Thinking I had forever hung up my Harry Secombe boots, fast forward sixteen years, two children, several houses and five novels later, and I get a curious message through my literary agent from Neil Pearson who was re-recording episodes of Hancock's Half Hours missing from the BBC archives.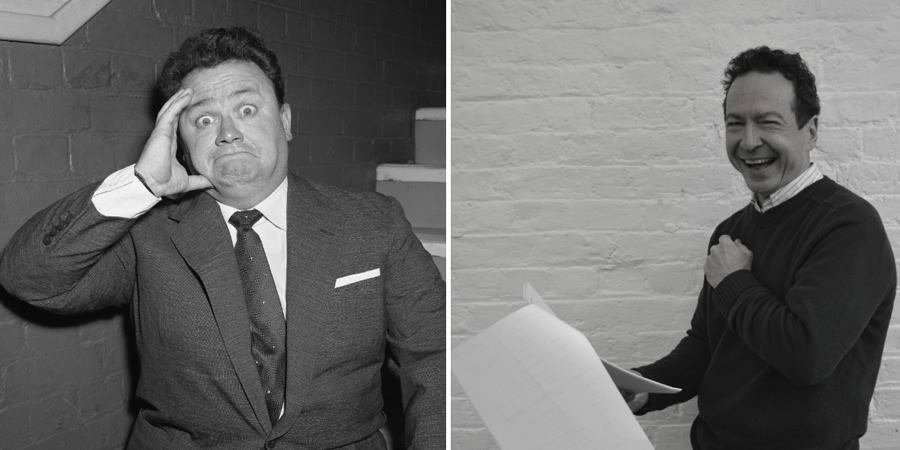 Back in 1955, my father stood in for Tony when he went AWOL just before the second series of Hancock's Half Hour was due to start recording. Tony was appearing, twice nightly, at the Adelphi in a show called Talk of the Town. Always a nervous performer, the work load was too much and one night, suffering from exhaustion, he walked out of the theatre during the first show and kept on going. Dennis Main Wilson, Hancock's radio producer was first alerted to this fact by a phone call from a superintendent at Scotland Yard to whom he'd given two comps for the recording of Hancock's Half Hour the following night. He wanted to know if the show was still going ahead as planned. A non-plussed Main Wilson told him, 'of course, why?'... 'Because I've just seen Mr Hancock get on a plane to Rome.'
A replacement had to be found immediately. Harry, a good friend of Tony was a well-known presence on radio, not only from The Goon Show, but also Welsh Rarebit, Variety Bandbox and Educating Archie, moreover, Main Wilson was an erstwhile Goon Show producer. Dad was hastily brought in. With no time for script changes, the recording went ahead with the script as written for Tony, with all his rhythms and vocal tics. And so, for the next three weeks, the opening announcement went something like: 'And now, it's Hancock's Half Hour - with Harry Secombe!'
These shows became something of a legend in our household. A sort of "lost chord" to remain forever out of reach. Dad was rather proud of the job he'd done and even the waspish Kenneth Williams was complimentary, praising his 'pace and delivery'. In fact so successful was he that he was offered the job - permanently. But Dad would never do the dirty on a mate. A contrite Tony reappeared for the fourth episode in which Hancock goes to find Secombe in Wales to apologise and thank him for filling in. I think [writers] Galton & Simpson, still smarting from the affair, wanted to rub Tony's nose in it. Whatever, it can't have done much for subsequent labour relations.
This was the task Neil wanted me to perform - to play Harry in these four "lost" episodes. I didn't even know the scripts still existed until that moment.
The read through, a nerve-wracking occasion at the best of times, was doubly so on this occasion; not only was I attempting to conjure my father but because I was joining an already well-established team, I also felt like a bit of an interloper. Happily, everybody was lovely and I immediately felt welcomed. Interestingly, the scripts got less and less 'Tony' and more and more 'Harry' as they progressed and the better Galton & Simpson got to know Dad's vocal rhythms. By the third, they'd even started adding little Secombe-isms: 'Egad!' Harry exclaims at one point.
Recording was scheduled for a week later. I hoped we'd have a little more time to rehearse, but no. We would get a 'dress' rehearsal in the morning and then go straight into recording the first three shows that evening - one swiftly after the other. We'd record the fourth episode the following day.
My presence had been kept a secret and, as I waited nervously in the wings of the BBC Radio Theatre, Neil told the audience the story of how these particular episodes had come about and I was eventually unveiled. Apart from the die-hard Hancock fans in the audience, I know a lot of people were expecting to see the excellent Kevin McNally as the Lad himself, but instead had got me. I only hoped they weren't too disappointed. In the end, they got both of us, as Kevin - who had been filming in Budapest - had dashed back from Heathrow to appear at the side of the stage during the recording of the third episode. He got the biggest round of the night - bastard!
Of course, the evening wasn't all about me - surrounded by a terrific cast, all stars in their own right, I felt privileged to be among them.
The evening passed in a bit of a whirl, as these things tend to do, and although I hope I did the old man proud, I'll be interested to hear how it went! The one thing I do know is, I had a lot of fun.
So, time to hang up my Harry Secombe boots again, possibly for the final time and even though they're a few sizes too big for me, I've had a bloody good time trying to fill them. Who knew taking over the family business could be such fun?
Published: Monday 13th March 2017