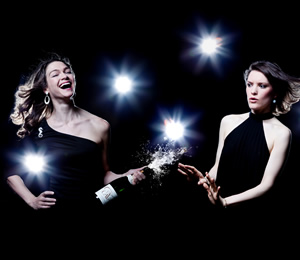 Ahead of the recording of their debut Radio 4 series, BCG talks to Hannah Croft and Fiona Pearce, aka sketch double-act Croft & Pearce...
Hi Hannah and Fiona. You first met at school?
We met when we were 16 and bonded instantly over serious things like 'which sparkly top to wear to Bar Med on Friday night'. In retrospect, this was probably the most comic time of our lives but at the time we took ourselves very seriously.
Our friendship and our earnestness continued throughout university, although by then we'd moved on to wearing 'fun belts'. It took a further three years of 'humming into our centres' at drama school to make us realise that perhaps the joke was on us.
So you wanted to be serious actors initially? What made you move away from that and turn to comedy?
Our acting careers involved Croft passionately moving a chair in a critically acclaimed Russian drama at the National Theatre, and Pearce passionately answering phones on a lot of receptions around London. So it wasn't so much that we moved away from Acting, as Acting charged with the force of ten armies away from us.
Ha ha. So what's your comedy creation process?
We sit and drink a range of teas together, sometimes with inspirational messages attached to the bag (they really help).
We work by trial and error, and every sketch is formed a bit differently - some through improvisation, some by weaving together different ideas we've jotted down. When we disagree, we either fight it out between us (taekwondo) or we let the audience decide (and then whoever was right gets to feel really smug).
You've been picked up to have you own series on Radio 4, congratulations. How has that come about?
Thank you! We are very excited. Getting our own radio series was a magical combination of lots of different things - taking shows to the Fringe and putting our stuff out there, lots of pitching, being on Sketchorama, and also amateur witchcraft.
Radio 4 has a fine tradition of sketch comedy. Any particular shows you're a fan of?
We are huge fans of The League Of Gentleman and Alan Partridge and listened to their radio shows on cassette a ridiculous amount when we were younger. We also really love Giles Wemmbley Hogg and John Finnemore's Souvenir Programme too.
Whilst Radio 4 has lots of funny sketch people on it, TV is currently a bit bereft of sketch shows right now. Any thoughts on this topic?
We very much hope that sketch shows on TV aren't dead for good! It can be hard to get it right, but there are amazing people out there who really make it work - we love bingeing on Inside Amy Schumer on YouTube.
You're recording your show on the 16th June. At the time of talking, how ready are you?
Scripts are written. Like the scouts, we aim to be prepared. Although, also like the scouts, we might wet ourselves on the bus on the way there.
Can you give us a flavour of what to expect?
For anyone who's seen our shows, there will be some familiar characters... June & Jean will be fretting over rhubarb chutney and the meaning of life, and Brown Owl will be preparing her Brownies for gang war.
What's next for you after the radio recording?
We're back at the Fringe this summer with a brand new show... Croft & Pearce: There's Always Something, 5.45pm at the Gilded Balloon. Come and see us!
'The Croft & Pearce Show' will be recorded at RADA Studios in London on Tuesday 16th June. Free Tickets. The series will be broadcast on Radio 4 later this year.