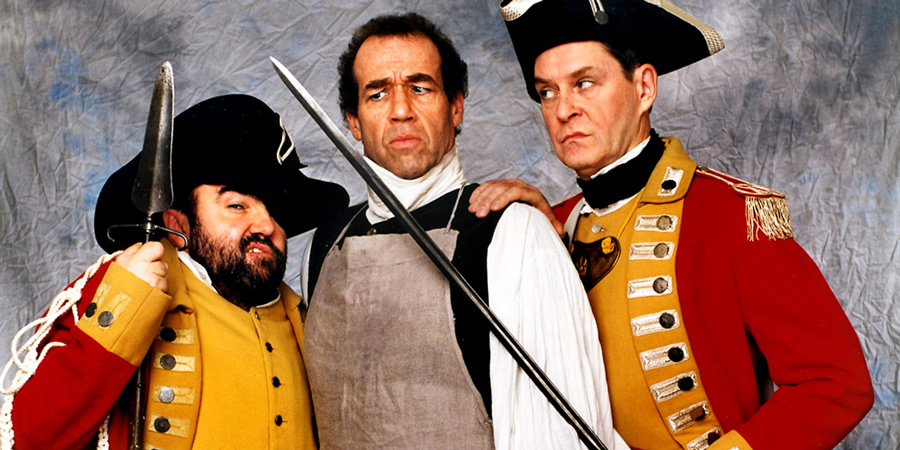 Genre

Sitcom

Broadcast

Channel

Episodes

Starring

Jay Tarses, Andy Hamilton, James Fleet, Felicity Montagu, Penelope Nice, Sophie Thompson, Jan Ravens, Julia Hills and others

Writers

Producer
Baltimore, the 1770s - Shopkeeper Samuel Oliphant has a lot on his plate. His country is fighting for its freedom against the British, leaving him with less customers (dead people tend to shop less), and he has two redcoats living in his house: One-eyed, one-armed, one-legged, one nostrilled conman Sergeant McGurk, and his ineffectual officer Captain Brimshaw.
Samuel's family is no better. His wife became a lesbian, his eldest daughter Cora is a strict Christian who is married the pompous pro-British official Ezekiel Spriggs, his youngest daughter Mary is an anti-British pamphleteer who has a crush on Brimshaw, and his only son Joshua is both incredibly strong and incredibly stupid.
Production company

Laugh track

Live audience
Broadcast details
First broadcast

Tuesday 18th January 2000 on BBC Radio 4 at 6:30pm

Last new broadcast

Tuesday 6th June 2006 on BBC Radio 4 at 6:30pm

Length of episodes

30 minutes

Upcoming repeats

Series 3 Episode 3: Tuesday at 10:30pm on Radio 4 Extra
Series 3 Episode 4: Tuesday 3rd August at 10:30pm on Radio 4 Extra
Website links