RHLSTP 147 - Arthur Smith

Richard Herring's Leicester Square Theatre Podcast: RHLSTP 147 - Arthur Smith
RHLSTP #147: Arthur Smith - Rage and Balloon: Rich tries to find someone older than him in the audience, as he tries to squeeze some joy out of the last few hours of his forties. His guest is older and sager than he and has been doing the Edinburgh Fringe for a full decade longer, it's the self-proclaimed Mayor of Balham, Arthur Smith. They discuss smashing bottles over people's heads, worst and most uriny heckles, the honours system, near death experiences, brushes with the law, Are You Being Served?, Fringe spectaculars, Alexander the Great's socks, poetry, Hamlet featuring Dick Kipper, and what was being said in the backwards episode of Red Dwarf. Plus the benefits of mild fame and what you do when you've just been released from Colditz.
For details of Richard's gigs and forthcoming tour visit richardherring.com/gigs To become a monthly badger and help us pay for making this visit gofasterstripe.com/badges To buy the incredibly popular Emergency Questions book go to gofasterstripe.com/eq or get the new Emergency Questions phone app
Published: 27th September 2017. Length: 55 minutes. Size: 100mb
Video
Next RHLSTP Episodes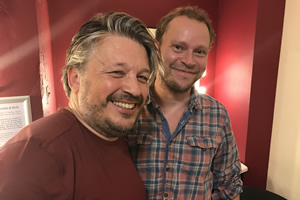 Date: 5th October 2017 Length: 71 mins Size: 132mb
RHLSTP #148: Robert Webb - The Ideal Age To Die. Richard is still prickling with mortification after an encounter with Michael Portillo, as if turning 50 and moving house wasn't...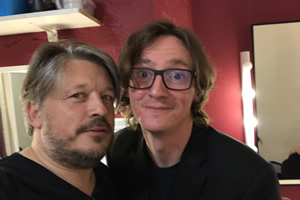 Date: 11th October 2017 Length: 68 mins Size: 125mb
RHLSTP #149: Ed Byrne - Lost Leather Jacket. Rich is getting used to living in the countryside and the action movie that is attempting to get the train home. His...
Richard Herring's Leicester Square Theatre Podcast - All Episodes