Rich has slept in and not had much time to prepare for the show, but luckily it doesn't seem to matter as there are lots of people in and they're drinking and they're up for fun - even if some of the more mature members are furious about the monarchy. Plus an update on the teenage girls and their mum from yesterday. Rich makes friends with a History student called Sleeveland or something, whose knowledge of Guy Fawkes is pitiful. Today's main guest is Tony Law who is enjoying the time away from his young children and having a cool pint of lager. His impressive face hair provides the subject for much of the conversation - though he seems to deflect Rich's request to kiss him, but the predominance of hair cuts and t-shirts on the Edinburgh posters also gets a look in and there are tales of Edinburgh's past as usual. Stand-up is from Chris McCausland.
Published: 6th August 2011. Length: 58 minutes. Size: 53.4mb
Previous RHEFP Episodes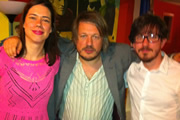 Date: 5th August 2011 Length: 56 mins Size: 51.64mb
Richard is in a bad mood as he's just come from the gym where Ian Virgin has inexplicably charged him a pound for his towel and then he saw himself...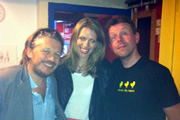 Date: 3rd August 2011 Length: 62 mins Size: 57.20mb
Here it is, almost live from The Stand comedy club in Edinburgh. The very first RHEFP (rhefp), a daily podcast keeping you up to date with all the Fringe gossip...