Two shows a day is already taking its toll on Richard who like a bumbling Mr Bean is spilling water and losing prizes all over the shop this episode. Let's hope he's not ill. He's fresh from dual embarrassments in the jacuzzi at the swimming pool and astonished about the new nickname that he has somehow acquired that has been sweeping the Fringe. He has no idea why everyone is calling him the King of the Fringe, and as flattered as he is that that's what people are saying he hopes it won't catch on. It's not fair to the other performers. Including today's guests, the clown haired satirist Andy Zaltzman and the double act The Behemoth. There's chat about the London riots, fan grooming, being the less successful one in a double act and whether heckles have a sell by date. And then Andy saves the day by coming up with a great unprompted anecdote to fill the final five minutes of the show.
Published: 7th August 2011. Length: 57 minutes. Size: 53.08mb
Previous RHEFP Episodes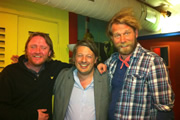 Date: 6th August 2011 Length: 58 mins Size: 53.4mb
Rich has slept in and not had much time to prepare for the show, but luckily it doesn't seem to matter as there are lots of people in and they're...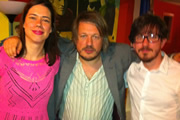 Date: 5th August 2011 Length: 56 mins Size: 51.64mb
Richard is in a bad mood as he's just come from the gym where Ian Virgin has inexplicably charged him a pound for his towel and then he saw himself...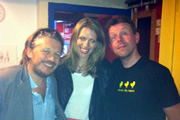 Date: 3rd August 2011 Length: 62 mins Size: 57.20mb
Here it is, almost live from The Stand comedy club in Edinburgh. The very first RHEFP (rhefp), a daily podcast keeping you up to date with all the Fringe gossip...