Series 8, Episode 1 (Drive The Campervan)

Pappy's Flatshare Slamdown: Series 8, Episode 1 (Drive The Campervan)
Kiri Pritchard-McLean, Nish Kumar and Josh Widdicombe are the triple threat of guests to join Pappy's in this first episode of Series 8 - recorded at the wonderful 2017 Machynlleth Comedy Festival. Why three guests you ask? Good question, but they blend like the grape varieties in a fine Bordeaux for a hugely fun show featuring wine, donkeys, orgasm chests, art, someone nearly being sick (TW!) and cameos from Josie Long and Mach Fest head honcho Henry Widdicombe.
Mach Fest is a truly fantastic comedy festival and we're really excited to be doing another Flatshare Slamdown there this year on 5th May. Info & Tickets
Also: new series = new beg for you to help us reach a wider audience! So do spread the word about the show to your friends and enemies.
Finally, vast thanks to everyone who has donated money to Flatshare Slamdown! You're brilliant! If you'd like to join them you can donate here
Published: 1st April 2018. Length: 49 minutes. Size: 66.8mb
Next PFS episodes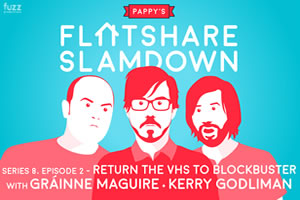 Date: 3rd May 2018 Length: 61 mins Size: 84mb
Gráinne Maguire and Kerry Godliman join Pappy's for a nineties-tastic rampage through short films, Queen songs, whispering and a suspicious belch. Within the episode we learn that Gráinne only knows...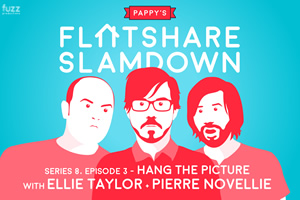 Date: 1st June 2018 Length: 49 mins Size: 67.4mb
Ellie Taylor and Pierre Novellie join Pappy's for a fun-packed flatslam which sees the panel playing Catchphrase with words, debating whether a new baby is necessarily a new tenant and...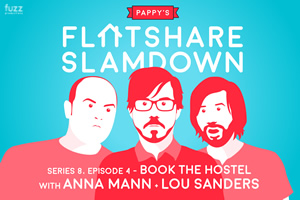 Date: 3rd July 2018 Length: 48 mins Size: 66.2mb
Anna Mann and Lou Sanders are the houseguests as Pappy's return to the glorious Mach Comedy Festival for a noisy and fun-filled flatslam. Featuring out of tune singing, high intensity...