Series 8, Episode 5 (Fix The Leaky Tap)

Pappy's Flatshare Slamdown: Series 8, Episode 5 (Fix The Leaky Tap)
Will Adamsdale and Annie McGrath join Pappy's for a fun show in which you'll learn... which panellist has the most unread emails, what Ben knows about Hans Christian Anderson, what Will knows about lawn mowers, why Annie thinks a cat should be put down, how Matthew is a true professional when all around him are misbehaving and whether one of the rambliest appearances by Fanshaw Standon ever is enough to win the case...
If you'd like to DONATE to the podcast we'd be very grateful indeed. You can do so by clicking on DONATE. If you can't afford to do that, then why not help us out by spreading the word about the show? Huge thanks to all who have done either of these things in the past.
Published: 1st September 2018. Length: 57 minutes. Size: 78.3mb
Next PFS episodes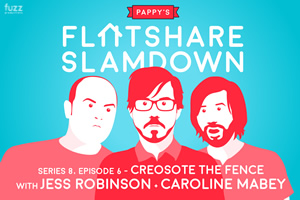 Date: 15th October 2018 Length: 57 mins Size: 74.1mb
Jess Robinson and Caroline Mabey join Pappy's for rather an experimental show which features not only props but two Beef Brothers complainants. Also within you'll find... Caroline inventing a new...