Series 8, Episode 7 (Change The Fuse)

Pappy's Flatshare Slamdown: Series 8, Episode 7 (Change The Fuse)
Rachel Parris and Sean McLoughlin are the houseguests for a return to the LaughOutLondon Festival featuring Tom almost asphyxiating himself beatboxing, Sean getting very angry about Money and Minerals, Rachel delivering the most impressive Beef Brothers sneeze-based prosecution ever, Matthew calling an audience member a 'bit of a piece' and Ben failing to clear a very, very, very low bar when it comes to explaining why he can't do the chore.
We are eternally grateful to all the #flatslammers who have donated some cold hard cash towards the series. If you'd like to join them you can do so by clicking on DONATE. But don't worry if you can't! You can very much support the show by spreading the good news about Flatshare Slamdown far and wide. Thanks!
Published: 19th November 2018. Length: 57 minutes. Size: 78.8mb
Next PFS episodes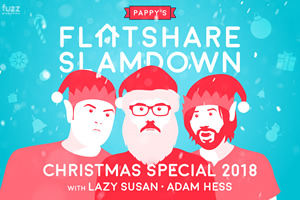 Date: 21st December 2018 Length: 71 mins Size: 98.8mb
Lazy Susan and Adam Hess are the helpers helping Santa's little helpers (Tom and Ben) in this year's blockbuster Festive Flatshare Slamdown. As with any Xmas special, expect Carol Singers,...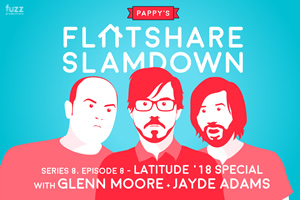 Date: 6th February 2019 Length: 70 mins Size: 95.6mb
Glenn Moore and Jayde Adams and a House Band(!) are the tent, yurt and teepee guests for a very special episode recorded at the 2018 Latitude Festival. Within... a lot...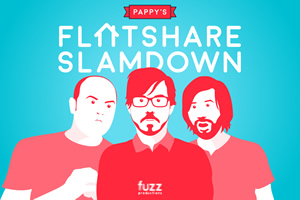 Date: 2nd April 2019 Length: 66 mins Size: mb
Neither "Tom!" nor "Ben!" want to water the plants, so we're going to have to have a Flatshare Slamdown! Voice of Love Island, Iain Stirling, and Chicken Shop Date's extraordinary...