Series 8, Episode 6 (Creosote The Fence)

Pappy's Flatshare Slamdown: Series 8, Episode 6 (Creosote The Fence)
Jess Robinson and Caroline Mabey join Pappy's for rather an experimental show which features not only props but two Beef Brothers complainants. Also within you'll find... Caroline inventing a new and very popular word, Jess flirting Clarky into submission, Tom making notes about pants and Matthew palpably wishing we'd made a couple of the rounds a little less complicated.
We are super grateful to everyone who has thrown a bit of money at the show. If you'd like to join these legends you can do so by clicking on DONATE - If you wouldn't like to do so, you can still help us out by spreading the news about the show to all corners of the globe. Thanks!
Published: 15th October 2018. Length: 57 minutes. Size: 74.1mb
Next PFS episodes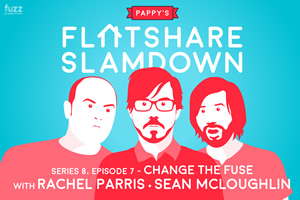 Date: 19th November 2018 Length: 57 mins Size: 78.8mb
Rachel Parris and Sean McLoughlin are the houseguests for a return to the LaughOutLondon Festival featuring Tom almost asphyxiating himself beatboxing, Sean getting very angry about Money and Minerals, Rachel...