Series 8, Episode 2 (Return the VHS to Blockbuster)

Pappy's Flatshare Slamdown: Series 8, Episode 2 (Return the VHS to Blockbuster)
Gráinne Maguire and Kerry Godliman join Pappy's for a nineties-tastic rampage through short films, Queen songs, whispering and a suspicious belch. Within the episode we learn that Gráinne only knows one type of amphibian, Kerry is very very very competitive, Ben knows whether he's coming or going, Tom can't pronounce plaid and Matthew can.
Thanks for your continued support for the show. As Tom says in the intro "without your ears we would just be some kind of computer program". Huge thanks also to everyone who has donated money to Flatshare Slamdown - it is really appreciated. If you'd like to bung some cash at us, you can donate here
And as ever, your word-of-mouth help getting the show into potential new listeners' incredibly valuable ears* is also brilliant - thanks!
*after all, without them, we would just be some kind of computer program
Published: 3rd May 2018. Length: 61 minutes. Size: 84mb
Next PFS episodes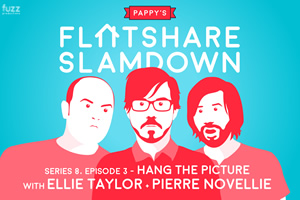 Date: 1st June 2018 Length: 49 mins Size: 67.4mb
Ellie Taylor and Pierre Novellie join Pappy's for a fun-packed flatslam which sees the panel playing Catchphrase with words, debating whether a new baby is necessarily a new tenant and...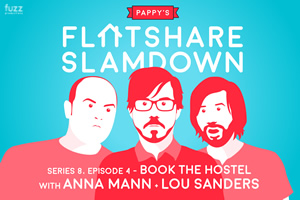 Date: 3rd July 2018 Length: 48 mins Size: 66.2mb
Anna Mann and Lou Sanders are the houseguests as Pappy's return to the glorious Mach Comedy Festival for a noisy and fun-filled flatslam. Featuring out of tune singing, high intensity...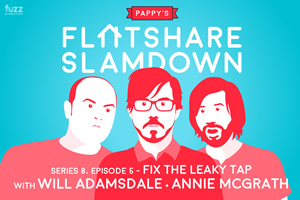 Date: 1st September 2018 Length: 57 mins Size: 78.3mb
Will Adamsdale and Annie McGrath join Pappy's for a fun show in which you'll learn... which panellist has the most unread emails, what Ben knows about Hans Christian Anderson, what...