Series 8, Episode 3 (Hang the Picture)

Pappy's Flatshare Slamdown: Series 8, Episode 3 (Hang the Picture)
Ellie Taylor and Pierre Novellie join Pappy's for a fun-packed flatslam which sees the panel playing Catchphrase with words, debating whether a new baby is necessarily a new tenant and getting out their rage via the medium of rap/rock crossover.
Thanks hugely for your continued support of the show. Special thanks to everyone who has donated money to the cause - if you'd like to join them you can donate here
Additionally/Alternatively please do evangelise about Flatslam to your friends, acquaintances, strangers and enemies.
Published: 1st June 2018. Length: 49 minutes. Size: 67.4mb
Next PFS episodes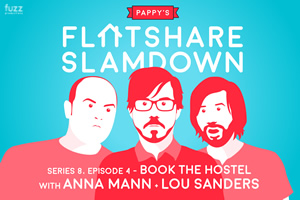 Date: 3rd July 2018 Length: 48 mins Size: 66.2mb
Anna Mann and Lou Sanders are the houseguests as Pappy's return to the glorious Mach Comedy Festival for a noisy and fun-filled flatslam. Featuring out of tune singing, high intensity...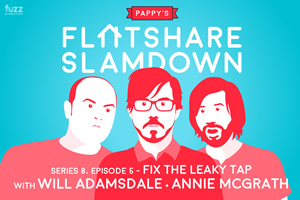 Date: 1st September 2018 Length: 57 mins Size: 78.3mb
Will Adamsdale and Annie McGrath join Pappy's for a fun show in which you'll learn... which panellist has the most unread emails, what Ben knows about Hans Christian Anderson, what...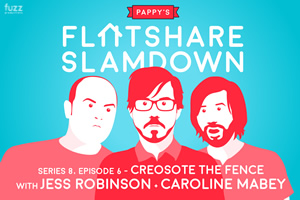 Date: 15th October 2018 Length: 57 mins Size: 74.1mb
Jess Robinson and Caroline Mabey join Pappy's for rather an experimental show which features not only props but two Beef Brothers complainants. Also within you'll find... Caroline inventing a new...