Series 7, Episode 4 (Stained Carpet)

Pappy's Flatshare Slamdown: Series 7, Episode 4 (Stained Carpet)
Josh Widdicombe and Joe Wilkinson are Pappy's guests in a show recorded in June 2015 which Producer Ben has been psyching himself up to edit ever since. It features the first ever live Quickfire Round jingle, a couple of good games and a vat full of white wine. Also watch out for evolutionary biologist Simon Watt making an impromptu appearance as a cricket-style 'runner', assisting one of the teams when the official house guest becomes somewhat debilitated! Simon was at the recording having earlier made a fully planned guest appearance on the Series 6, Episode 2 of Do The Right Thing, Producer Ben's other podcast.
If you'd like to throw a bit of money at Flatshare Slamdown we'll be very grateful indeed. Donate
Of course, any word-of-mouth help publicising the show in general is also brilliant - thanks!
Published: 1st August 2017. Length: 47 minutes. Size: 64.4mb
Next PFS episodes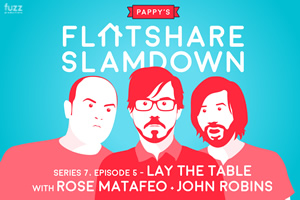 Date: 4th October 2017 Length: 58 mins Size: 80.3mb
Rose Matafeo and John Robins join Pappy's for a bumper episode - so bumper in fact that it is arriving at your ears more than a month late! Sorry! It's...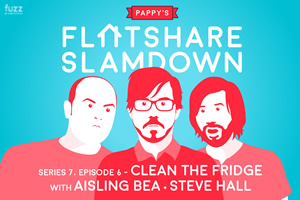 Date: 13th November 2017 Length: 47 mins Size: 64.9mb
Aisling Bea and Steve Hall are Pappy's housemates for a special episode recorded at the 2017 Latitude Festival. As well as battling it out to see who has to clean...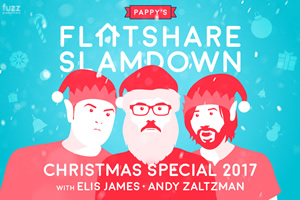 Date: 21st December 2017 Length: 62 mins Size: 84.9mb
It's Chriiiistmaaaaaaaaaas! ...and Elis James and Andy Zaltzman are the gifts that keep on giving in this typically, nay, traditionally shambolic and festive episode, stuffed (like a badly prepared turkey)...