With Andrew Collins and Katy Wix. Matthew, Ben and Tom are bickering over who is going to pick up a parcel from the post depot. Collings & Herrin's Andrew Collins tells us about an unusual package he received from one of the Levellers and bungalow-dwelling Katy Wix from off of the TV recounts how she once took a delivery of sausage from a butcher. The contest takes in Pass the Parcel, Canoeing and a 'Toddler versus PS3'-themed Beef Brothers courtesy of Stephen.
Published: 7th June 2011. Length: 50 minutes. Size: 69.29mb
Previous PFS Episodes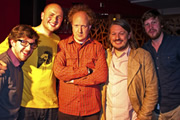 Date: 31st May 2011 Length: 47 mins Size: 64.43mb
With Richard Herring and Andy Zaltzman. In this first episode of Pappy's Flatshare Slamdown Matthew, Ben and Tom are arguing over who is going to pay the gas bill. The...