With Isy Suttie and Maeve Higgins. It's Pappy's Flatshare Slamdown the third and the flatmates are arguing about who's going to make dinner. Tom gives us his recipe for Tobasco Avacado, Ben forgets how to say the word 'jump' and Matthew tries not to get angry with the Quickfire Round jingle. Joining in are professional tumbler Isy Suttie, the bogus inventor of lasagne Maeve Higgins... and Fanshawe Standon's cousin. And this week's beef concerns the rights and wrongs of 'kitchen audits' - loads of thanks to Michael for bringing it along.
Published: 14th June 2011. Length: 53 minutes. Size: 73.24mb
Previous PFS Episodes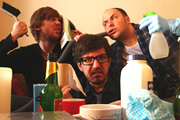 Date: 7th June 2011 Length: 50 mins Size: 69.29mb
With Andrew Collins and Katy Wix. Matthew, Ben and Tom are bickering over who is going to pick up a parcel from the post depot. Collings & Herrin's Andrew Collins...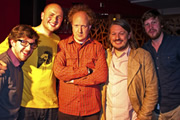 Date: 31st May 2011 Length: 47 mins Size: 64.43mb
With Richard Herring and Andy Zaltzman. In this first episode of Pappy's Flatshare Slamdown Matthew, Ben and Tom are arguing over who is going to pay the gas bill. The...