With Helen Zaltzman and Olly Mann. In the fourth Pappy's Flatshare Slamdown the boys play host to Helen, Olly and Martin from the award-winning Answer Me This! podcast - and everyone is fighting to avoid having to find and kill a mouse that has been terrorising the flat. Along the way Ben reveals his elephantine origins, Tom discovers the ideal time of day to listen to the Flat Olympics round (this week: Marathon and Triple Jump) and Matthew is upstaged by a riddling rhyming rodent. Also Olly gets angry with the audience for no reason and Helen takes beef brothers quite seriously - attempting to offer genuine advice. And this weeks Beef-er Claire deserves a high five for persevering with us despite not being able to hear everything that's going on and consequently being erroneously labelled 'a little bit racist' (she's on the phone from Birmingham - that's right, we've gone technology crazy). The beef is a cracker - all about noisy eating.
Published: 21st June 2011. Length: 56 minutes. Size: 77.11mb
Previous PFS Episodes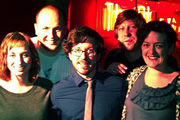 Date: 14th June 2011 Length: 53 mins Size: 73.24mb
With Isy Suttie and Maeve Higgins. It's Pappy's Flatshare Slamdown the third and the flatmates are arguing about who's going to make dinner. Tom gives us his recipe for Tobasco...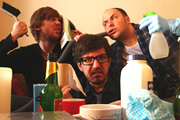 Date: 7th June 2011 Length: 50 mins Size: 69.29mb
With Andrew Collins and Katy Wix. Matthew, Ben and Tom are bickering over who is going to pick up a parcel from the post depot. Collings & Herrin's Andrew Collins...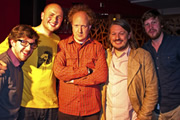 Date: 31st May 2011 Length: 47 mins Size: 64.43mb
With Richard Herring and Andy Zaltzman. In this first episode of Pappy's Flatshare Slamdown Matthew, Ben and Tom are arguing over who is going to pay the gas bill. The...