Athena Kugblenu gets bursary
Athena Kugblenu receives Felix Dexter Bursary 2020
Athena Kugblenu has been named as the recipient of this year's Felix Dexter Bursary scheme
She will work with the BBC for six months where she will receive scripted comedy training
She says: "I'm thrilled and a little bit stunned to be awarded this bursary"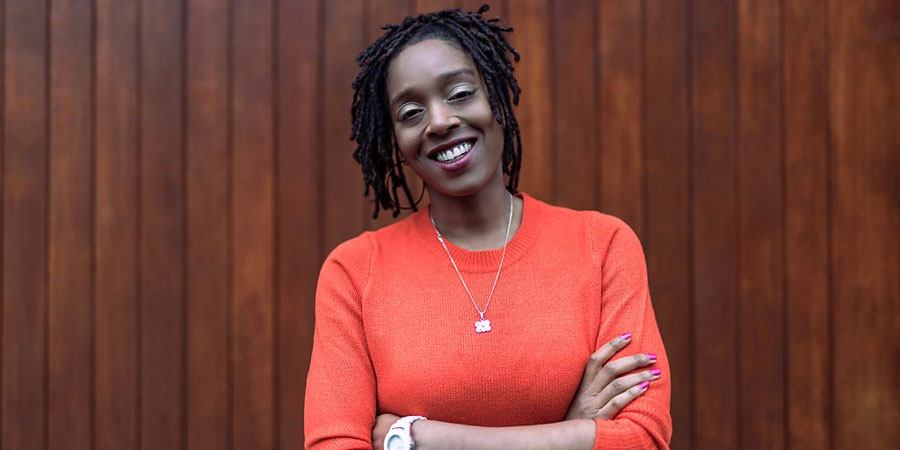 Stand-up comedian and writer Athena Kugblenu has been named as the recipient of this year's Felix Dexter Bursary.
Now in its third year, the scheme - which was formed to remember actor Felix Dexter - is designed to find writers "with a fresh, unique point of view and the potential to help shape the future of comedy." It is open to black, Asian and other ethnic minority writers or writing duos who are aged 18 or over.
The six-month bursary, run by BBC Comedy, is awarded to aspiring comedy writers, with the aim of making a positive intervention to address an under-representation of BAME professionals in comedy production in broadcasting.
Kugblenu was a BBC New Comedian of the Year finalist in 2015, and has been growing her stand-up career since then. The BBC explains: "Her stand-up style leads with intelligent, topical and thought-provoking jokes, with an edgy sting. Her first solo show, KMT, played the Edinburgh Fringe to four and five-star reviews, as did her 2018 follow-up Follow The Leader. Both featured in The Guardian, The Independent and The Telegraph's best jokes compilations.
"As a regular co-host on The Guilty Feminist podcast, Athena is an exciting voice bringing her unique perspective on the subjects of race, gender and how equality shapes our modern lives. Athena is prominent on Twitter and has also written content for Time Out and Stylist Magazine where she brilliantly showcases her wit and wisdom both online and in print."
She will be based in BBC offices across the UK whilst on the bursary.
Athena Kugblenu says: "I'm thrilled and a little bit stunned to be awarded this bursary, especially one in the name of an indisputable comedy genius. This is a huge opportunity to develop my comedy writing and further my career, and I can't wait to get started."
Sarah Asante from BBC comedy commissioning says: "We're very excited to welcome Athena to the third year of the Felix Dexter Bursary and hope that the training on offer leads to finding her voice and cementing her place in the scripted world."
Talking further about the scheme and what it does, the BBC says: "On a practical level, the bursary gives up-and-coming talent the chance to make comedy writing their main focus for six months, while immersed in comedy production. They hone their skills while gaining experience on a range of BBC comedies across radio, TV and online, on panel shows, shorts, sitcoms or comedy entertainment shows. The programme offers the writers the support they need to take the next step in their career."
Past recipients of the bursary include Leah Chillery and Jonny Wright, whose placements took them behind the scenes on a range of shows from BBC Three's Famalam and This Country to BBC One's Mrs Brown's Boys and Radio 4's Newsjack. The BBC confirms: "Both Leah and Johnny are continuing to develop their scripts as part of ongoing support provided by BBC Comedy."
---
For updates, click the button below.
Share this page