Jewish Enquirer sitcom Amazon
All-star sitcom The Jewish Enquirer launches on Amazon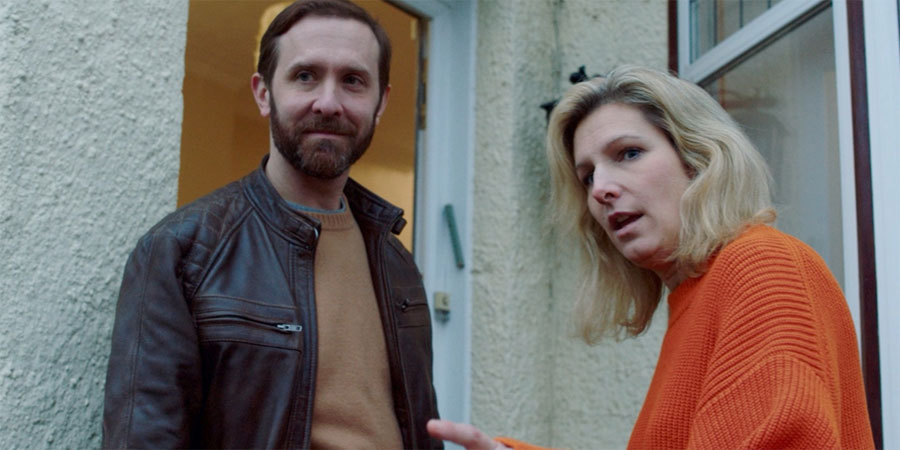 A new sitcom has launched on Amazon Prime Video today.
The Jewish Enquirer, a six-part comedy, stars Tim Downie, Lucy Montgomery, Josh Howie and Geoffrey McGivern.
The series has been written, directed and produced independently by Gary Sinyor, the celebrated filmmaker behind titles such as Stiff Upper Lips, Leon The Pig Farmer and In Your Dreams.
Filmed in December 2018 and January 2019, Downie also acted as executive producer on the comedy following Paul, a journalist working for the fictional Jewish Enquirer, supposedly "Britain's fourth largest Jewish publication".
Magnet Films tease: "Paul spends his days treading the mean streets of Finchley in search of the scoops that make 'The Jewish Enquirer' essential reading for his community. Headline stories include "Jewish Film Festival Opens with Jewish-Themed Film: Exclusive", "Chief Rabbi Shops at Marks and Spencer: Exclusive" and "Cloudy Weather in Tel Aviv: Exclusive".
"Paul's meagre journalistic ambitions must contend with the baby-sitting demands of his sweary sister, Naomi and the search for true love pursued by his neurotic best friend Simon. Comic icon Geoff McGivern completes the regular cast as Paul's cynical father Ronnie."
Guest stars in the first series include Chizzy Akudolu, Sophie Colquhoun, and comedy legend Freddie "Parrot-Face" Davies.
Gary Sinyor says: "I wanted to create a mainstream comedy about a truth-seeking journalist with big ambitions who is limited to hunting down rubbish stories for a small-time paper. Some of the greats of British comedy history show you can laugh both at and with opinionated men frustrated by the challenges of day-to-day living. Paul is clumsy, stubborn and obsessively befuddled by just about everything. As am I."
Tim Downie adds: "Going from playing the arrogant Governor Tyron in Outlander to broad comedy is part of the joy of being an actor. The characters that Gary has created say things that I suspect people would like to say but daren't. It's funny and irreverent with a great deal of charm."
Sinyor quips: "Anyone who doesn't like it is an anti-Semite."
The sitcom is available to buy on Amazon, or at no extra charge for Prime subscribers.
---
For updates, click the button below.
Paul Green (Tim Downie) is an ambitious but hapless journalist working for a very small-minded publisher. He's constantly ambushed by his sister Naomi (Lucy Montgomery) for childcare duties, whilst his Dad Ronnie (Geoff McGivern) is still as competitive as a child. His single friend Simon (Josh Howie) is off the scale neurotic.
A fresh new British sitcom by the man behind Leon The Pig Farmer.
First released: Friday 28th February 2020
It looks like you're in the US? Fear not! Almost everything can still be ordered.
Amazon UK
deliver internationally,
Amazon.com
carries many items separately, or you can look out for US/Canadian flags on our product listings for direct links.
If ordering from a UK store, please note that you are in Region 1 (DVD)/Region A (Blu-ray), whilst the UK is in Region 2/B, respectively. This means that many - but by no means all - may fail to play. Look for products marked "Region free", "All regions", "Region 0" or "Multi-region". Blu-rays may also be marked "Region A/B/C", "Region free", or variations thereof. You may also check whether your DVD/Blu-ray player supports multi-region playback (also referred to as "region free"), or whether it can be set to do so. There should, of course, be no problems with books, CDs, or other physical items.
More advice & help on importing
Share this page