Witless Series 2
BBC orders a second series of Witless
The five new episodes will carry on the story from where Series 1 left off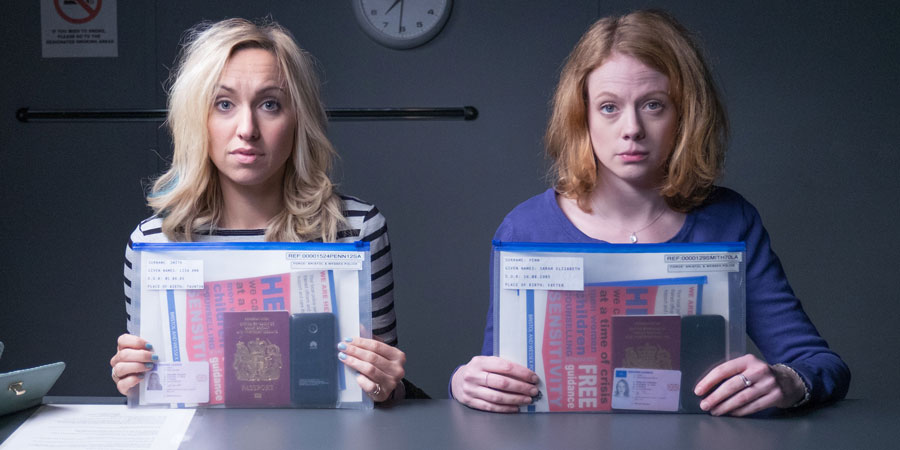 Witless, the BBC Three sitcom starring Kerry Howard and Zoe Boyle, is to return for a second series.
The BBC confirmed today that it has ordered five more episodes of the comedy, which focuses on Rhona and Leanne, two mis-matched flatmates who have to enter a Police witness protection programme together.
Written by Lloyd Woolf and Joe Tucker, the five episodes of the first series are now all available on BBC iPlayer, with TV repeats currenly airing on BBC One on Friday nights. The final episode will be broadcast next Friday.
After becoming deeply entangled in the criminal world they were trying to escape, Series 1 ended on an out-and-out cliff-hanger. Series 2 kicks off with the 'witless wonders' facing their biggest scrape yet: with their safe house no longer so safe, and unable to trust the police, Leanne and Rhona are on the run, again.
Talking about the recommission Kerry Howard says: "I'm beyond thrilled to get the chance to play the wonderfully playful puppy that is Leanne again. It's such a pleasure to be working with everyone on this show - it has been a dream job and Zoe Boyle is a joy to work with. I cannot wait to read the scripts to see what Rhona and Leanne have to deal with this time - who knows what our mastermind writers Lloyd and Joe will come up with for this next series! They have absolutely nailed the art of a cliff-hanger. Let the drama and comedy roll on."
BBC commissioner Shane Allen says: "Witless has proved an instant smash hit for Three. The hooky narrative, superb performances and filmic execution landed it in the sweet spot for audiences who built and grew across the run. The cliff-hanger ending makes for an equally hilarious and gripping second series."
Damian Kavanagh, the Controller of BBC Three, comments: "We love Witless at BBC Three, and can't wait to see what Leanne and Rhona get up to. BBC Three is home to the best new British comedy."
Ben Farrell from production company Objective Productions, adds: "We're absolutely delighted to be continuing Leanne and Rhona's adventures in Witless. The next five episodes will be taking the story to a new level of thrills, twists and funnies that made Series 1 so distinct."
You can catch-up with Series 1 on iPlayer. The episodes are available until October 2016.
A release date for Series 2 will be announced later this year. Based on filming schedules, it is likely to be published in early 2017.
See also: Kerry Howard and Zoe Boyle interview
Share this page