Ricky Gervais to publish new David Brent songs on YouTube
Ricky Gervais to publish new David Brent songs on YouTube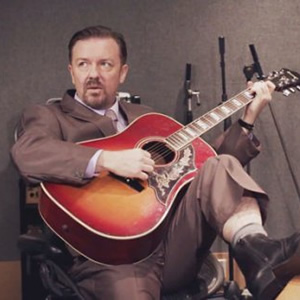 A feature in today's Sun newspaper has revealed more details on Ricky Gervais's plans for his YouTube channel.
The international comedy star has confirmed he is working on a series of online videos called Learn Guitar With David Brent. The short episodes will see the comic actor appearing again as the character from The Office.
Gervais recently resurrected Brent for a special Comic Relief sketch. The music video for Equality Street, which sees the "deluded entertainer" perform a cringeworthy politically-correct song alongside aspiring rap star Dom Johnson (played by Doc Brown), has now been viewed over 3 million times on YouTube.
It was revealed in March that Brent would be further revisited in Gervais's YouTube channel, but it had not been known until now just what form that would take.
The episodes will see the former Wernham Hogg boss give tips to viewers on how to become the "perfect guitarist". Each episode will also feature a complete version of one of David Brent's self-penned songs, one of which will be Spaceman Came Down, which was also seen in The Office, the 2001 TV series that made Gervais and his creation famous.
In total, there will be "an album's worth of new songs" across the series - raising the possibility that the comedian will also release the songs in a commercial, traditional album format, although this has not been confirmed.
The first of the episodes, which will also see Brent talk about the inspiration behind his songs and reveal the "riveting story" about life as a sales rep, are to launch on YouTube in June.
Gervais is also currently working on a second series of Channel 4 comedy drama Derek, but his other TV projects - including The Ricky Gervais Show and Life's Too Short - have now finished.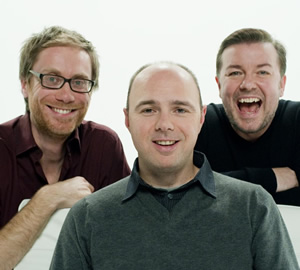 The comedian was writing in the newspaper to promote the DVD release of The Ricky Gervais Show - Series 1 to 3 DVD box set, which is out in shops on Monday. There will be no more series of the animated Channel 4 series based on his podcasts, so this is the show's final, and complete, DVD release.
In a long article in The Sun, Gervais said the show had come to a natural end. "Why have I knocked it on the head? Well, apart from the fact that I have a very short attention span, we actually made more episodes of The Ricky Gervais Show than anything else I've ever done. I also think we used all the best bits and I wouldn't want the quality to go down."
He added: "I was thinking of recording brand new audio at one time but then I realised that it wouldn't be the same. I am so proud of The Ricky Gervais Show. Not just because of how well it turned out or how successful it was, or the awards, or even how much fun I had producing it. I'm proudest of the fact that it was just another experiment that got out of hand."
Speaking about collaborator Karl Pilkington, Gervais joked: "Karl has certainly changed. He's wiser, believe it or not, so it's nice that the show survives in a time capsule as a document of when he was a moronic little shaven Manc chimp."
Story update, 13th May. Here's the teaser trailer:
Below is the music video for Equality Street:
Share this page