Sam Simmons wins Edinburgh Comedy Award 2015
Sam Simmons wins Edinburgh Comedy Award 2015
The results of the prestigious Foster's Edinburgh Comedy Awards 2015 have been announced at a ceremony at the Edinburgh Festival Fringe.
---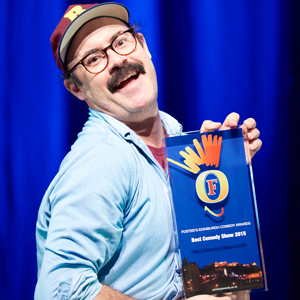 Australian comedian Sam Simmons has won the Best Comedy Show award for Spaghetti For Breakfast.
Simmons was previously nominated for Best Comedy Show in both 2014 and 2011, and this year has already picked up the Barry Award and Underbelly Adelaide Award in his native Australia.
Awards boss Nica Burns said: "Sam Simmons has funny bones. He is a complete original, combining physical comedy with great verbal jokes and a unique take on life. His 2015 Edinburgh show is outstanding. This is a comedian at the top of his craft who has grown substantially since his two earlier nominations."
---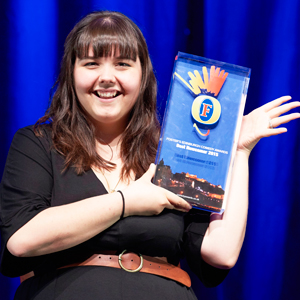 Sofie Hagen, presenting her show, Bubblewrap, was awarded the Best Newcomer title.
The Danish comic took the title having only begun performing in English in 2012.
Earlier this month, Sofie told us: "I started doing comedy in 2010 in Denmark in Danish. Then I started doing comedy in 2012 in England in English. Which, I know, makes me a bit of a genius maverick of a comedian. I am very happy where I am now - I have no plan B. If I wasn't a comedian, I would probably be homeless and jobless, so I'm making about 100% more money doing this than if I didn't do it."
Nica Burns explained today: "A young comic with an effortless engaging style. The audience is totally charmed as she delivers her story with a twinkle in her eye and and an armful of jokes. As Lucy Lumsden, Chair of the panel said, 'She makes it look so easy.'"
---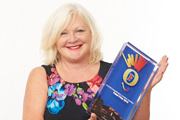 Karen Koren, Founder & Artistic Director of the Gilded Balloon, picked up the Panel Prize in her venue's 30th anniversary year.
Lucy Lumsden, Chair of the Panel and Head of Comedy at Sky said: "Karen Koren encapsulates the true spirit of the Fringe in so many ways. Entrepreneurial, warm-hearted, a great survivor and a huge supporter and spotter of new talent. Her So You Think You're Funny? comedy competition, now in its 28th year, has been the start of many comedy careers. As she steps down in her 30th year, handing over custodianship and securing the future of her legacy to her daughter, this is Karen's moment. Our time to celebrate her guiding comedy spirit of the last 30 years."
Karen said this afternoon: "This award came as a complete and utter surprise to me. I have had a brilliant time over the past 30 years we have enjoyed supporting all of the amazing talent that I have met and worked with over the years."
---
Now in their 35th year, the Edinburgh Comedy Awards (previously known as the Perrier Awards), aim to identify future comedy stars. Past winners of the title include pre-fame Frank Skinner, Lee Evans, The League Of Gentlemen and Al Murray.
The winners were announced at a ceremony in Edinburgh this lunchtime. Cricketer and A League Of Their Own star Freddie Flintoff and last year's winner, John Kearns, announced the results.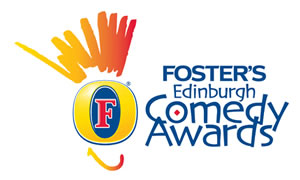 The prize money - sponsored by Foster's - was £10,000 for the Best Show, with £5,000 each for the Best Newcomer and the Panel Prize winner.
This year's shortlist involved a record number of shows. At the time of announcing the list, awards producer Nica Burns said: "This is a record-breaking year with an eight-strong shortlist for Best Comedy Show and a seven-strong shortlist for Best Newcomer. The judging debate was the longest in the 35 year history of the comedy awards. This demonstrates the vibrancy of the Edinburgh Fringe and extraordinary range of talent on show this year.
"With 600 shows eligible, the shortlist represents the diversity and breadth of style and genre. It's exciting to welcome both established performers with outstanding new shows and new acts to the best comedy show shortlist and it's a particularly good year for physical comedy. Between them these outstanding performers reach every funny bone. The Best Newcomer shortlist shows that the future of comedy in the UK is in very good hands."
Not every comedian performing at the Fringe is eligible to be considered for the awards. For example, rules state that acts considered to have 'star' status are not eligible.
The panel this year was chaired by Sky comedy commissioner Lucy Lumsden. The other judges were Carl Cooper (BBC Radio); Alex Hardy (The Times); John Nicholson (The Mirror); Charlie Perkins (Blink Industries); Zoe Rabnett (Just for Laughs); Ben Williams (Time Out); and public panel competition winners Dave Deverick, Kate Emmett, and Mark Muldoon.
Lucy Lumsden said: "It has been a joy to watch so many incredibly talented performers who encapsulate every genre of comedy from political satire to physical comedy and everything in between."
Here are the speeches from the winners:
Share this page