Vic & Bob confirm 25th anniversary live tour
Vic & Bob confirm 25th anniversary live tour
---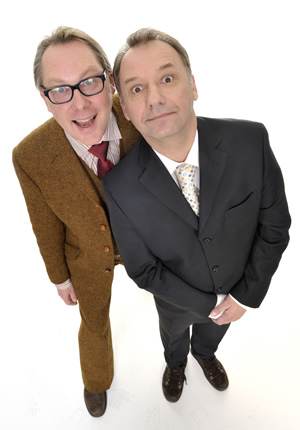 Story update, 17th March 2015: More dates have been added due to demand. Ticketmaster, Ticketzone and SeeTickets are the vendors.
Double act Vic Reeves and Bob Mortimer have confirmed details of a forthcoming nation-wide tour.
Celebrating 25 years of their comedy partnership, The Poignant Moments will begin in Glasgow on Wednesday 11th November, running for just 13 dates and concluding on Friday 4th December in Brighton.
Along the way, the tour will stop at locations including Liverpool, Bristol and Sheffield, playing in relatively small venues rather than arenas.
According to posts made by Bob Mortimer on Twitter, the duo are today beginning writing the show. A series of YouTube clips and comments show that Mortimer has spent the weekend revisiting their old material and asking fans to suggest characters, routines and sketches they'd like to see revived on the stage.
Tickets are now on pre-sale before becoming widely available on Wednesday.
Having met on the South London comedy club scene in the late 1980s, the double act became a staple of 1990s comedy, with anarchic panel show Shooting Stars propelling them to fame.
They also enjoyed considerable success with the TV sketch shows Vic Reeves Big Night Out, The Smell Of Reeves And Mortimer, and Bang, Bang, It's Reeves And Mortimer.
Reeves & Mortimer are currently appearing in the second series of surreal sitcom House Of Fools, which they also write. The series continues on Monday 9th March at 10pm on BBC Two.
Here is a trailer for the second series.
Share this page