Rosie Jones
Taking on the First Gig questions this week is Rosie Jones, who you might well have spotted in the credits of numerous big-time TV comedy shows over the years - Would I Lie To You?, 8 Out of 10 Cats Does Countdown - and, since 2016, on stage.
"I worked in TV production for six years and would envy the comedians I worked with - their job seemed way more fun," she tells BCG. "So I thought I might as well give stand-up comedy a go, and I've never looked back. I was right, being a comedian is much more fun than being a TV researcher!"
The researcher-gone-rogue has been on the other side of the camera recently too, as one of last year's The Last Leg: Correspondents (an entertainingly illuminating report about benefits assessments entitled The Disability Card) and also acting - she turned up in Silent Witness a few weeks back.
Rosie's resume is looking good then. But how were those early shows?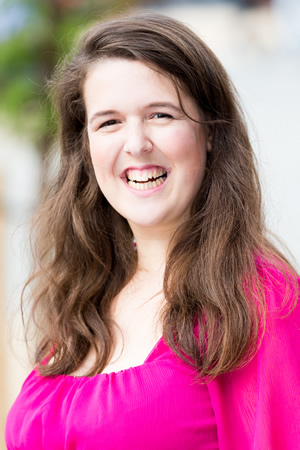 First gig?
I did my first ever gig at the start of 2016. I went to watch my friend perform improv. I think I was the only non-performer at the gig. At the end the MC asked whether anybody wanted an open spot and I thought, "Yeah, why not? Everybody else has given it a go!" It was scary - I hadn't planned what I was going to say, but that made it more thrilling. I must admit though, since then I do know what I'm going to say before jumping up there.
Favourite show, ever?
The Funny Women final, 2016. It was only my tenth ever gig, and there I was, performing to seven hundred people! It was also the first time that a lot of my friends and family had seen me perform comedy, so that made it really special.
Worst gig?
Oh, quite a few, all from Edinburgh last year! One particularly stands out - I was meant to do a 30-minute gig and when I showed up, the audience consisted of three people, none of whom looked like they wanted to be there. I did ten minutes to a less than lukewarm crowd and then said, "Oh loves, you don't want to be here, I don't want to be here, off you go and enjoy your day". They all cheered and flew out of the door!
Can you recall the first gag/sketch you ever got on TV?
My first gag on TV came out of Jimmy Carr's mouth! I worked on 8 Out of 10 Cats Does Countdown for a number of years and ended up writing a few opening jokes for Jimmy. Hearing him saying my jokes on TV was amazing, but I must admit, there was a part of me that thought, "Hey! That's my joke! I wish I was up there telling my joke..."
Who's the most disagreeable person you've come across in the business?
It still shocks me when I'm referred to as a 'female comedian'. I'm a comedian! My gender shouldn't come into the equation. One, erm, delightful MC once introduced me on to the stage by saying, "Next up, unfortunately, it's a woman comedian. But don't worry, she might be funny... it's Rosie Jones." What a welcome, eh?
Is there one routine/gag you loved, that audiences inexplicably didn't?
I have one routine that I try out every once in a while about God, and the conversation he must've had when he made me. It's a tricky subject, and I haven't nailed it just yet. It's a tricky thing to say, "I don't believe in God, but if he existed, here's what he'd be like". The audience haven't gone with it yet, but that's definitely my fault, I'm yet to crack the nut of the joke.
Any novel tips for getting into the TV writing business?
Well I was very sneaky and I went the long way round. By becoming a researcher, I got to know the production execs personally. It's so useful to work on the inside because now that I'm writing my own stuff, they are much more willing to read it because I worked with them for years. So my tip is, start from the ground up, make loads of teas and get talking to people!
The most memorable review, heckle or post-gig reaction?
I love the shock that people display after my gigs. Because I have a physical disability, people don't expect me to be funny. My favourite post-gig reaction though has to be the time I heard one person ask her friend "Did Rosie have a disability, or was she a character comedian?" How offensive would that be, if I were a flipping character comedian!
How do you feel about where your career is at, right now?
Right now I'm very happy with where it's at. I'm still brand new to the game - I've only been going for two years, but I'm busy, and exciting things are just around the corner. I'm still painfully optimistic, which does help!