Kerry Godliman interview
While no-one would begrudge a talented comic getting some TV acting work - apart from most other comics, who begrudge anyone getting anything - there's always a worry that we'll lose them from the stage along the way. So it's good to see Kerry Godliman treading the boards again, after a busy few years in Derek, Carters Get Rich, and this year's new ITV sitcom Bad Move, among other things.
She's at London's Soho Theatre this week, then touring the UK, with the show Stick or Twist. "It's loosely about deciding whether to move out of the city and totally change my life, or stick with what I know," she says. "It echoes a lot of the themes in Bad Move, the Jack Dee sitcom on ITV... which is a total coincidence."
Time to look at her good, bad and weird career moves.
First gig?
My first gig was at a pub called The Tut, on Upper Street in Islington and it was the showcase for a stand-up comedy course I'd done at the City Lit. The audience was entirely made up of friends of the acts.
Favourite show, ever?
Gigs at Always Be Comedy in Kennington always make you feel like a comedy god. That audience is just the most attentive and up-for-it I've ever come across. Its lovely, but, gives you a very distorted sense of comedic worth in relation to the rest of the circuit and reality.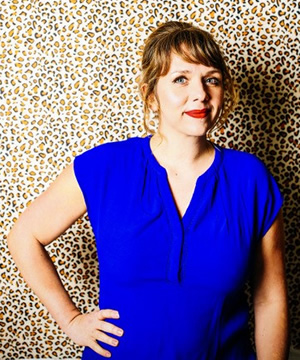 Worst gig?
I don't remember a specific one; I've probably blocked it out. But there have been plenty of tough gigs. The worst are the ones where people start talking to each other. No hostility, just complete indifference.
The weirdest live experience?
The open mic circuit is pretty weird. There's a general 'support group' vibe to that scene.
What's your best insider travel tip, for gigging comics?
Set off early enough. Traffic apps tell lies.
And comedy tips generally?
There are no short cuts, just graft. Keep writing, gigging... that's it. You cross a line when you don't feel as inexperienced any more. I remember lying that I'd done more gigs than I had to get stage time early on, and then I'd done enough to not need to lie anymore.
The most memorable review, heckle or post-gig reaction?
Edinburgh reviews are tough. There's a culture of four stars-plus or nothing [being good enough]. I remember when I did my first hour most of my reviews were three stars and I couldn't use them for my poster. Towards the end of the festival someone told me they'd seen a four-star review for my show somewhere and I was so excited, only to discover they'd made a mistake. Oh, the lows of that bloody festival.
How do you feel about where your career is at, right now?
I'm very lucky to get to do stand-up and acting. I love to do both. Stand-up gives you a chance to say what you want, but it can get lonely. Acting gives you the chance to work with a team and tell stories from a different perspective.