Cally Beaton
Now here's a good theme for a podcast - and quite a title. Namaste Motherfuckers is the brainchild of super Cally Beaton, the TV-industry high-flyer turned top-notch stand-up, who's now putting that varied experience to good use. Having skilfully surfed the work/life balance, she's now nailing the funny/fulfilling one.
"NMF is the first and only podcast where the worlds of comedy, self-help and business collide," the host explains. "As such, we've tried to make sure it's not just about comedy, nor are the guests exclusively comedians. I'm about to interview Serena Gordon, for example - former Ms Moneypenny, best friend of Jane Horrocks and founder of The Hoffman Process UK."
Which you don't get with every comic-hosted show. But then Beaton's vocational trajectory is far from the beaten track.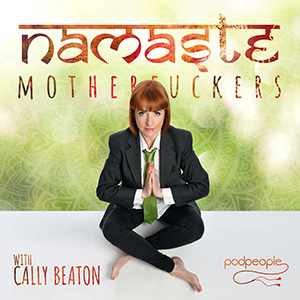 "Having helped myself out of a boardroom career to become a full-time comedian just before a global pandemic, I've learned to find the funny in pretty much anything. But as a former executive coach and someone who's been around the block a few times, I'm into wellbeing, mindfulness and anything that helps life roll along a bit more easily."
It does sound very timely. And tackling these chats has been a trip, too.
"There have been more moving moments recording the podcast than I'd thought there would be," she admits. "Lots of damp eyes - mine and the guests' - the most goose-bumpy so far being with Rosie Jones (out in June). There are plenty of work/life take-outs too - not just from experts like Oliver Burkeman, but people like Desiree Burch, Richard Osman and so many others have genuine wisdom and hidden stories to tell."
Time, then, to get Beaton's own background tales.
First gig?
I, like many others, did Logan Murray's Stand Up and Deliver workshop, culminating in a first gig above the Tommyfield pub in Kennington. Lots of my friends came to watch and I was diabolical. I could see them trying to be positive afterwards but they fooled no one. To be fair, I had just come from a wake.
Favourite show, ever?
At the first Women's Equality Party conference in Manchester in November 2016, when I'd been going less than a year. It was the evening event at the end of the first day and everyone was on a high.
It was hosted by Sandi Toksvig on a massive Live At The Apollo-style stage, with Sara Pascoe and Sara Barron also on the bill. I mainly felt great to have snuck in as a non-Sara.
Worst gig?
At Thruxton a couple of years ago - on a bill with comedy royalty. The audience just didn't go for me from minute one, I didn't claw it back and got some horrible, personal heckles from a big group of drunk women near the front.
Instead of handling it like a pro and styling it out, I got a bit tearful. Ended up sneaking back to the car park through the mud and undergrowth rather than have to look anyone in the eye (promoter and other acts included).
Which one person influenced your comedy life most significantly?
Joan Rivers, who I ended up working with while I was at Comedy Central, and who not long before she died told me I wasn't too old at 45 to take up stand-up (she was 81). So I did.
And who's the most disagreeable person you've come across in the business?
Probably, like a lot of comics, the odd, and I mean odd, promoter. Most promoters are sound but they all have their favourites (to be fair, I never complain about that when I'm one); I think all comics have had the experience that despite never having a bad gig at a certain venue, you just can't get booked again.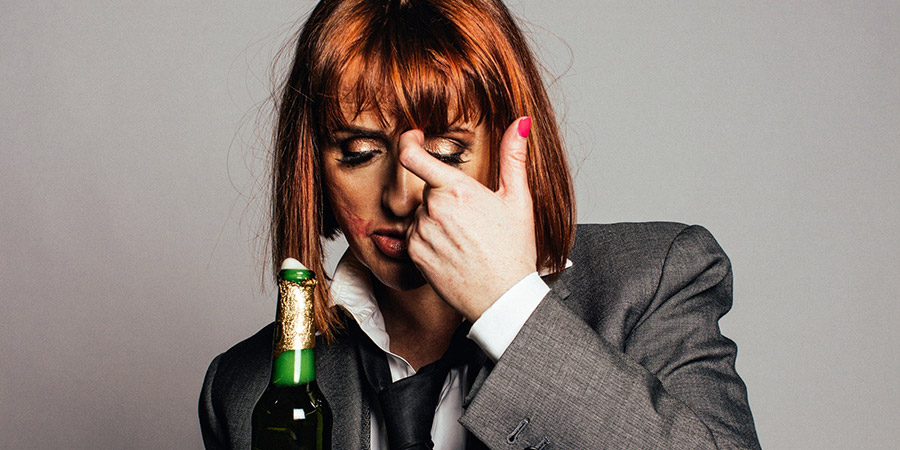 Is there one routine/gag you loved, that audiences inexplicably didn't?
There's one that got nominated for best joke in Edinburgh but which audiences rarely got so I dropped it:
"Put your hand up if you know what dyspraxia is? Put your hand back down if you've got it - you'll have someone's eye out"
How has your lockdown year been, generally and creatively?
It didn't get off to a cracking start. Like most comics, I had a 48-hour period in March 2020 when my diary emptied overnight, then I got Covid which turned into pneumonia, and both my kids lost their jobs.
Then the kids came up with plan b's and c's and I started getting into the Zoom/virtual gigs thing and realised this is what I'd been training my whole life for!
All those years working in telly set me up for working out how to make something come across from screen to punter, with a remote audience. If in doubt, I just channel Stephen Colbert doing a Late Show monologue.
Any reviews, heckles or post-gig reactions stick in the mind?
I was doing the Hastings Fringe a couple of years ago, on their outdoor stage just off the high street. There were some teenagers mucking about on the balustrade above the stage and they started throwing down paper planes with messages on them, so I started reading them out.
One came down which said 'don't give up'. Quickly followed by a second one: 'the day job'.
How do you feel about where your career is at, right now?
Shameless plug alert, only it really isn't... recording the podcast since January has been a joy. It's reconnected me to the industry and given me a voice - something that as comics we've largely lost for the past year or so.
My sights have always been more on radio and presenting/hosting than TV per se, so anything in the audio world is a shot in the arm. I've been lucky enough to record another QI ep recently and to be getting plenty of live stuff coming in on the horizon for when the world reopens.
So despite never having hustled so much to keep things afloat, things could be a lot worse. Namaste.