Alexander Armstrong interview
Alexander Armstrong is set to head on tour with a brand new stage show. Bringing him firmly back to his comedy roots, All Mouth And Some Trousers will see him recounting the mad twists and turns he has encountered on his journey through the rocky foothills of a showbusiness career. Let's find out more...
How are preparations going for the tour?
It's all looking good! I've been writing for about a year now, so this last bit has just been a question of paring everything back - making sure the best stuff stays in, and getting rid of the excess. But it's going well!
Anyone who has seen me in Have I Got News For You or Pointless, or who enjoyed Armstrong And Miller, will know the kind of comedy that makes me tick. So the new show is certainly in that vein. I've written a few songs for it; essentially they're the only bits of the show where I really have to remember what the words are!
The real release of doing stand-up is that your script is whatever you want it to be. You vaguely know where you want to go with it, but you can kind of 'busk' it to a point.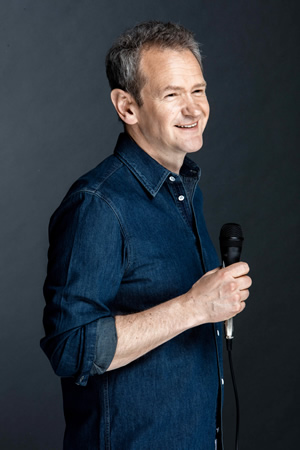 The only hangover from my days of scripted comedy are the songs. So those are the things that keep me awake at night, trying to remember the bloody words! I have them written down on my phone and whenever I'm walking anywhere I bring them out so I can test myself. But we're nearly there, we're nearly there!
Indeed, six brand new songs we hear. You're quite hard to categorise sometimes, a Renaissance Man in many ways... presenting panel shows, singing [three choral albums to date], touring live comedy...
Yes, this is very true. I think the last time I really controlled myself - that I wrote for myself - was when Ben Miller and I made Armstrong And Miller, which is what I did from the time I left university.
Then Pointless happened in 2009, 10 years ago, and ever since then it's been hard to put time aside to do other projects, and particularly to write on other projects.
I'd been meaning to get this show written for quite some time. Getting back into writing comedy has been the best thing about this year. It's put renewed vigour back into things, put a wiggle back into my stride. It's so great to be working on something, to be exercising those comedy muscles.
You know, if you don't get on and do these things, your timetable can get filled up very quickly - with all kinds of rubbish! In a way, that's basically what my show is about. If you're not doing something for yourself, you end up having to do a bunch of things for other people. And I had really missed doing something for myself, if that makes sense!?
So, what can we expect from this new show? You go back to the early post-university days, searching for work and advertising a splendid array of new products...?
Yes, there's quite a lot of that! I talk about how the thing got going, really, and how my career ended up where it is now.
You can't really sign up to a career in entertainment, I think, without a degree of surrender. You've got to accept that your career is going to follow wherever work is available. You clamber aboard this boat, and you have no idea where it's headed. You try to cling to the bank, but you don't really have any control - unless, that is, you get to write your own stuff. If you can write and perform your own material, then you're away, because you do have a degree of control over that.
It soon became clear that sketch comedy, however fun, is not a lifelong livelihood. If you're lucky, you'll get two or three series out of it. Ben and I were incredibly lucky to get four series on Channel 4 (Armstrong And Miller), and then three series on BBC One (The Armstrong & Miller Show). But there comes a point when you get to the end of your series, and you have that slightly wearying meeting with your commissioning editor, who says "Hey, you know, it's going OK...". They're looking at the viewing figures for the last few episodes, and there's pressure on you to keep re-inventing, keep finding something new.
I was very lucky, because once The Armstrong & Miller Show ended, other projects came running to my rescue. Pointless turned up, and since then I've had an ongoing job - and that's amazing! I'd never had a job before! I would just do pieces of work here and there. And so Pointless, and the fact that we had a young family, occupied almost all my time...
I was just aware that I badly needed to start writing material again. I wanted to take hold of the rudder - to continue the boat metaphor - and steer it back to a part of the river that I really enjoyed.
That's a lovely way of putting it. What has the success of Pointless been like for you?
What I particularly love about Pointless - its beating heart, and obviously something we have no say over - is the lovely chemistry between the contestants. And the brilliant questions! Our amazing question editors are forever coming up with ingenious new ways to keep us fascinated. And the other bit of Pointless is me and Rich [Richard Osman] trying to make each other laugh. And Rich is a great deal better at thinking on his feet than I am! But it definitely does have a comic side to it, does Pointless.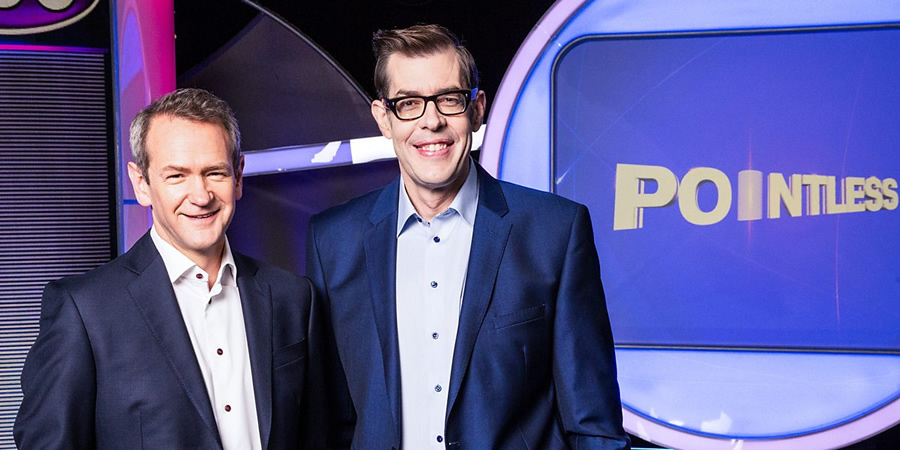 It's been enormous. It's had a huge impact on my life. I'm now a recognisable person doing something that I genuinely love doing. There are lots of people who get recognised, of course... but if I were known, say, as the host of a consumer complaint programme, or a door-stopping investigator, it'd be quite different! Those are all people who started out in entertainment. They all began with the same premise as me, and someone comes up and says, "Would you like to be an investigative reporter for our mid-morning show?" And you go "Yeah, I'm not doing anything else!" And this goes on and on.
So I'm very lucky that I get to do something I genuinely adore doing, with someone I love spending time with. Richard is enormously good company. It's funny - I get a lot of people who come up and talk to me, if I'm waiting on a station concourse, and they all know me, and know me quite well. We have a nice conversation. We talk like old friends - I love that.
Pointless feels like an archetypal British gameshow...
As well as me and Rich, I think the fact that we have a whole range of contestants, who come on in pairs, means that you get really lovely partnerships. Sometimes you'll get an old lady and her next-door-neighbour, a teenage boy, who came to watch Pointless with her for the past 5 years, and now he's old enough to be on the show. Or you get an older couple who live together, or old schoolfriends... people from all over the British Isles. And that's always interesting. There'll be a couple from Staffordshire, and then there'll be two brothers, one from Bishop Stortford and one from Cornwall, and then there'll be two women who work somewhere up in Fife. And you've just got this lovely snapshot of people who represent their regions, and their relationships. These lovely little lines of connection. And being this island nation as we are, we plug very quickly into who people are.
I mean, that's not always a good thing - we're very quick to pigeonhole people - but it does very much tie into our sense of humour. Our British sense of humour comes from the 'kettled' nature of our nation.
On that topic of doublets, you've often been part of a double-act - particularly with Ben, with Richard... So what's it like to be going solo now?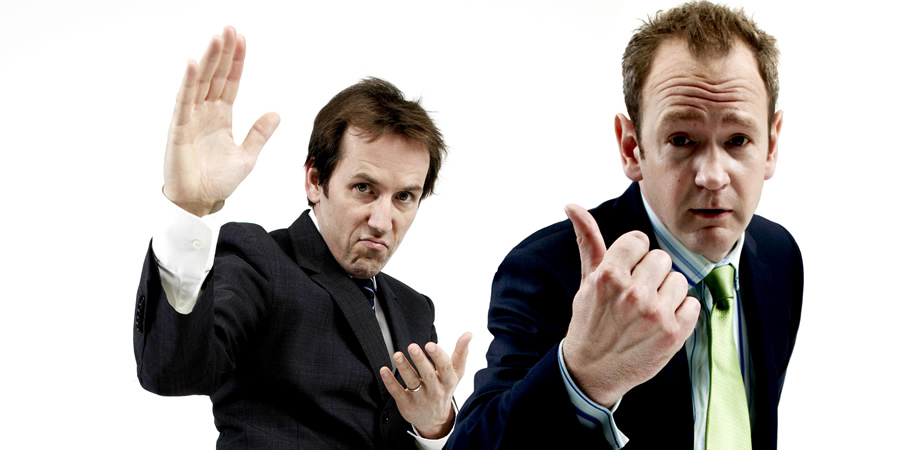 Well, we'll have to wait and see, haha! In terms of the performance side, I've done a lot of 'posh stand-up', lots of after-dinner speaking, so I'm quite used to solo stand-up in front of crowds. But I know I'll really miss the social side of things: being on the road, being backstage... Who am I going to be a pain in the arse to!?
It might be wonderful, and maybe I'll love it! But my hunch is that I'll bitterly miss Ben and Richard in their own ways. They've always been by my side. But they'll be with me in spirit!
That's a kind thing to say. A running theme here appears to be company. Church and family are important to you, and you've regularly been part of duos and sketch groups. You seem drawn to community, conversation...
That's just it! Being off on the road is great, but I always long to be back at home. When I've been away for any more than about 10 days, I realise quite what an important role my wife plays in my mental stability. For the best part of 20 years now, I have relied on her. It's a funny thing: you depend upon the other person's input, and if they're not there, you spill over the edge slightly.
On the theme of family, we wanted to ask about your work in children's TV. You've done Hey Duggee [narrator], Peppa Pig [voices of Mr Wolf and Policeman Stag], Danger Mouse, and the new Horrible Histories: The Movie - Rotten Romans film [role of Catus]. What's that been like?
Oh, I've massively enjoyed it! What's been lovely about all of those things is that they are really excellent comic creations. Hey Duggee comes from a place that I know and love. It's a very genuine piece of comedy. It happens to be directed towards children, but it's not only for them. Its comedy is simply ageless - grown-ups love it too! Danger Mouse is exactly the same story - it's just prime comedy. It's beautifully written, absurdist, inventive all the time.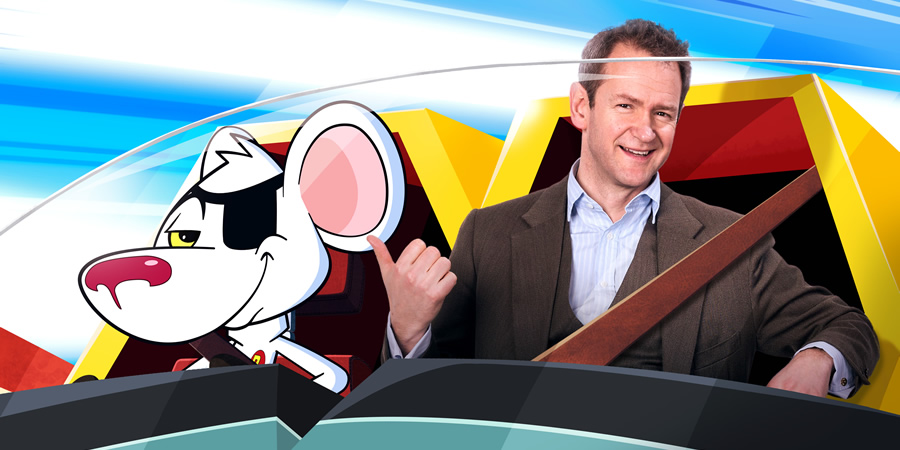 Do your children ever watch them with you?
Oh yeah, Hey Duggee has landed particularly well with our family! It's been a huge hit with all the children - even the older ones, who are way out of the Hey Duggee pre-school demographic. They all sit and watch it... our four-year-old is a very good excuse!
And finally, what will you do next? Maybe All Trousers And Some Mouth!?
Haha maybe, yes! After the tour I'll have a break for Christmas, and we're back on Pointless from January. Now that I've begun writing again, I'm really keen to keep doing it. I'm amazed - writing has honestly changed my life. The creative channels are flowing - it's great to feel it all working again.