Shappi Khorsandi interview
Phone interviews are not usually this fun. Shappi Khorsandi was planning on sitting somewhere quiet having found a window to call Circuit Training, about her UK tour and upcoming Soho Theatre run. But "basically I got lost in TK Maxx," she whispers, into the mobile.
"And the queue is much, much longer than I thought it would be. So would you mind if I talked really quietly - and there might be a minute where I have to pay for my products..."
So, no, it's not all glamour being one of the UK's top comics - an alumni of Live At The Apollo, Have I Got New For You and I'm a Celebrity Get Me Out of Here - but then that's what her new tour show is all about, in a way. Skittish Warrior: Confessions of a Club Comic is a celebration of live stand-up in all its random, scary, sometimes grubby glory.
Actually Shappi will be combining stage and screen soon, and recording her first special via the very promising linkup between Soho Theatre and NextUp. But first, let's talk Skittish Warrior.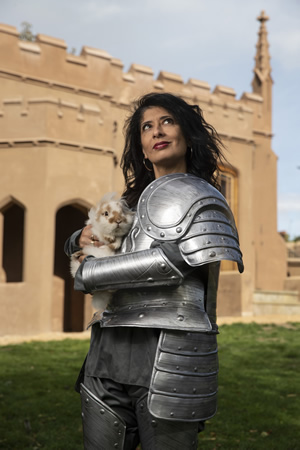 I haven't seen this tour show yet, but that poster looks like a fun shoot.
It was; my neighbour did it, in my local park. I keep things local. I should mention that my neighbour is a highly skilled photographer - he's a war photographer, so I thought it might be appropriate, him taking a picture of me in armour.
It's sub-titled Confessions of a Club Comic - I imagine you delve back into your early circuit days?
In the 90s it was just loads of weird wonderful characters. Hang on...
[talks to cashier: "I have a bag, thank you."]
Sorry... So I did the circuit then, and it was really punk, it was crazy, the 90s, we had the ladette culture, no #MeToo. There were a bunch of broken souls. Lots of boozing. You did hope for TV, of course you did, but there wasn't that massive divide that there is now, between telly comics and circuit comics.
And the Skittish Warrior bit...?
That's because I found it all absolutely terrifying, for a long time. What is it about a comic, that even though they find something utterly petrifying, they insist on this job regardless?
I talk about the first time I ever saw a woman onstage: she got booed off. And I was 17, and I thought 'there is nothing else that I would rather do.' And I went into a kind of battle; that's what it was back then.
Now it's become... not a different artform, but the artform has moved on, people create hour-long narratives. So I wanted to do a tribute to the club comic, because the club comic has been derided over the years, belittled, and we are the front line of the entertainment industry.
I suppose it's like horror films, or rollercoasters - some people thrive on that buzz.
Yeah, some people couldn't wait to get off the circuit. It's fun!
But the reality was, it's not a job you can do as a woman with a baby. You can't go to Aberystwyth, because that money won't cover childcare or anything. So I had a baby, and I remember getting the coach to Bristol, instead of the train because I couldn't afford it. this was 12 years ago, and I remember thinking 'I have to up my game, because I can't stay in comedy and have a baby.'
I feel a bit like Indiana Jones where he grabs his hat at the last minute, I just got lucky with the right manager, the right time. I got Live At The Apollo, when it was a real game changer. I felt like I snatched my hat, and I became a telly comic, but my heart would always be in the clubs.
More recently you did I'm A Celebrity - have you noticed it change your audience at all, as you've toured around the country?
Nooo - I talk about I'm A Celebrity in my show - I basically sat on a log politely until they let me leave. I knew that the only way I'd become a significant contestant would be if I caused some kind of drama, and I wasn't about to do that. I actually wrote a column about it today, I knew that someone like me wouldn't do well, I was no way going to be the one who had an argument with someone, or caused a kerfuffle.
So it didn't change my audience, but what it did give me was a year of bedtimes with my children, and a free holiday for all of us in Australia. So that's why I did that.
That was a really interesting insight into tabloid fame. I thought 'is that what I want, because I know there's a lot of money to be made here?' and I went into tabloid fame for a little bit, I had a look around, and then I thought 'this is a hellish nightmare.'
It can't be much fun, being on their radar...
What I'm A Celebrity did for me, it made me look at the comedy industry in a totally different way. I had this renewed joy for every single human being who works in it. Oh my god, I even loved critics.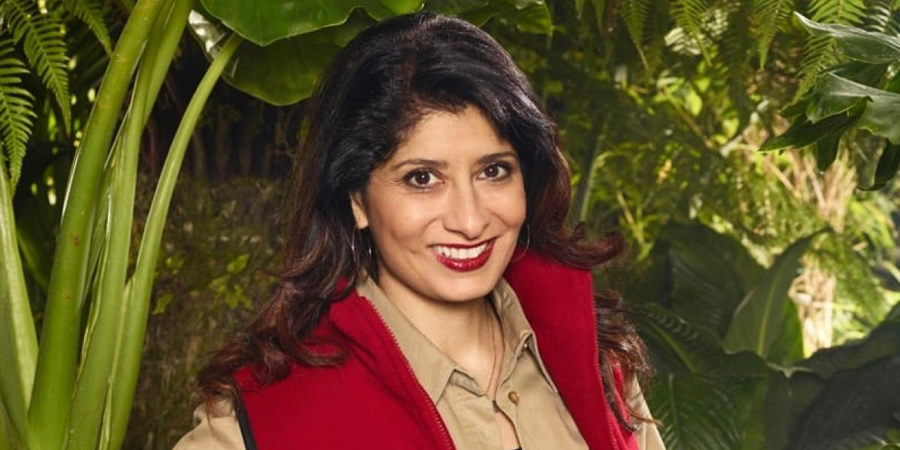 I just realised, compared to tabloid celebrity, it is a world full of curious, intelligent, passionate people; comedians are comics because they're curious about the world around them. When you go to I'm A Celebrity, where no-one cared about anything beyond the end of their own nose, it makes you appreciate stand-up.
So I came back and went to the Edinburgh festival as a punter, the most luxurious thing I'd ever done. I could actually afford to, thanks to I'm A Celebrity money - I think I saw every single comedy show, so many shows. It was just amazing.
This week Skittish Warrior is at Soho Theatre, where you're also a trustee. How does that work - do you get free tea?
Ha, I get a free coffee, but that's only because the bar staff are so nice. No, the theatre side, Soho have always put on theatre that I really get excited by. And I'm not just a comedian, I'm a massive fan of stand-up comedy, and they're so brilliant at nurturing new talent, they've got a really good eye, and I always found that really exciting.
Basically I was always there, until eventually they said 'Shappi do you want to be on the board?' That was about 12 years ago.
You helped launch their new Walthamstow site recently, which I'm looking forward to - my mum saw the Beatles in that building.
In that venue? Wow. It's incredible - it's going to be an absolutely brilliant venue, a proper game changer. What really excites me about it again, the commitment to live comedy, bringing back the almost cabaret element. [Comedy] is not all about the panel shows, is it?
I suppose they're evolving now too...
I think it's reached a tipping point, the newer formats are a lot more creative, more fun, and improvisational. I did Josh Widdicombe and James Acaster's show [Hypothetical], and honestly, it was a breath of fresh air, it's the first time I've come away from a TV show thinking 'I had an awful lot of fun' - that's what it should be.
For too long we were in that cynical, 'here's my joke, here's your joke' comedy, which I felt very alienated from. But things like Taskmaster, that's made it all fun again. It's a good time for TV comedy.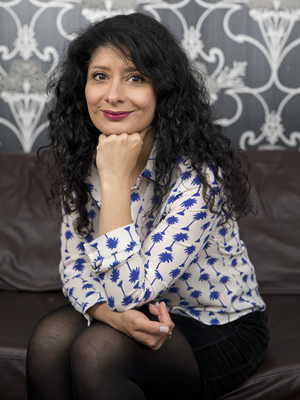 And newer viewers don't think of the 'proper' channels the way we did - it's a different world.
It is: one of my favourite things now is Stath Lets Flats, and I don't think I've watched it on my actual telly, just on my laptop and my phone. You can watch things 10 years after they come out. I've only just finished watching Fleabag.
Speaking of new formats, you're recording a special for the Soho Theatre / NextUp linkup. Will yours be one particular show, or bits of them?
It's the first time I've recorded my stuff, I've never done a DVD or anything, so I think it'll be a best-of, from my last three shows.
Could that be a bit nervy then, your first ever filmed special?
No, I'll be match fit, and also it's at Soho: I feel so at home, and also weirdly because its recorded I'll feel more relaxed about it. Its not like Live At The Apollo where it's a short burst. But I don't know, I've never done it before, so I'll tell you afterwards! I'm sure it'll be fine.
And how was your shopping experience today?
All done. Very exciting. I've bought myself a present as well.