Racing Minds
Aaaand Now For Something Completely Improvised
Improv
12pm (noon) (1 hour)
5-31 Aug 2015
6 - 9
This is a 2015 show that has now finished.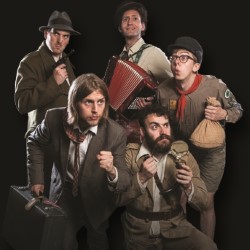 Mon
Tue
Wed
Thu
Fri
Sat
Sun
03
4
5
6
7
8
9
10
11
12
13
14
15
16
17
18
19
20
21
22
23
24
25
26
27
28
29
30
31
1
2
Venue details
Fringe sensations Racing Minds are back after two sell-out years! A doddery grandfather can't quite remember his ripping yarn, but with your help a mystery stuffed with hilarious characters, whip-smart wit and breathtaking twists will take hasty shape before your very eyes. Anything could happen, but excitement is guaranteed in this improvised comic adventure based entirely on audience suggestions! As heard on BBC 6 Music. 'Clever, funny and satisfying' (Sunday Times). 'Crafted by the gods of comedy' ***** (ThreeWeeks). 'Insanely original' ***** (TheNewCurrent.co.uk). 'Supremely impressive' **** (GiggleBeats.co.uk).
Share this show
Reviews
Press coverage
Full press release
Having now established themselves as one of the leading comedy improv groups at the Fringe, Racing Minds return to the Pleasance this year with their total sell-out, critically acclaimed long-form improv show Aaaand Now For Something Completely Improvised. With more props to hand, more costumes to don and more space to play in, this year will be bigger and better than ever!
The audience immediately take control as the show opens and they decide the name of the main character, his hidden secret, the starting location and the title of the story, and the rest is completely, as promised, improvised. With no script or plot (and usually the daftest of scenarios thanks to Fringe audience's imaginations) each show is totally unguided, entirely unpredictable and undoubtedly one of the finest and most unique hours you will catch at the Fringe. And better still, its family friendly and suitable for all ages!
Formed in 2010 by members of the Oxford Imps, Daniel Roberts, Tom Skelton, Chris Turner, Dougie Walker and Dylan Townley immediately won their fan-base at the Free Fringe in 2011 and packed out their venue every single day. A return in 2012 promised the same, and the Pleasance soon snapped them up the following year where they went on to sell out their entire run in 2013 and 2014, and in February this year they sold out a ten-night run at the Perth Fringe World, securing a nomination for 'Best Comedy Show'. Their completely improvised fifties-style comic radio play podcast The Wireless Podcast also proved a great success with over half a million followers on SoundCloud, promising the comedy industry stars in the making.
Chris Turner is an award winning stand-up comedian, with over 1.8 million views on YouTube; appearances on NBC's Last Comic Standing and RTL4's The Comedy Factory, and a comedy album Pretty Fly out on the renowned New Wave Entertainment record label. His debut solo show won the Amused Moose People's Choice award for best show at the Edinburgh Fringe 2014, with many of his jokes featuring in 'Best Jokes of the Fringe' lists in national newspapers. His new show for 2015, XXV, has already toured to Perth Fringe World, where it was nominated for Best Comedy.
Daniel Roberts has racked up improv experience at the fringe with The Oxford Imps, Impromptu Shakespeare, Adventure Incorporated, Captains of Industry and No Strings: The Improvised Puppet Musical. He has directed and edited various comedy films and sketches, is a regular guest with Chortle Award Winners Austentatious, and will be making his solo debut in 2015 with the daft and duplicitous character show Asp (Freestival, 5pm).
Tom Skelton has helmed The Oxford Imps, appeared with The Story Pirates and Adventure Incorporated, and written, directed and starred in the five-star comedy Freshwoman. He runs popular monthly comedy night Tuesday Chuckles, has worked on videos and workshops with the award-winning History Bombs, and is set to take to the airwaves in The Holiday After Tomorrow, a new impromptu radio sitcom alongside some of the stars of the UK improv scene. His solo debut Foolball kicks off at Underbelly this Fringe (1.40pm).
Douglas Walker has been performing improvised comedy for over 10 years, including as a founding member of Brighton institution Off the Cuff, and as an ex-director of the Oxford Imps. His recent credits include everything from lending his voice to an election campaign video for the Green Party, to giving a guest lecture on improvised comedy at the University of Westminster and regularly contributing to one of London's most innovative events, Stand Up Philosophy. This year he is performing his first solo show at the Fringe, Moglich (Just the Tonic, 2pm).
Dylan Townley provides the virtuoso soundtrack to Racing Mind's comedy adventures from the piano - switching to guitar, drums, accordion and even the mighty triangle as the story demands. He is a versatile musician and actor, having toured Shakespeare to Japan and around the UK, music-directed renowned physical theatre group Dancing Brick, and garnered rave reviews with the toe-tapping Peablossom Cabaret (Thistle Hotel, 8.35pm). This year he can also be seen MCing Shitfaced Showtime (Underbelly Ermintrude, 6.30pm) and premiering the thrilling new Adventures of the Improvised Sherlock Holmes (Just the Tonic at Old Foundry, 3pm).
---
Credits
Tweets by Racing_Minds