Tom Toal answers 10 Edinburgh Fringe Questions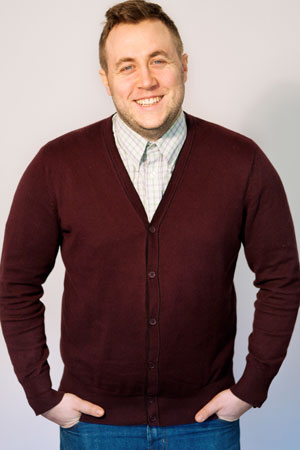 Tom Toal has perhaps the best flyering strategy of any show at this year's Edinburgh Festival Fringe.
1. Tell us about your career so far. Are you happy with where you're at?
I'm happy yet ambitious. I started comedy in 2008 and whilst I have ticked several boxes of what I want to achieve there is still plenty of exciting things I haven't yet achieved.
Gigging with Ardal O'Hanlon and Noel Fielding, that was pretty cream-in-jeans exciting.
2. Describe your show in exactly 23 words.
Well now twenty three words you say? Okay! Blimey already used up a lot... Erm... how many have I got left! VERY FUNNY.
3. Why are you putting yourself through this famously stressful experience?
To quote Richard Gere, "Cos I got no place else to go".
4. Any cunning plans to get more punters in?
I've got my thirteen month-old baby and she has a t-shirt with the poster on it for when we flyer together. She is the cutest. Turn down taking a flyer from a child, punters... I dare you... I don't care if she has been chewing it.
5. How much money do you think you'll lose/make this year?
If I look like I am going to lose too much for the last few shows I'll charge £100 a ticket, that should even it out.
6. What's your weirdest past Fringe experience?
Weirdest was looking up, mid-show, to see four mates from home sitting in the audience, worst thing was I hated all of them.
7. What other shows are you hoping to see?
James and the Giant Peach the Musical. I don't know if it is at the Fringe or if there are even plans but I think it would be great and someone should work on it.
8. If you took over programming a venue, what would you perfect line-up of comedians be?
MC - Jojo Smith
Opener - Terry Alderton
Middle - Simon Munnery
Closer - Steve Hughes
This was the line-up of my first ever comedy gig at Up The Creek in Greenwich. It was incredible and I'd love to see how this bill would work all these years later.
9. Name the one person you'd rather not bump into during the festival.
Walter Palmer... Tom 'Topical' Toal strikes again.
10. Why should audiences pick your show over the 1,700+ other comedy offerings at this year's festival?
It contains some of the best material I have ever written and some of the hardest I have had to write. I have a unique way of telling a story and communicating my ideas, and feel every year my connection with Fringe audiences get better as I improve as a comic. Right now I am at the top of my game. Plus, I can give out sweets I guess.
'Tom Toal in Sunshine on Bexleyheath' is at 8:30pm at Pleasance Courtyard on 5-30 August. Listing