Tom Toal
Tom Toal in Sunshine on Bexleyheath
Stand-up
8:30pm (1 hour)
5-30 Aug 2015
8 - 10.50
This is a 2015 show that has now finished.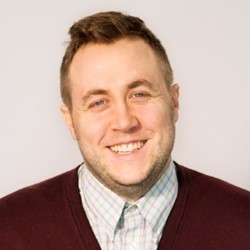 Show details
Stand-up show starring Tom Toal performed on the following days in August 2015...
Mon
Tue
Wed
Thu
Fri
Sat
Sun
03
4
5
6
7
8
9
10
11
12
13
14
15
16
17
18
19
20
21
22
23
24
25
26
27
28
29
30
31
1
2
Venue details
One of Amused Moose top ten shows of 2014, TT returns with another gleeful hour of comedy. An absorbing and affectionate love letter to family and hometown. Expect to have your funny bone tickled and your heart strings plucked. 'Master of storytelling' (PunchlineUK.wordpress.com). 'You might find yourself taking a paracetemol to kill the pain in your jawline afterwards' (ShortCom.co.uk). 'We forget the misery and cold of the outside as the Tom Toal comedy glow warms us all' (Kate Copstick). 'Touching addition to the Daniel Kitson-esque heart-on-sleeve comedy sub genre' (List).
Share this show
Reviews
Press coverage
Full press release
Tom Toal returns to the 2015 Edinburgh Fringe with his most personal show yet with Sunshine on Bexleyheath.
Following on from last year's hit show Prequel, Tom's performances recount his real life experiences and have consistently been hailed for their honest narratives.
Having moved back to his hometown with his family in tow, this is a hilarious and moving show as Tom deals with the light and dark that life throws at us in his own unique way of viewing the world. Now a Dad, Tom has a new outlook and one that he is keen to share with his views on internet sexism, illness, travelling, his daughter's chances of making it as a battle rapper and will finally answer the question "What is love?".