Up-and-coming stand-up Sofie Hagen is in 500 seater Fringe venue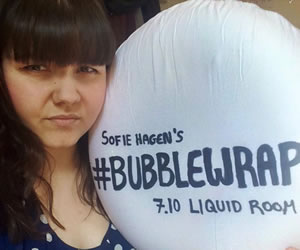 Fringe newcomer Sofie Hagen has ended up being booked into a 500 seater venue at this year's Edinburgh Festival. It's a room a bit bigger than she's used to performing in...
Hagen, who is originally from Denmark but now lives in the UK, was due to perform in a "nice little 70 seater"... However, "for some reason (no one's fault) that didn't get built."
The Liquid Rooms did everything they could to find her a new space instead... And thus Hagen is performing her debut solo show Bubblewrap in the 500 seater rock venue there instead. It's a room that's more used to hosting performances from the likes of Seether and Deadmau5.
The comedian seems to be taking things in her stride though, and BCG understands the Michael Legge-fuelled daily hashtag #LetsSellThisGigOut will likely be attempting the challenge of filling out the venue on one night.
Audience are unlikely to be disappointed if they do turn up. In Bubblewrap, Sofie - who won the Laughing Horse New Act Of The Year 2013 competition - discusses a wide range of topics, including "mental health, body image, fighting the system, a shower cabinet, a psychiatric ward... and Westlife."
However, the comedian also now has a slightly less than glamorous thing to add to her list of topics to discuss. She's recently fractured her tailbone and so has to carry around a massive "ass donut" (pictured).
'Sofie Hagen: Bubblewrap' is at 7:10pm at The Liquid Room on most days in August. However, her show is at different venues on some days as she has to make way for bands booked to play the room. For a full list of venues and times see our Listing