Sofie Hagen
Sofie Hagen: Bubblewrap
Stand-up
7:10pm & other times, see below (50 mins)
7-31 Aug 2015
The Liquid Rooms & other venues, see below
Free
This is a 2015 show that has now finished.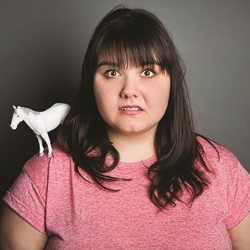 Show details
Stand-up show starring Sofie Hagen performed on the following days in August 2015...
Mon
Tue
Wed
Thu
Fri
Sat
Sun
03
4
5
6
7
8
9
10
11
12
13
14
15
16
17
18
19
20
21
22
23
24
25
26
27
28
29
30
31
1
2
Days marked with a * indicate a different time, room or venue.
Differing performance details
Venue details
Debut show from Chortle Best Newcomer 2014. Sofie has won all the awards, been on all the TV shows, got all the best press. Ten stars. 'Ice-cold heart of a killer ... hilarious' ***** (Skinny). As seen on Russell Howard's Stand-Up Central and BBC Two, and heard on BBC Radio 1 and BBC Radio 4. 'Destined to make a name for herself' (Chortle.co.uk). Named Time Out's One to Watch. Overall, a pretty cool dude.
Share this show
Reviews
Press coverage
Full press release
Introducing multi-award-winning Danish comedian Sofie Hagen who has already taken the UK by storm, delighting crowds with her unique observations and home truths, tackling taboo subjects with charm and sensibility, bullet-proof timing and an insatiably amiable personality.
What is it like to have a winner's mentality but not a winner's confidence? To be an insecure but arrogant teenager, living in a bubble and discovering that adults lie. In her debut hour, Bubblewrap, Sofie discusses mental health, body image, fighting the system, a shower cabinet, a psychiatric ward... and Westlife.
Revered in her home country, Sofie was chosen to perform at the prestigious 1700+ capacity Royal Opera House for the Danish Comedy Gala in 2012 as 'The New Hopes of Comedy'. Shortly thereafter she moved to London and the nominations and awards have since been flooding in. Having starred in various television and radio programmes in her native country of Denmark, in the UK she has appeared on BBC2's Alan Davies: Apres Ski, as well as guest slots on Lols Lounge (BBC Radio 1) and The Verb (BBC Radio 4). She has also performed internationally at festivals, from Altitude in Austria to the Geel Comedy Festival in the Netherlands.
Her podcast Comedians Telling Stuff is available now.
Visitor reviews

Steviano
The show was brilliant.. Why........ because she made me laugh from start to finish, brilliant humour and story telling. This lady should go to the top! (Well, lady might be stretching it a bit!)