Peter Brush answers 10 Edinburgh Fringe Questions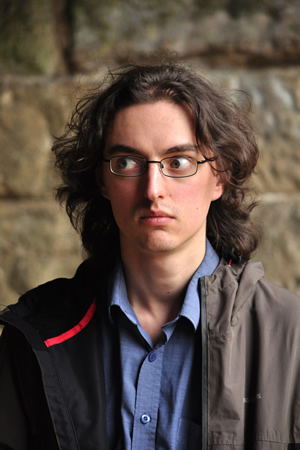 We really like Peter Brush's show title: 'Older Than the Oldest Dog That Ever Lived'.
1. Tell us about your career so far. Are you happy with where you're at?
I started gigging properly in 2009, I had dipped my toe in the water before at a couple of student nights, but then I left it for years. It seemed to be an easy thing to put off.
Anyway, since then I haven't stopped and I appear to be getting away with it. I was in the BBC New Comedy Award final a couple of years ago, have some radio comedy writing credits, seem to be gigging at a level I'm fairly happy with.
So things are ok, I don't think I've hit a brick wall. If you are always getting a bit better as an act then other things should hopefully follow that, right now I'm the best I've ever been, but I always am, that's the way I try to look at it anyway (although I do like to bitch about people who are more successful of course).
2. Describe your show in exactly 23 words.
A paranoid romp about one man's quest to halt the progress of time, whilst all the dogs he's ever known slowly die off.
3. Why are you putting yourself through this famously stressful experience?
Felt like the right thing to do this year, and I'm a man who runs on instinct and never questions it.
That isn't to say that this strategy has always served me well mind.
4. Any cunning plans to get more punters in?
I've blackmailed some friends of mine into coming to each show, and when they leave the room at the end they are going to loudly mutter things to passersby like 'oh that was so funny, I've never seen anything like it', or other words to that effect. If they keep that up all month then their families will be returned safely.
5. How much money do you think you'll lose/make this year?
I think if I sell out every day I'll make about £12.50, so I'll try and be optimistic.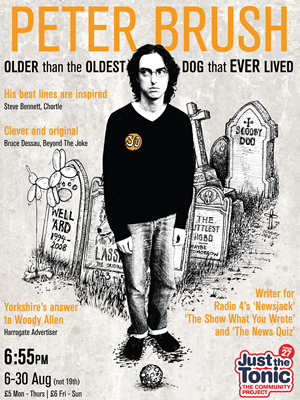 6. What's your weirdest past Fringe experience?
I had this chocolate bar once that they'd deep fried.
7. What other shows are you hoping to see?
Lou Sanders, Matt Winning, Fern Brady, Jonny Pelham, Seymour Mace, Chris Stokes, probably others too.
8. If you took over programming a venue, what would you perfect line-up of comedians be?
Mitch Hedberg, Dylan Moran, Woody Allen, Daniel Kitson as MC.
The Louis Armstrong Band will be playing music in the intervals.
9. Name the one person you'd rather not bump into during the festival.
I'm going to try and be diplomatic here, but I really don't want to bump into that guy, you know, that guy in comedy that we all hate, you know the one (if you are involved in comedy and you are reading this and don't know who I mean, don't worry, it isn't you).
10. Why should audiences pick your show over the 1,700+ other comedy offerings at this year's festival?
I don't want to sound desperate, but, I need this.
'Peter Brush: Older Than the Oldest Dog That Ever Lived' is at 6:55pm at Just The Tonic at The Community Project on 6-17, 19-30 August. Listing